Here's a cute set of free monthly seasonal planner stickers to celebrate the launch of my Seasonal Planner Pack.
To start off this article, I'll just share a few key info about this new planner pack! You can download your monthly planner stickers further down this page.
A few words about the newly released "Seasonal Planner Pack"
The Seasonal Planner Pack includes 132 pages of essential planner templates decorated with cute seasonal designs. Each month includes 11 essential planner templates, decorated with cute & different monthly designs.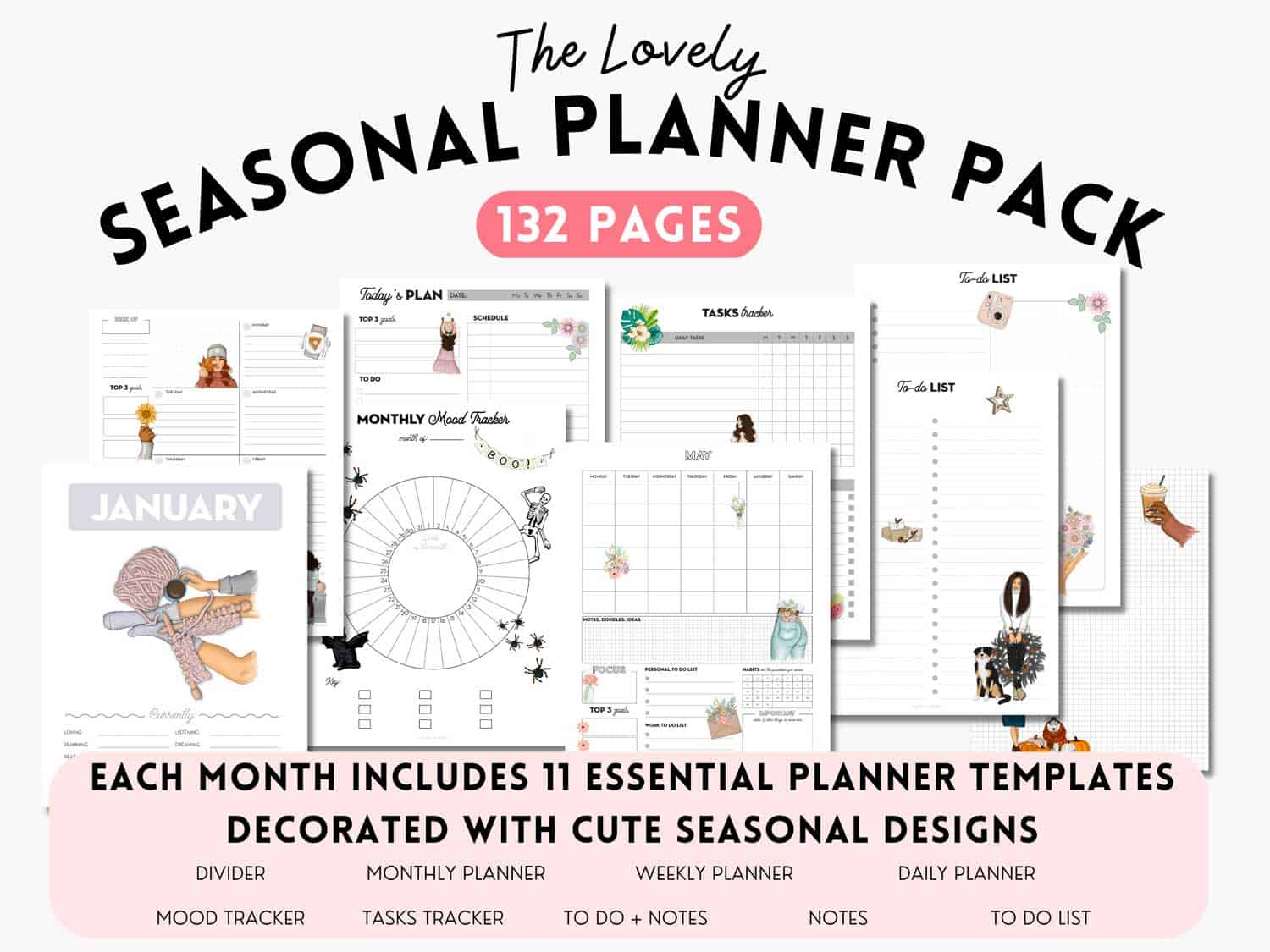 11 TEMPLATES ARE INCLUDED FOR EACH MONTH
Monthly Planner – 2 versions= blank title (to use whenever) or with month titled on top
Weekly Planner – a week on one page, dashboard layout – 2 versions: Sunday & Monday start
Daily Planner
Tasks Tracker – track your daily, weekly, and monthly tasks
Divider page – with space to write down your current likes
Monthly Mood Tracker
Notes
To-Do List + Notes
To-Do List
You can print these pages (3 sizes are included) or add them to your digital planner. You can find more images & details about the seasonal planner pack on this page.
I thought it would be a cute idea to create a sticker set to go along with this pack of planner pages. This is how the ide of today's freebie came about!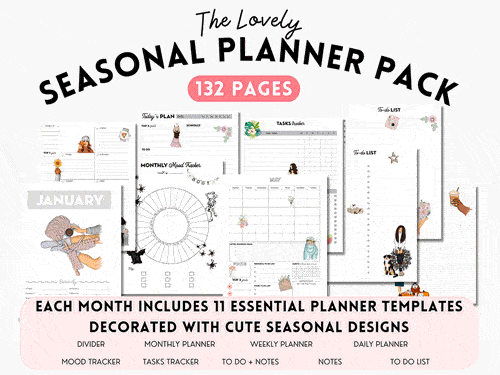 SPECIAL OFFERS
To celebrate the launch of the Seasonal Planner Pack, I decided to create a few special discounts.
Click on your favorite offer to see more details about it:
FREE Monthly Planner Stickers
On one page, you get 12 sticker boxes (approximate box size: 1.5×2.5″) with a different design for each month.
Good to know: The sticker for each month matches the designs I used to create the monthly templates included in the seasonal planner pack.
You can, for instance, use these stickers to mark the beginning of each month inside your planner or bullet journal. There are many other ways that you could use these monthly stickers and I'm sure that your creative minds will come up with great ideas.
Since these stickers come with a white background, I've added a great outline to make it easier to cut.
Here is a preview of the 12 stickers included: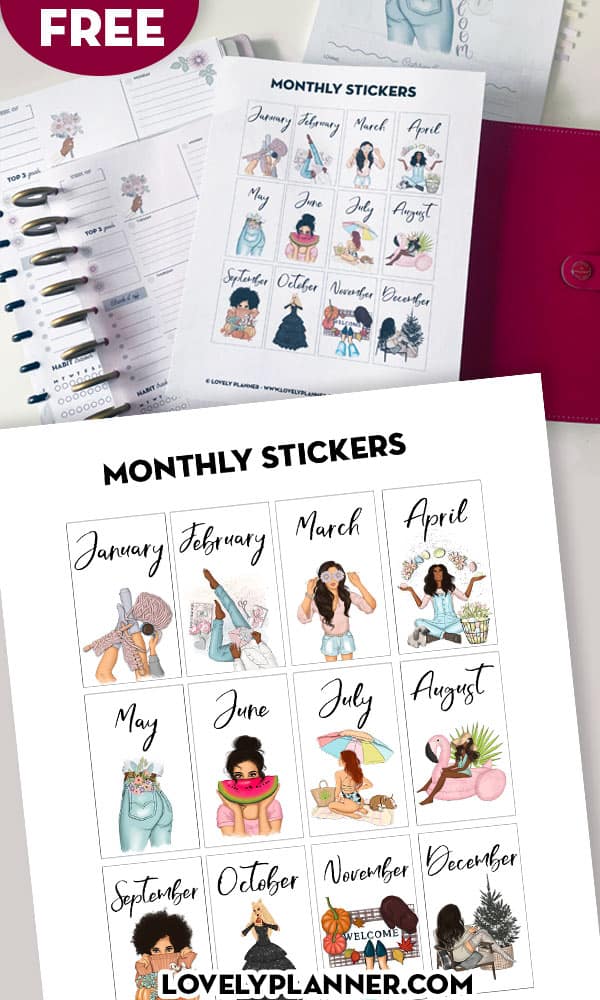 You may like to check out these special offers in my shop:
Download Free Printable Monthly Planner Stickers
FAQ:
FOR PERSONAL USE ONLY – Please Read Freebies Terms of Use.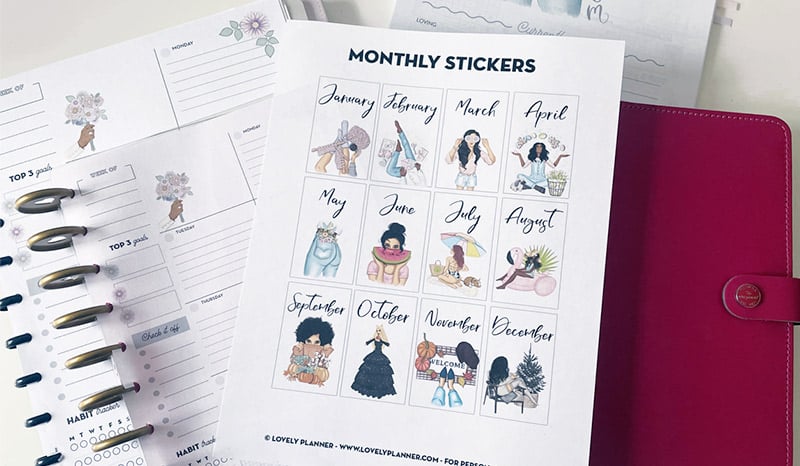 Don't forget to also have a look at other planner freebies I shared on the blog!
Supplies I recommend to make your own stickers
A printer: I really recommend investing in an HP Instant Ink compatible printer if you're into printables. Here's how I can print for free or super cheap with it.
Choose one type of sticker paper:
Choose one type of tool to cut your stickers:
If you want more tips and info about these different supplies, make sure to read the detailed comparative article I wrote about tips and tools you can use to easily turn PDF printables into planner stickers.
Also read: 45 Must-Have Planner Supplies
I create lots of free printables, if you want to make sure to be updated and receive exclusive freebies, join the Lovely Newsletter: