Today I want to share with you a list of my favorite planner supplies. I've been mentioning these items throughout the blog in different articles but having a list of them all on one page makes it easier for you to find them.
This list of items is meant to help you discover the different types of items that are available and that could be useful to you.
To make it easier to browse this list I divided it into 6 subcategories:
Most Useful Tools for Planners and Crafters
My Favorite Pens for Planners and Hand-Lettering
Fun Planner Accessories
Cutting Machines
Paper Types
Storage Solutions
Note: I didn't just make a list of items, I made sure to give details about each of them so that you can understand and decide if they would really be useful to you.
Disclosure: This post contains affiliate links, you can read more info on this page.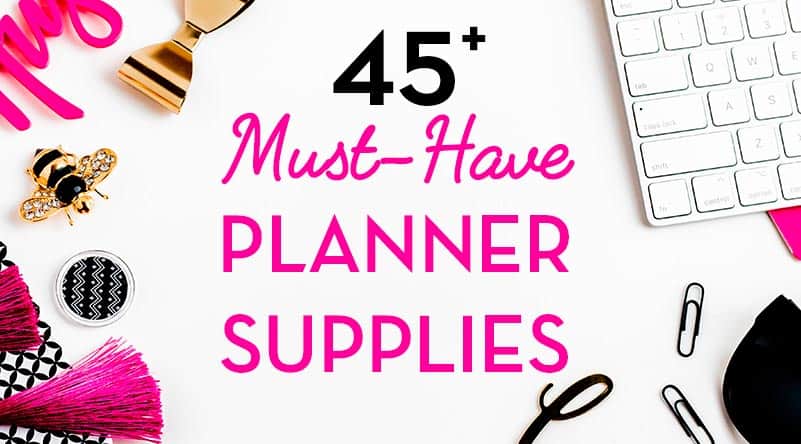 I've been planning for some time and crafting for even longer, so I own most of these items. Now don't be worried, you certainly don't need them all to get started but they're definitely nice to have. These supplies will be especially useful if you want to get creative and customize your planner.
You've probably never heard of some of these items (Gyrocut, Xyron, Foil…) so I thought it could be useful to tell you they exist and can make your life easier.
Even though you can find all these supplies on Amazon (which is super convenient) I recommend you compare prices with your craft stores or favorites websites as prices may vary depending on sales, etc.
I hope this list is helpful to some! If you use and love some planner supplies that are not included in this list, please let me know in the comments.
If it's your first time on the blog, make sure to check out these resources for your planner:
45 Must-Have Planner Supplies
Pin this image for later: