(This post contains affiliate links. For more information, see my disclosures here.)
Taking digital photos is great but sharing or keeping physical photos is even better. Here are a few important things to know before you buy a portable photo printer.
Portable photo printers allow you to print photos directly from your smartphone. These mini photos are great for planners, but not only!
Indeed, you can use these little photos in many different ways:
to decorate your planner, bullet journal, memory planner, travel notebook,
to share memories: instantly offer photos to someone as a little keepsake of the day/special moment,
to add them to your fridge, in your wallet, on your desk, in your locker, etc,
for events: create a Photobooth and/or special guest book album.
Here's an example of mini photos (printed with an HP Sprocket) included in my planner.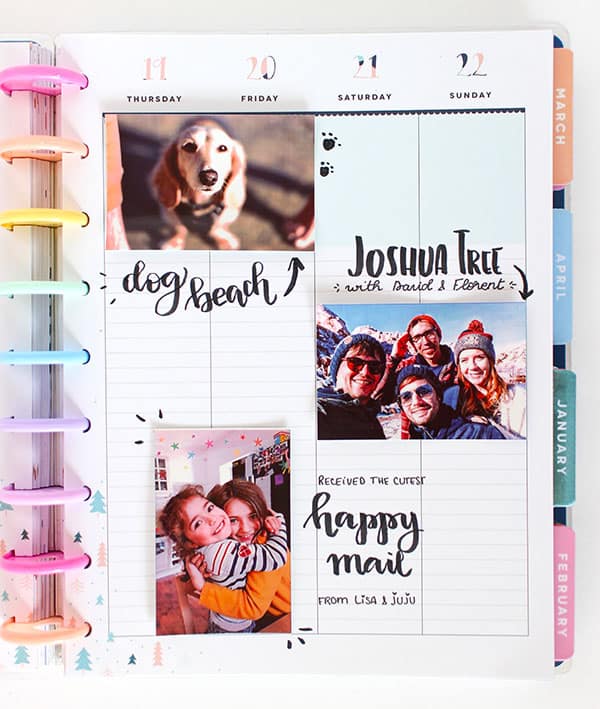 Important things to know before buying a Portable Photo Printer
To make the most out of your photo printer, and avoid disappointments, it's important to have a few things in mind, and know what to expect and what you shouldn't expect when buying a portable photo printer:
WHAT TO EXPECT OF PORTABLE PHOTO PRINTERS:
– You can expect to have a fun little printer to easily create cute mementos for your loved ones or for yourself (craft projects, home decor)
– You can expect a small-sized lightweight printer that you can take with you to print photos when you're on the go (travel, party, outdoor activities…)
– Small photos that are a good size for planners and journaling. Most of these printers print photos that are about 2×3″.
– You can expect instant hassle-free printing, no need to plan ahead or prepare anything beforehand: no need to go print photos in a store or plan a whole sheet of photos with your at-home printer.
If those are your main hopes and expectations when buying your portable printer, then you'll most likely be very satisfied with your purchase!
WHAT YOU SHOULDN'T EXPECT OF PORTABLE PHOTO PRINTERS:
– Don't expect the print quality to blow your mind or be equivalent to laser printing. The main advantage of these printers is their convenience, instant printing and portability, not their high-quality printing. I recommend you look at several photo reviews on Amazon to see examples of printed photos so that you know what to expect.
– Don't expect to print thousands of photos with a portable photo printer. I mean, technically you could, but the paper refills usually run for about 50 cents per photo (be a smart shopper, see the last sentence of this block) so it may get pricey if you're printing all your photos with it.
Because of that aspect, I kind of like the idea that each photo is a bit precious and that you only print the photos you care most about. That makes them all the more special. When buying refills, you should definitely compare prices, buy in bulk, and wait for discounts.
– Following the previous point, I think you shouldn't expect this portable photo printer to replace and eliminate your other means of printing. Just see it as an additional fun printing option, with its own advantages and disadvantages.
What you have to keep in mind when buying a portable photo printer is that you're buying it for the convenience and the ability to print photos on the go, whenever you need or want to, you're not getting it to get super high-quality photos or completely eliminate other printing options.
Tip to get the best printing results:
No matter which one of these portable photo printers you pick, I recommend you edit your photo (brightness, contrast, etc) using your smartphone photo editor or using a dedicated photo editing app such as the free app Lightroom. This will give you more options and better results than solely relying on the printing app that comes with your portable photo printer.
Now that your expectations are in check, let's see what our portable printers' options are.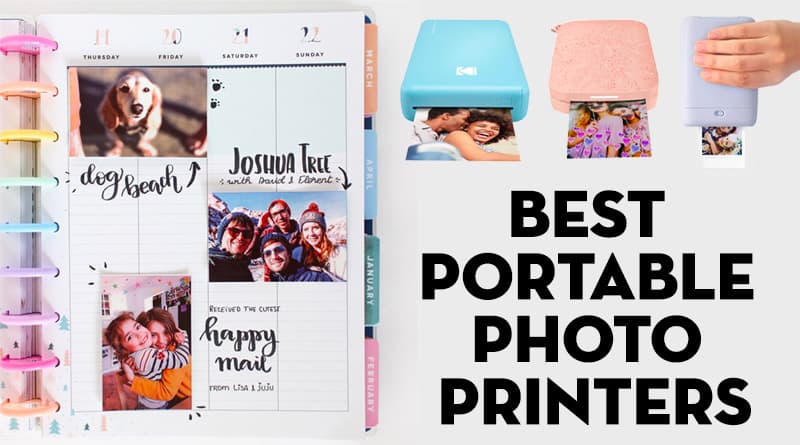 Edit: After being on sale (60% off) at a crazy price recently, this printer is currently out of stock. I'll keep my eyes peeled to see when it gets restocked. In the meantime, you can get this newer HP Sprocket printer if you'd like.
The refills are still available and in sale at the time I'm editing this article.
If you also stock up on refills that are currently 50% off (making it only 25cts per photo), you definitely get yourself a great deal! Bonus: the paper refills have sticky backs which makes it easy to add these photos in your planners, bullet journals, notebooks, etc.
There is also currently a sale on refills (making each photo only 25 cents):
Here's an example of a photo (of my adorable nieces) printed with an HP Sprocket printer: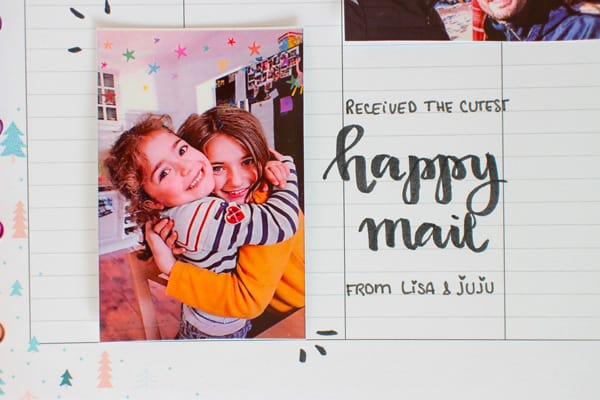 To the best of my knowledge, this is one of the most recent portable photo printers (released in october 2019). It has Bluetooth connection (which is a little more convenient than WIFI connection). It also has some fun features: the ability to print from video, motion controls, fun mode to have several persons print a portion of the photo, etc.
Here's an example of a photo printed with HP Fujifilm instant film. As you can see, with their classic polaroid frame look, Instax printers produce photos with a more nostalgic feel.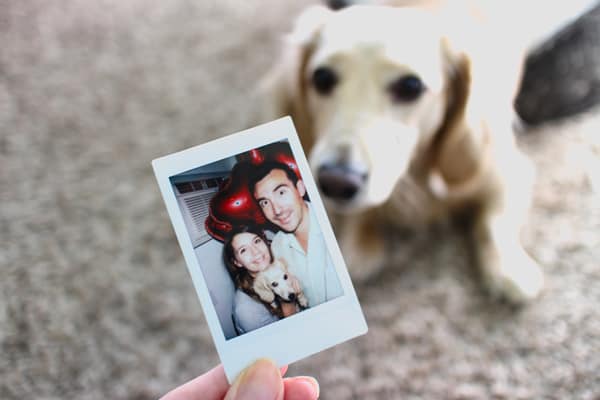 Fujifilm Instax SP-2: Retro look (a cheaper option than Instax Mini Link or Instax SP-3)
Similar to the newer Instax Mini Link, minus the fun new features (fun mode, motion control), although, to be honest, they aren't that necessary and it also has some fun functions of its own (social network look, collage, real-time, limited edition print, etc). It requires a wifi connection. You still get that awesome old polaroid look but because it's older than the Instax Mini Link, the price is a little lower.
Fujifilm Instax SP-3: Square Retro Look photos, perfect for Instagram Prints
Last choice of the Instax category. This portable photo printer is a little different because it prints square photos (2,4×2,4″), unlike all the other printers in this list. This square photo size is ideal for Instagram prints. It also gives an even more authentic retro feel (similar to old polaroid size). Because this size of photo paper is newer and less common for now, expect the price of refills to be a little higher.
This type of printer uses a different, new patented technology with 4 pass dyes that are supposed to make your photos more vibrant and fade resistant.
For a cheaper alternative, check the older version of this Kodak Mini printer.

Also good to know:
Depending on which portable photo printer you decide to get, the type of paper refill technology might be different. For the portable printers listed in this article, there are 3 different types of paper refills:
Zero Ink (Zink) paper: used by HP Sprocket, Canon Ivy and Polaroid Zip. This type of refills usually has a sticky back which makes it easy to turn your photos into stickers.
Instant film technology: used by Instax printers. This is the type of paper that looks like good old polaroids, with the white frame and retro look.
All in one cartridge with ink & paper: technology used by Kodak Mini 2. This new type of technology is supposed to keep your pictures bright for 10 years.
To help you understand the differences in style, here's a side by side comparison of Instax and HP Sprocket pictures: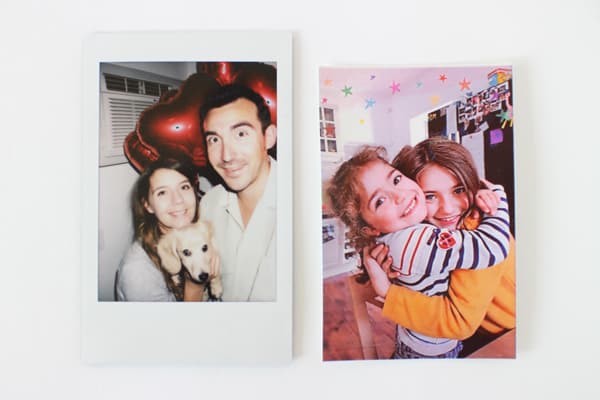 My Opinion:
I think the best choice will depend on your personal preference (if you like the retro look or not) and how you intend to use your photos (just in your planner – versus – planner + home decor + memento to give people).
The photos printed on instant film with Instax printers (Instax Mini Link, Instax SP-2 or Instax SP3) feel a little more sturdy and better quality if that makes sense. So it's a great choice if you plan on printing photos to decorate your home or give away to people, not just to decorate your planner.
On the other hand, the other printers included in this list produce photos that are a little more convenient to use in a planner/bullet journal/notebook, etc: sticky back, thinner paper, no "distracting" frame around. So if you're mainly looking for a printer to add photos to your planner, staying away from Instax photo printers might be a better choice. My recommendation if you're just looking for a photo printer for your planner: HP Sprocket 2nd Edition.
As for myself, I'm partial to the polaroid look of the Instax printers, and I intend to display photos in other places than just in my planner, so the Instax printers (Instax Mini Link, Instax SP-2 or Instax SP3) are my favorites. If I had to pick only one of these 3, I would probably pick the Instax Mini Link.
I think that the polaroid style photo paper gives a more nostalgic and retro touch to your photos, which makes them even more special. It's a different type of photo, not just a mini photo. If you already own a Fujifilm Instax Mini camera, you'll be happy to know that the refills for Instax SP2 and Instax mini link printers are the same as the ones for the instant camera.
If I wasn't so partial to the mini polaroid look I would probably make my choice based on price as most of these photo printers' technical capacities seem pretty comparable to me. At the moment, this would lead me to choose the HP Sprocket 2nd Edition.
To sum it up, my 2 favorites are the Instax Mini Link and the HP Sprocket.
Pin this image: