Here's another free printable 2020 one page calendar to help you stay organized throughout the year. I call this 2020 calendar "rainbow" because each month has a different accent color to make weekends more visible. Check out my other free printable 2020 calendars with different layouts and styles here.
I've included 3 "title" versions to give you more choice: "Hello 2020", "2020, let's do this" and a blank version with no title.
You can use this 2020 calendar to quickly have a whole view of the year while still having a bit of space to write down future events, birthdays, meetings, etc.
This calendar is dated from January 2020 to December 2020.
Unlike my other 2020 year at a glance calendars, this calendar has a landscape layout.
(This post contains affiliate links. For more information, see my disclosures here.)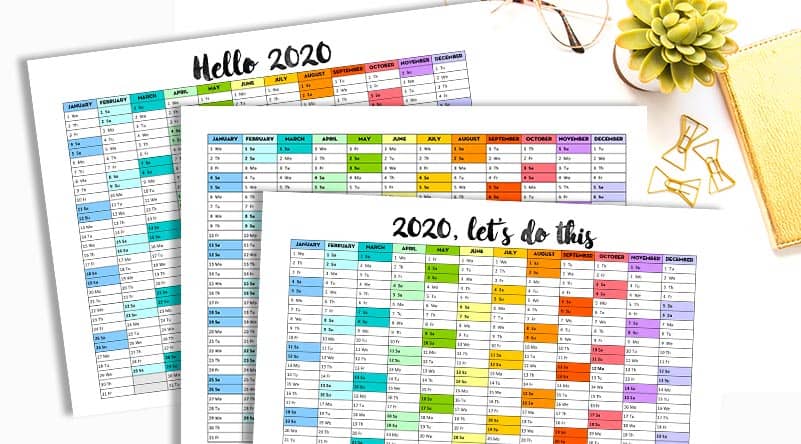 This free printable is available in 4 sizes to make it easy for you to use in many different possible ways:
US letter (fits BIG Happy Planner, binders…),
A4 (fits European binders) / A5 (fits A5 ring bound planners such as Filofax, Carpe Diem, Websters Pages, etc) – same size ratio, simply adjust your paper size when printing
Classic Happy Planner size (9×7,25″)
Pin this image for later:
To use this 2020 calendar in your planner simply print the PDF file in the appropriate size and punch holes that fit your planner. You can also simply use it in a binder, in a folder or on a wall.
If you own a Happy Planner I recommend the BIG Happy Planner Punch (you'll be able to use it for all Happy Planner sizes: BIG, Classic & Mini) or this ARC punch.
If you own a ring-bound planner (Filofax, Carpe diem…), I recommend this 6 hole punch that can adjust to different sizes (A5, Personal, Mini, Compact…).
Organize your life with The Ultimate Planner Bundle
The Ultimate Planner Bundle includes 78 pages of printable planner inserts (divided into 6 themed packs) to help you organize all areas of your life: home management, health & wellness, budget, hobbies, weekly, monthly and yearly calendars. I also included 9 different planner layouts to help you decide which layout works best for you. To make it easy to print and combine with most planners, 3 sizes are included: US letter, Classic Happy Planner and A5.
You can see all the inserts included in this bundle, along with a special offer on this page: The Ultimate Planner Bundle.
Download – Rainbow 2020 One Page Calendar Printable
FAQ:
FOR PERSONAL USE ONLY – Please Read Freebies Terms of Use.
You may also like these free printable calendars:
2020 Quarterly Calendar – Calendex Rainbow:
Free Printable 2020 Monthly Calendar:


Free Printable 2020 One Page Calendar:

I create lots of free printables, if you want to make sure to be updated and receive exclusive freebies, join the Lovely Newsletter: