Summer is almost here, so I want to share with you a free printable lettering worksheet filled with beach sayings to get you in the mood!
You can use these sayings to decorate your planner, bullet journal, travel notebook or any other artistic project! Once you get better at hand lettering you're going to want to hand letter everything anyway!
These traceable worksheets are a fun and easy way to improve your hand lettering skills. To make it more versatile, I've included 5 different lettering styles. You can print this worksheet or use it on your iPad with the Procreate App and Apple pencil.
You can get way more practice sheets here or in the free printable lettering worksheets category.
You'll be ready to add cute hand-lettered sayings to your planners and cards in no time.
(This post contains affiliate links. For more information, see my disclosures here.)
8 beach sayings are included:
In need of vitamin sea
Beach hair don't care
The ocean is calling
Good times and tan lines
Life is better in flip flops
Sweet summertime
Let the sea set you free
Aloha beaches
Get more worksheets
If you like this worksheet and want to improve your hand lettering skills in a fun and easy way, you may want to check out my lettering workbooks to get 190+ worksheets.
Download Free Printable Beach Sayings Lettering Practice Worksheet
FAQ: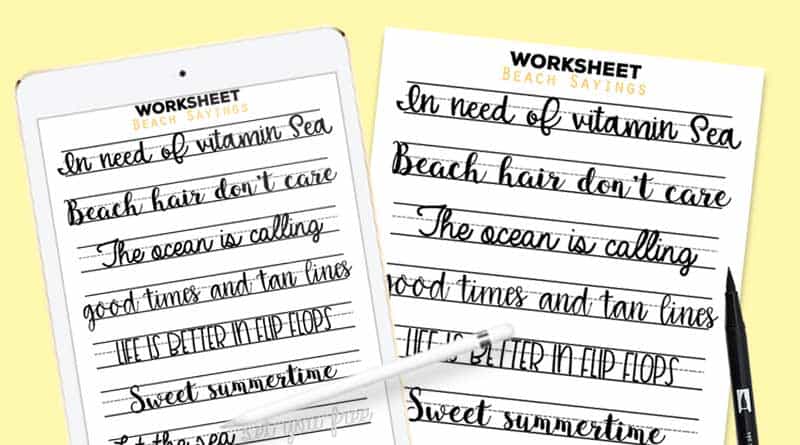 FOR PERSONAL USE ONLY – Please Read Freebies Terms of Use.
DOWNLOAD THIS LOVELY FREEBIE

How to download this file?
Not a subscriber yet? Some of my free printables are for newsletter subscribers only (it's totally FREE of course!). Subscribe to my newsletter to get free access to exclusive free printables and stay updated.
Existing subscribers – forgot your password? Make sure to check one of my emails to you, the password is reminded at the end of each newsletter. No caps, no space.
You're typing the right password but it won't let you download? You may have an issue downloading if you click a link from Facebook or an email. If so, just open the link directly in your browser and this should solve it.
FOR PERSONAL USE ONLY – Please Read Freebies Terms of Use.

I create lots of free printables, if you want to make sure to be updated and receive exclusive freebies, join the Lovely Newsletter: