Here's a new free printable weekly kit for your planner with a delicate boho style.
If you're not familiar with this concept, weekly kits are a nice and easy way to decorate your planner.
On one same sheet you get many different functional (and pretty) matching stickers that have a common theme and colors. It takes some pressure off, it's cheap and it's easy. Setting up your pages for the week to come with a weekly kit is a nice way to unwind and relax. You don't have to overthink it or dig through your stash of stickers and create a big mess on your desk.
(This post contains affiliate links. For more information, see my disclosures here.)
Here's a preview of a spread I made using this set of stickers (I didn't even use all of the stickers included in the printable, there's many way you can create and arrange your own weekly spread):
Also, you don't even need a cutting machine to use this type of printables. I'm sharing some tips and best supplies to create stickers further down.
This weekly kit fits perfectly in the Classic Happy Planner but you can make it work with other types of planner. I hope you like this set of boho planner stickers.
Supplies I recommend to make your own stickers
A printer: I really recommend investing in a HP Instant Ink compatible printer if you're into printables. Here's how I can print for free or super cheap with it.
Choose one type of sticker paper:
Choose one type of tool to cut your stickers:
Scissors (here's my favorite pair!)
Electronic cutting machine such as Silhouette or Cricut machines (I own both Silhouette Portrait and Silhouette Cameo 3 and highly recommend them)
If you want more tips and infos about these different supplies, make sure to read the detailed comparative article I wrote about tips and tools you can use to easily turn PDF printables into planner stickers.
How to save money and earn cash back on your online purchases ?
If you're planning on buying some of the items needed for this project online here's a great tip to earn cash back, find coupons and save money easily.
Before buying anything online, I always check out Ebates (either with the browser extension or on Ebates.com). I find the store name (type it), click the current deal for that store and complete my purchase.
When completing a purchase through Ebates you earn cash back that you can have mailed to you or sent via Paypal.
If you have never used Ebates you're missing out.
Click here to sign up for Ebates, and RIGHT NOW when you sign up, you will receive a $10 cash welcome bonus when you spend $25.00!
Since you were already going to complete your purchase online, why not get some cash back on things you planned to purchase!
Download Free Printable Boho Weekly Kit – Planner Stickers
FAQ: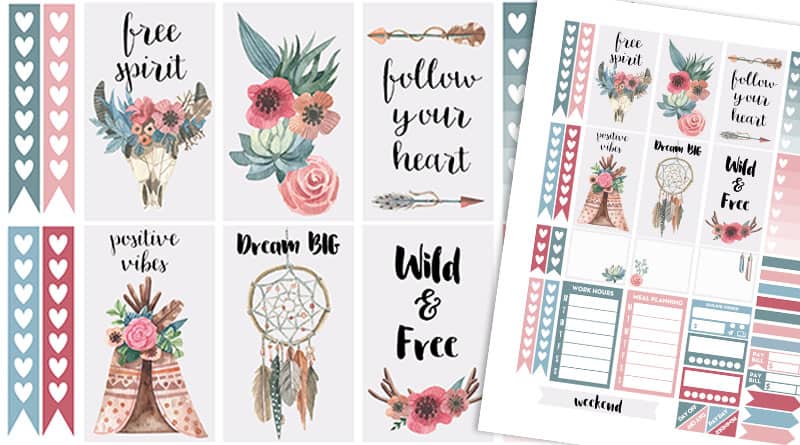 FOR PERSONAL USE ONLY – Please Read Freebies Terms of Use.
DOWNLOAD THIS LOVELY FREEBIE
How to download this file?
Don't forget to also have a look at other planner freebies I shared on the blog!
I create lots of free printables, if you want to make sure to be updated and receive exclusive freebies, join the Lovely Newsletter: