Use this free printable Take what you need poster with tearable encouragements to bring a bit of positivity to anyone! No reason to wait for a special occasion to put a smile on someone's face.
You can display it inside your home, in your children's bedrooms, or in a public place for a little random act of kindness.
It would also be cute to print this page and mail it to anyone you know who is going through a difficult time right now.
(This post contains affiliate links. For more information, see my disclosures here.)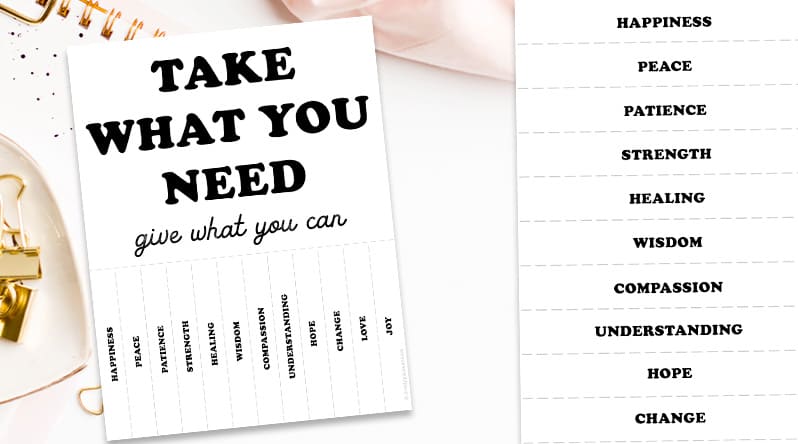 I've included 12 encouragements in this printable. I've also created a blank version so that you can write your own compliments if you prefer.
Pin this image if you'd like to save it for later! You can download the file further down this page.
This "Take what you need" sign is very easy to make. Simply download it, print it, and cut the vertical grey dotted lines. Anyone can then tear the encouragements.
Download – Free Printable Take what you need Poster
Subscribe to my newsletter to get free access to exclusive free printables and stay updated.
FOR PERSONAL USE ONLY – Please Read Freebies Terms of Use.
If you use this free printable, I'd be happy to see what you do with it! Feel free to comment down below, tag me/follow me on instagram (@lovelyplannerblog), or use the hashtag #lovelyplanner 🙂
Important note: All the free printables I share on Lovely Planner are only meant for personal use only and can at no point be used for commercial purposes, modified or claimed as your own.
---
I create lots of free printables, if you want to make sure to be updated and receive exclusive freebies, join the Lovely Newsletter: