If you're here that's probably because you love planning and you most certainly need a specific sticker to illustrate these sweet planning sessions of yours! Today's free printable will be perfect for that: planning time stickers.
To mark down your planning moments in your planner you'll get to choose between the 5 different stickers designs I created:
Open planner: "Let's plan" with raccoon planner calendar divider (remember this cutie? wink wink to my faithful lovely planner buddies)
Open planner: "Let's plan" with raccoon journaling card
Open planner: "Let's plan"
Closed planner: "Let's plan"
Closed planner: kawaii face
Their width is about 1,4″ (the closed planner ones are a little narrower) so they can perfectly fit in your planner boxes if you use a Happy Planner or Erin Condren Life Planner.
You can download this freebie in PDF format at the end of this article.
Want more planning time stickers?
This free planning stickers set is a sample of a more complete set I've created for my Etsy Shop. Here you get the yellow (aka my beloved Marigold Simple Stories Carpe Diem planner) but if you like them, head over here to see the printable set I've created with 2 additional colors: pink (ballerina fan, anyone?) and mint!
This "Planning time" printable stickers set includes:
44 planning stickers in 1,4″ width (perfect to fit EC life planner and Happy Planner boxes)
Stickers are designed in 5 different ways
Don't forget to also have a look at other planner freebies I shared on the blog!
Download these "Planning time" printable stickers: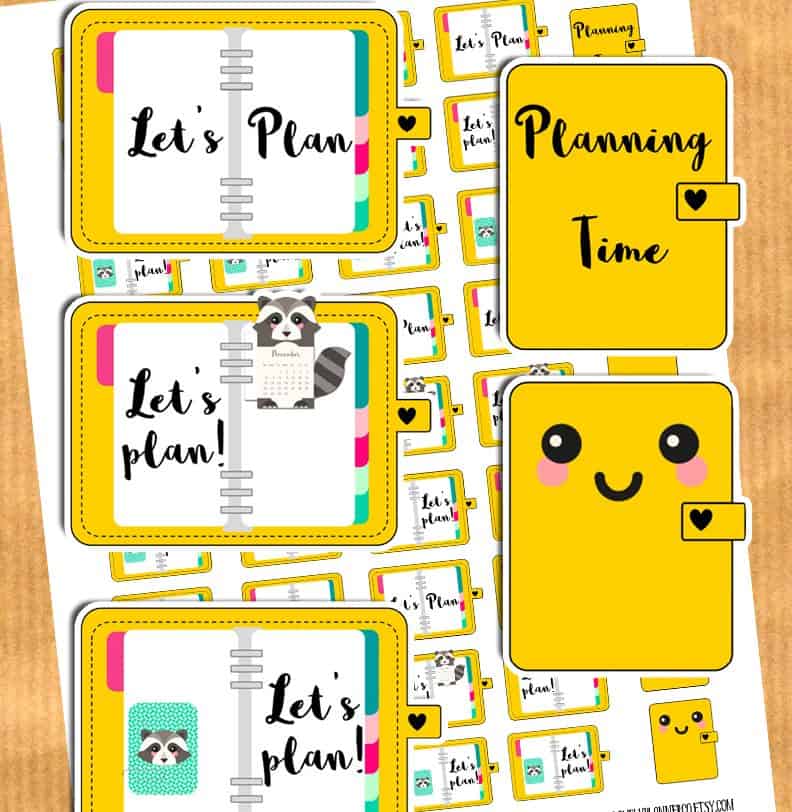 Download this lovely freebie – PDF file
If you use these free printable planner stickers, I'd be happy to see what you do with it! Feel free to comment down bellow, tag me/follow me on instagram (@lovelyplannerblog) or use the hashtag #lovelyplanner 🙂
Important note: All the free printables I share on Lovely Planner are only meant for personal use and can at no point be used for commercial purposes.
---
Disclosure: In order to support this website's costs, this post contains affiliate links(*), which means that if you make a purchase using one of those links, I'll receive a small commission.