24 days of FREE printables – DAY 23
Welcome back for day 23 of the Lovely Advent Calendar! Christmas season is such a fun and magical time. I thought that you wouldn't mind having an extra, digital advent calendar to discover a new, surprising little gift every day. So here I am!
Everyday until Christmas Eve, I'll share with you a free printable on this blog.
Here's today free printable! Keep coming back every day to discover new daily free printables!
December 23: Sloth page marker tab for A5 planners
How about adding a cool looking sloth in your A5 planner? It's super easy to do it with this fun printable page marker. You can use it to mark your "today page or any other section that you want to easily find in your planner. I made it so that a little bit of his face would show when there is pages over it but you can adjust his height by cutting a little bit at the bottom if you wish.
If you want to create this same page marker tab, all you'll have to do will be to:
print this free printable on thick paper, like cardstock (the design is mirrored so that your page marker can be double sided and look cute from every angle)
cut the 2 page markers, glue them together
laminate them
Reminder: before cutting the laminate don't forget to leave space to punch holes on one side of your page marker.
Punch holes and enjoy. After punching holes you can cut little openings so that it's easier to add and remove your tab without opening your planner rings.
I share planner freebies all year around, not just for this Advent Calendar serie so don't forget to check the other free planner printables I've shared on the blog so far!
Download this cute sloth page marker
Important, please read: TERMS OF USE
All the free printables I share on Lovely Planner are meant for PERSONAL USE ONLY.
This means:
 you can't use my free printables for commercial purposes,
you can't modify or claim them as your own,
you can't share my files directly. If you want to share a file, please send a link to the related article on my website but don't share or send the file on its own.
I spend a lot of time creating these files that I share for free with you all, so thank you for understanding and respecting these few simples rules 🙂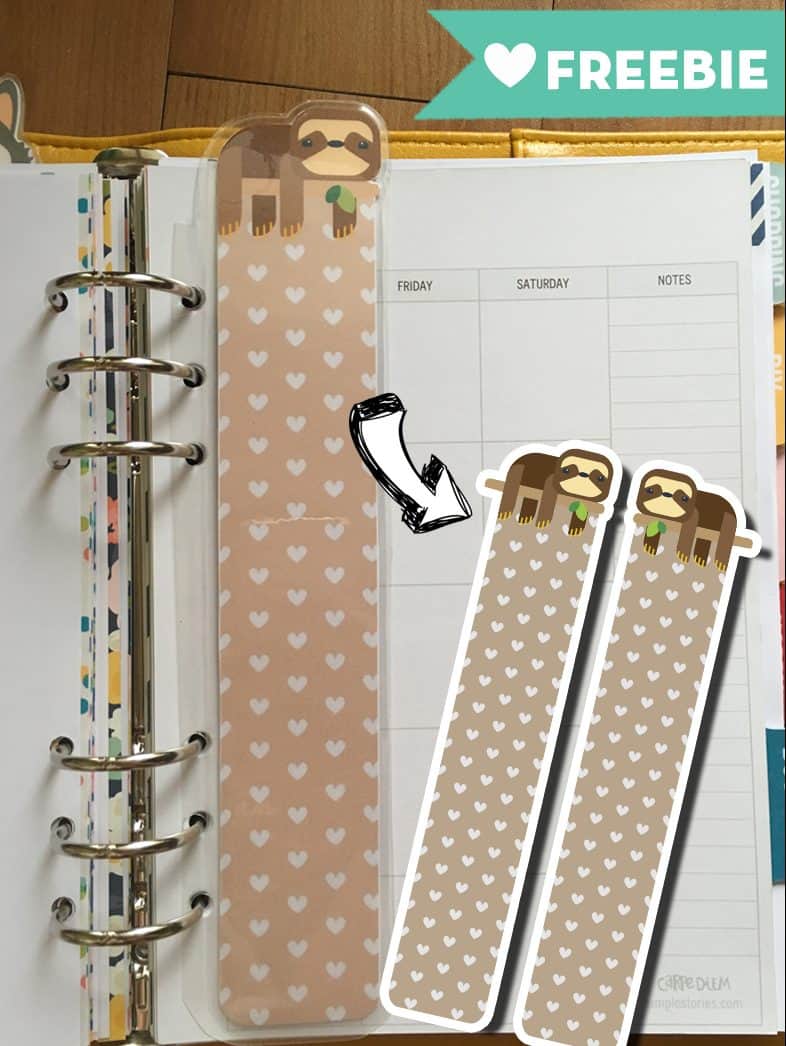 Download this lovely freebie – PDF file
If you use this free printable, I'd be happy to see what you do with it! Feel free to comment down bellow, tag me/follow me on instagram (@lovelyplannerblog) or use the hashtag #lovelyplanner 🙂
Important note: All the free printables I share on Lovely Planner are only meant for personal use only and can at no point be used for commercial purposes, modified or claimed as your own.
---
Disclosure: In order to support this website's costs, this post contains affiliate links, which means that if you make a purchase using one of those links, I'll receive a small commission.