Here's a Rustic Wedding Scavenger Hunt free printable for all the soon-to-be married couples out there!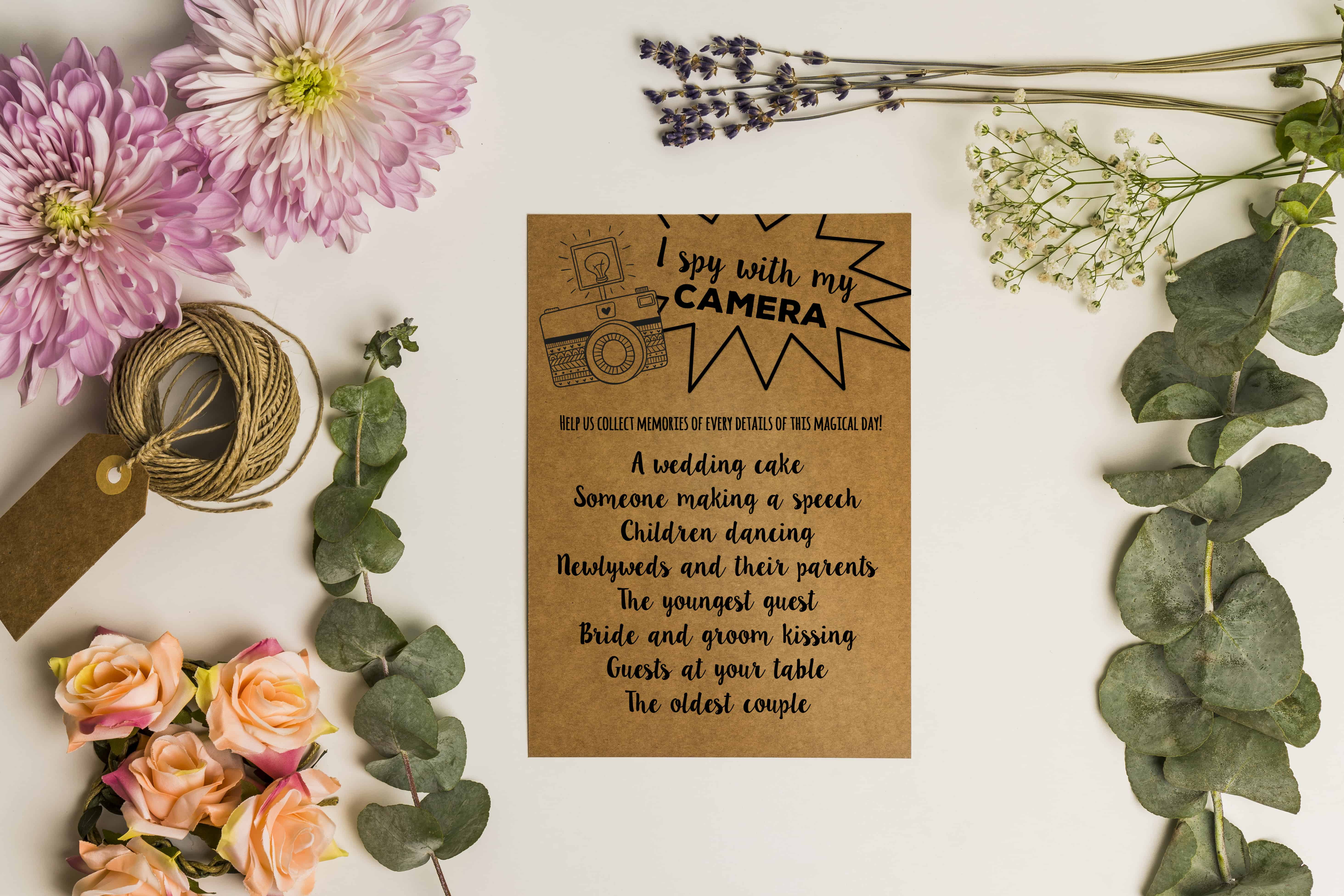 This Wedding Scavenger Hunt printable can be used during your wedding celebration to encourage your guests to take picture and share them with you!
For my wedding, to multiply photo occasions and make it a little more fun, I created 4 different versions of this Scavenger Hunt, including different elements to photograph on each version. However a lot of the elements I included were specific to my wedding (colors, guest names, location details, etc.) so to make sure this printable fits most people needs, I decided to compile the most generic elements into this one card that I'm sharing to day instead.
I'm thinking about creating an editable version of this file so that you too guys can fully customize it for your events. So, let me know if that's something you'd like!
This Scavenger Hunt printable is 5×7″ and I'm including 2 versions in the PDF :
with a white background so that you can print it on whatever type of paper (colored, kraft, etc.) your heart wants, to match your wedding colors, etc. I printed mine on kraft paper, like most of my wedding details, for a rustic look.
with a kraft paper background: if you want the kraft rustic look but want to make it even easier and cheaper, you can print this version on simple white cardstock.
You can either print it on 5×7″ directly or print it on US letter (select 2 cards per page in your printer settings) and then cut each card.
Here's different types of paper I recommend to print this Wedding Scavenger Hunt printable on:


Would you like more matching wedding printables?
I got married to my sweet american husband in April 2016 and I had a lot of fun preparing almost all the stationery and table decorations elements myself, with the help of my then fiancé and my crafty Mum.
I'm a bit of a control freak, I like things to be a certain way, I love to research, envision and then create whatever it is I need to get the result I had in mind. So leaving this fun part to someone else wasn't really an option for me. Of course, saving money on these items was a great side bonus!
At the time I was just starting the blog and mainly focused on planner printables so I didn't share any of my wedding DIY with you on the blog! But I'm super excited to revisit this happy crafty time of my life and share some of my DIY wedding ideas and free files. Here's a preview of some of my wedding details that I created and that I might share on the blog:
We celebrated our wedding in France, where we lived at the time. But luckily for you, my husband is american and I'm french, so some of our guests only spoke english. Which is why I created most of my wedding elements in both languages and it makes it all the more easy to share my wedding elements with you!
Download this DIY Rustic Wedding Scavenger Hunt
FOR PERSONAL USE ONLY – Please Read Freebies Terms of Use.
This page may contain affiliate links. When you click them you support Lovely Planner and help keep its content free. Thank you!