Looking for a cute personal touch to add to your Mother's Day gift? Here are 10 free printable Mother's Day Cards that you can print and turn into a cute mug-shaped folding card for all the Mums in your life. You can actually use these Free Printable Mom Cards at any other time of the year since there is no clear reference to Mother's Day.
You can probably find a card that fits all the women in your life, whether they have a human baby or not (dog mom, cat mom, and plant mom are also included).
I included 10 pages with a different message for each card: Best mom Ever, Super Mom, World's Best Mom, Mama Bear, Hot Mama, Mom to Be, Dog Mom, Plant Mom, Best Dog Mom Ever, Best Cat Mom Ever.
(This post contains affiliate links. For more information, see my disclosures here.)
You can use these free printable cards to make your Mom feel special and loved on Mother's Day, her birthday, or any other day! No reason to wait for a special occasion to remind your Mum how much she means to you.
Also, make sure to check out this Free Printable Lettering Worksheet with Mother's Day sayings to improve your hand lettering and create a card for her.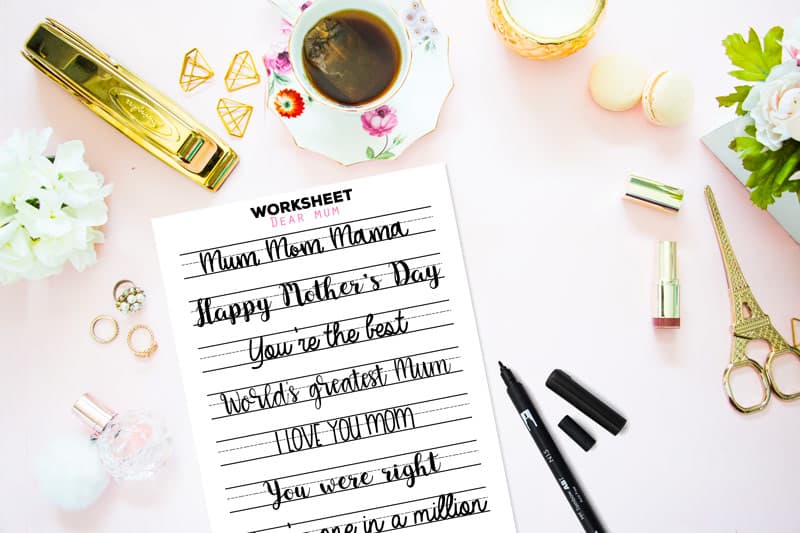 You may also like this page with Free Printable Tearable Compliments for Mom: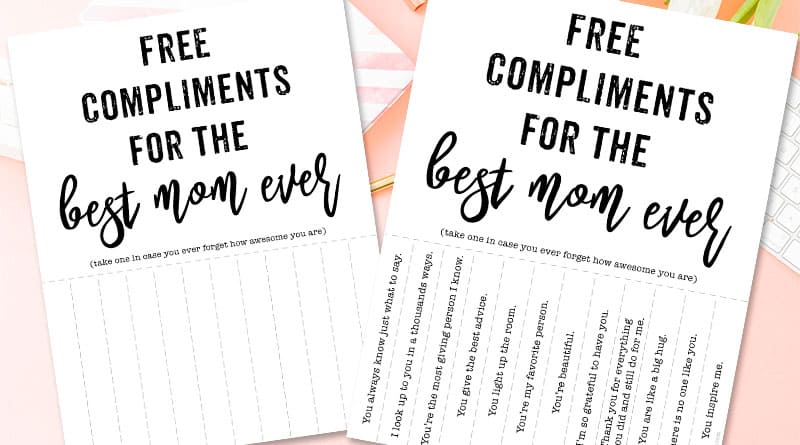 This folding mug-shaped card is very easy to make. You can download the file further down this page.
Download – 10 Free Printable Mother's Day Cards inspired by Rae Dunn
Download this Free Printable 10 Mother's Day Cards
Subscribe to my newsletter to get free access to exclusive free printables and stay updated.
FOR PERSONAL USE ONLY – Please Read Freebies Terms of Use.
If you use this free printable, I'd be happy to see what you do with it! Feel free to comment down below, tag me/follow me on instagram (@lovelyplannerblog), or use the hashtag #lovelyplanner 🙂
Important note: All the free printables I share on Lovely Planner are only meant for personal use only and can at no point be used for commercial purposes, modified, or claimed as your own.
How to save money and earn cash back on your online purchases ?
If you're planning on buying a gift for your Mum online (for Mother's Day, her birthday, Christmas, etc) here's a great tip to earn cash back, find coupons and save money easily.
Before buying anything online, I always check out Ebates/Rakuten (either with the browser extension or on Ebates.com). I find the store name (type it), click the current deal for that store and complete my purchase.
When completing a purchase through Ebates you earn cash back that you can have mailed to you or sent via Paypal.
If you have never used Ebates you're missing out.
Click here to sign up for Ebates/Rakuten, and RIGHT NOW when you sign up, you will receive a $10 cash welcome bonus when you spend $25.00!
Since you were already going to complete your purchase online, why not get some cash back on things you planned to purchase!
---
I create lots of free printables, if you want to make sure to be updated and receive exclusive freebies, join the Lovely Newsletter: