Hey there!
Mother's Day is coming up so I thought this "Dear Mom" lettering practice worksheet would be a good way to help you practice your hand lettering skills and master a few sayings to maybe embellish a card or gift tag for your Mum on her special day!
This worksheet includes Mother's day related words and sayings in the 5 different lettering styles.
(This post contains affiliate links. For more information, see my disclosures here.)
This worksheet comes in printable (PDF) and Procreate (JPEG) friendly formats. You can download it towards the end of this page.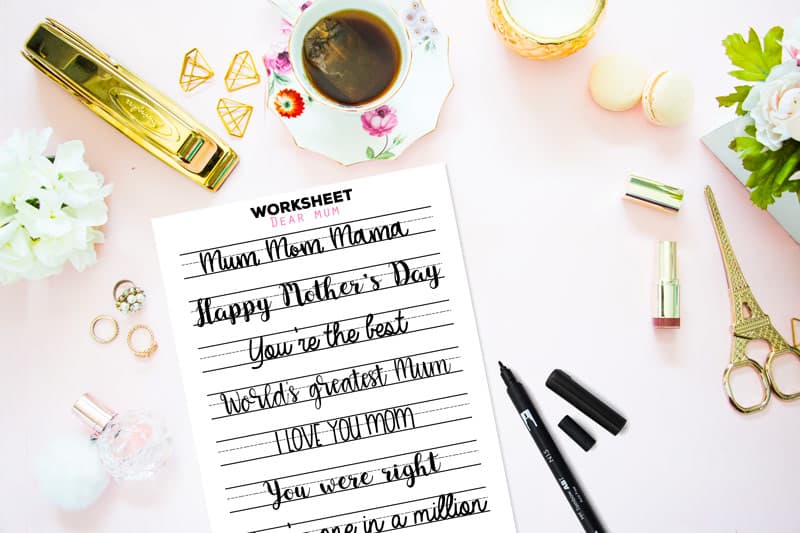 Want more lettering worksheets?
If you like any of these lettering styles, you can get a full workbook (with 30/40 lettering worksheets) of each style in my shop. If you like all these styles and want more than 200 lettering worksheets (alphabets and themed sayings), you can get my bundle of 5 workbooks: I have a special offer for you here (75% savings).
You can also get a pack of 10 FREE printable lettering worksheets here.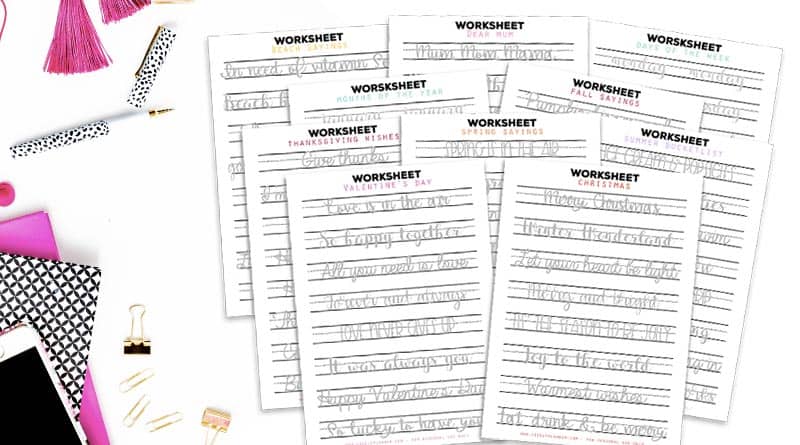 You'll be ready to add cute hand-lettered sayings to your planners and cards in no time.

-Download your free printable lettering worksheet at the end of the article-
Download Mother's Day Sayings Lettering Worksheet
To celebrate the newest workbooks, I'm sharing with you an extra worksheet page with Mother's Day sayings including the 5 different lettering styles available so far:
DOWNLOAD THIS LOVELY FREEBIE

How to download this file?
Not a subscriber yet? Some of my free printables are for newsletter subscribers only (it's totally FREE of course!). This one is. Subscribe to my newsletter to get free access to exclusive free printables and stay updated.
Existing subscribers – forgot your password? Make sure to check one of my emails to you, the password is reminded at the end of each newsletter. No caps, no space.
You're typing the right password but it won't let you download? You may have an issue downloading if you click a link from Facebook or an email. If so, just open the link directly in your browser and this should solve it.
FOR PERSONAL USE ONLY – Please Read Freebies Terms of Use.

Get these lettering workbooks in my Store
This Lettering Workbook can be printed on A4/US Letter size paper or on A5/Half US Letter size or used with Procreate App
Depending on the printer settings you'll select, you can get A5/Half US letter inserts or get a full page (A4 or US Letter) worksheets.
To get A5 inserts (or half US letter), I advise you to cut your paper to A5 or Half US Letter and select the corresponding format in your printer settings, and select scale "fit to page".

If your printer has a "booklet" printing settings, then you can also print it as a little booklet. I did that for the Modern Script Lettering and Sans Serif Lettering Workbooks and I quite like this system!
Alternatively, I've also included JPEG files so that you can use these lettering worksheets with Procreate App and Apple Pencil on your IPad Pro if you'd like to.
Print on A5/Half US Letter size
A5/Half US Letter size is the perfect format if you want to add the worksheets as inserts in your A5 Planners. This way you can practice at any time and easily access them for future reference.

Plus, the A5/Half US letter size is a good dimension to practice because the size of the words is about the same size as your handwriting in your notebooks, journals and planners would be.
Print on A4/US Letter size paper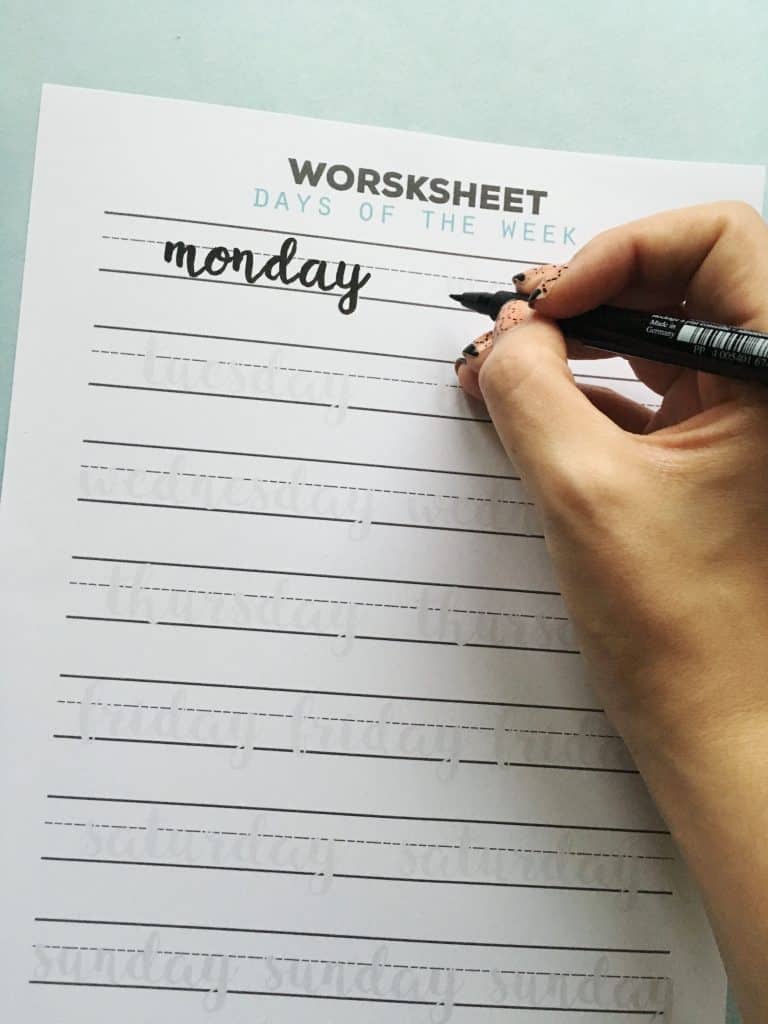 Whatever the format you choose to print on, you can check out these Tombow lettering sets that could help you get started: Advanced and Beginner sets.
Use these lettering worksheets with Procreate App
If you have an Ipad Pro or the new Ipad 2018 (both are compatible with Apple Pencil) you can also use these worksheets with the Procreate App and Apple Pencil (JPEG files are included in a ZIP folder). You'll simply have to extract the Zip folder and import the JPEG files in your Procreate App, add a layer on top and start tracing the words!

Edit: This post was first published in May 2018 and then updated in May 2020.