Here's a new set of 20 funny letterboard quotes stickers that can be used to decorate your planners or bullet journals! These stickers are meant to look like felt letterboards. It's a cute way to add a bit of positivity and humor to your planner.
I've recently shared a set of 20 motivational quotes letterboard stickers that you guys LOVED, make sure to check it out too!
For this second set of letterboard stickers, I'm focusing on January/beginning of year type of quotes!
I'm thinking I could create a new monthly set every month if that's something you guys are interested in!
You can also print these mini letterboards on cardstock paper and display them as a positive reminder wherever you need them. I think they would be really cute on a vision board too.
Each sticker includes a different short funny or inspirational quote and measures 1.5×1.9″. You can see a preview of all the quotes included further down.
(This post contains affiliate links. For more information, see my disclosures here.)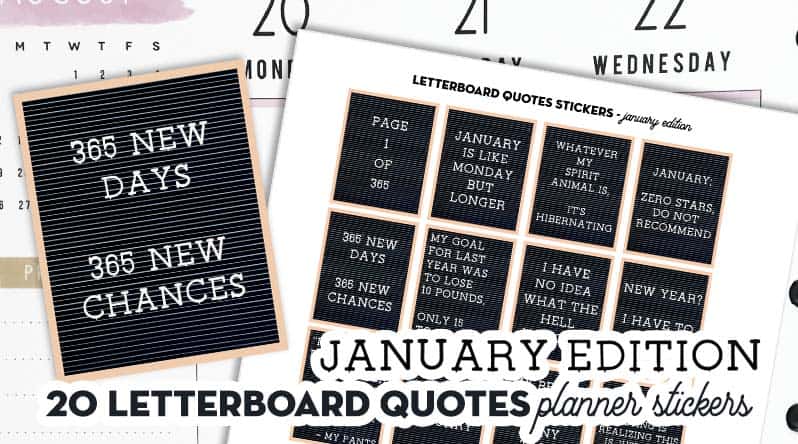 I'm pretty sure you've seen photos with those adorable letterboards. I love them and the idea of adding funny or inspirational quotes on them.
If you've used these boards before you probably know that, even though they're very beautiful, it takes a bit of patience to write a message on them, so, if you're anything like me you probably don't change your message all that often! These cute letterboard quotes stickers allow you to display cute messages in your planner or bullet journal without the struggle of finding all the letters and adding them one by one on your board.
While we're on this topic: If you already own a letterboard and are into Rae Dunn aesthetics, Amazon offers a cute set of skinny letters with a Rae-Dunn-inspired font! It's an easy way to add a different farmhouse look to your letterboard. I got this set and really like it, I use it on one of the two letterboards I own! It would also make a cute gift.

You can download this set of free printable stickers further down this page.
Want more planner stickers?
Make sure to check out my other free printable planner stickers, especially this post of 60+ functional planner stickers to add to your planner.
I also created 2 convenient packs of printable planner sticker sheets in my shop (PDF, PNG with transparent background, JPEG & Silhouette Cut Files included): Pack of 50 Functional Planner Stickers & Pack of 13 Kawaii Planner Stickers, you can get them individually or you can get a better deal by getting the Planner Lover Bundle that includes 50 functional sticker sheets + 13 Kawaii sticker sheets + more than 85 printable Planner Inserts to customize a planner and make it fit your needs.
Can't print now? Pin this image for later:
You can print these on regular copy paper but if you know you're going to be adding them to your bullet journal or planner, for convenience, I recommend printing this printable on sticker paper.
You can choose between different types of sticker paper (or you can use regular copy paper):
You can download this set of stickers further down this page. Here's a low-resolution preview of the 20 motivational letterboard quotes planner stickers included.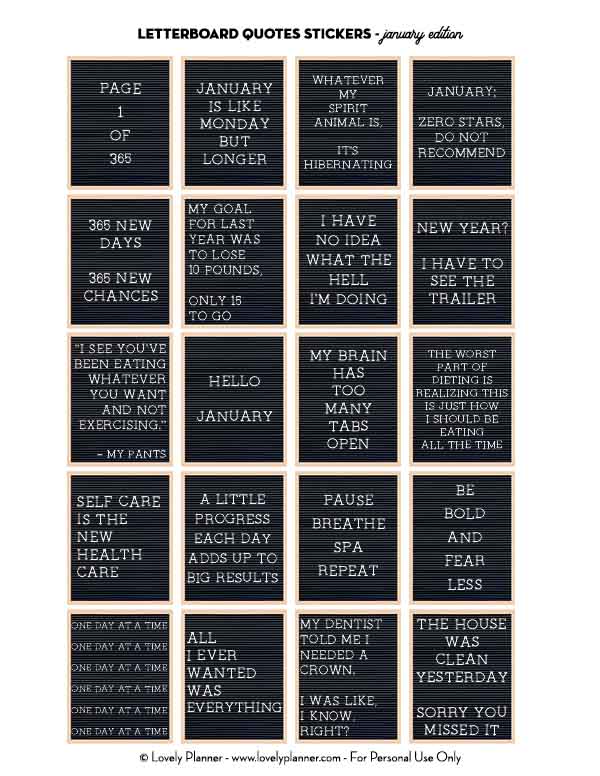 DOWNLOAD Free Printable Letterboard Quotes Planner Stickers – January Edition
DOWNLOAD THIS LOVELY FREEBIE

How to download this file?
Not a subscriber yet? Some of my free printables are for newsletter subscribers only (it's totally FREE of course!). This printable is one of them. Subscribe to my newsletter to get free access to exclusive free printables and stay updated.
Existing subscribers – forgot your password? Make sure to check one of my emails to you, the password is reminded at the end of each newsletter. No caps, no space.
You're typing the right password but it won't let you download? You may have an issue downloading if you click a link from Facebook or an email. If so, just open the link directly in your browser and this should solve it.
FOR PERSONAL USE ONLY – Please Read Freebies Terms of Use.
Would you like more printables for your planner? Check out my bundles:
I created several special packs with printable planner stickers and inserts to help you decorate and organize your planner. You can compare all my packs at once and see more details on this page.
I create lots of free printables, if you want to make sure to be updated and receive exclusive freebies, join the Lovely Newsletter: