EDIT : More lettering workbooks have been created since the time I published this article. Make sure to check all the different types of lettering workbooks available on my shop.
Get +190 hand lettering worksheets
(This post contains affiliate links. For more information, see my disclosures here.)
Hey there!
Big news today! I've been working on a new project lately and I'm now happy to tell you guys all about it!
Have you been wanting to decorate your planners, bullet journals and traveler's notebook with beautiful lettering? Then, keep on reading!
I'd like to introduce you to the "Lovely Brush Lettering Workbook": The Fun and Easy way to practice hand lettering for Planners, Bullet Journals and crafts enthusiasts!
Remember these hand lettering practice worksheets I shared with you previously? Well, I created a whole lot more and turned it into a pack that you can use in your planners, on any paper or with the Procreate App!
Let's see what it's all about, shall we?
What's included in the Lovely Brush Lettering Workbook and why should I get it?
Packed with 20 Themed worksheets (see full list below) with traceable words + 19 Alphabet pages (upper and lower case), this workbook is specially made for beginners, planners, bullet journals & crafts enthusiasts
My themed worksheets with words and sayings will gradually teach you how letters flow together, and effortlessly help you master words you'd be happy to use to decorate your planners, notebooks, bullet journals,
postcards, gift cards, scrapbooking pages, craft projects, etc.
This Lovely Brush Lettering Practice Workbook includes more than 40 pages to help you get started or improve your hand lettering in a fun and easy way.
Even though I've included alphabet practice worksheets in this workbook (19 worksheet pages), I made it a point to include a lot of worksheets (20 different worksheets) featuring traceable words & sayings you're likely to use in your everyday lettering.
While practicing each letter on its own (alphabet worksheets) is a useful step in the process, for some people, it isn't the most fun thing to do. Practicing letters on their own doesn't mean you'll do a great job at forming nicely written words with these letters.
This is why I believe that this big pack, including themed worksheets, is a good choice for beginners and people who want to see quick results while keeping it fun!
20 Themed Worksheets included:
Greeting card sayings (2 pages)
Holidays & events (2 pages)
Days of the week (2 pages)
Months of the year (2 pages)
Seasons sayings (1 page)
Planner and bullet journal words (1 page)
Motivational sayings (1 page)
Boss lady sayings (1 page)
Planner girl sayings (1 page)
Travel words & sayings (2 pages)
Basic french vocabulary (4 pages: days of the week, planner words, greetings, sentiments/wishes)
Numbers (1 page)
19 Alphabet Worksheet pages included
Practice each letter on its own with the lowercase and uppercase worksheets included.
Also included in the Lovely Brush Lettering Workbook:
The document also includes a blank worksheet, as well as 2 progress worksheets to compare your hand lettering before and after completing the workbook.
I also share tips and recommendations to use this workbook (pens recommended, printer settings to print on A5/Half US letter or A4/US letter).
Before you know it, you'll be able to hand letter all the words and sayings your heart desires without the help of worksheets.
Get this lettering workbook in my Store
This Lettering Workbook can be printed on A4/US Letter size paper or on A5/Half US Letter size or used with Procreate App
Depending on the printer settings you'll select, you can get A5/Half US letter inserts or get a full page (A4 or US Letter) worksheets.
To get A5 inserts (or half US letter), I advise you cut your paper to A5 or Half US Letter and select the corresponding format in your printer settings, and select scale "fit to page".
Alternatively, I've also included JPEG files so that you can use these lettering worksheets with Procreate App if you'd like to.
Print on A5/Half US Letter size
A5/Half US Letter size is the perfect format if you want to add the worksheets as inserts in your A5 Planners. This way you can practice at any time and easily access them for future reference.
Plus, the A5/Half US letter size is a good dimension to practice because the size of the words is about the same size as your handwriting in your notebooks, journals and planners would be.
Pens recommended: Tombow Fudenosuke Soft tip or Pentel Fude Touch Signpen
Print on A4/US Letter size paper
The A4 (or US letter) is obviously twice bigger so I recommend you use a brush pen like the Tombow Dual Brush Pen or Faber Castel Brush Pen (included in this set – pen "B")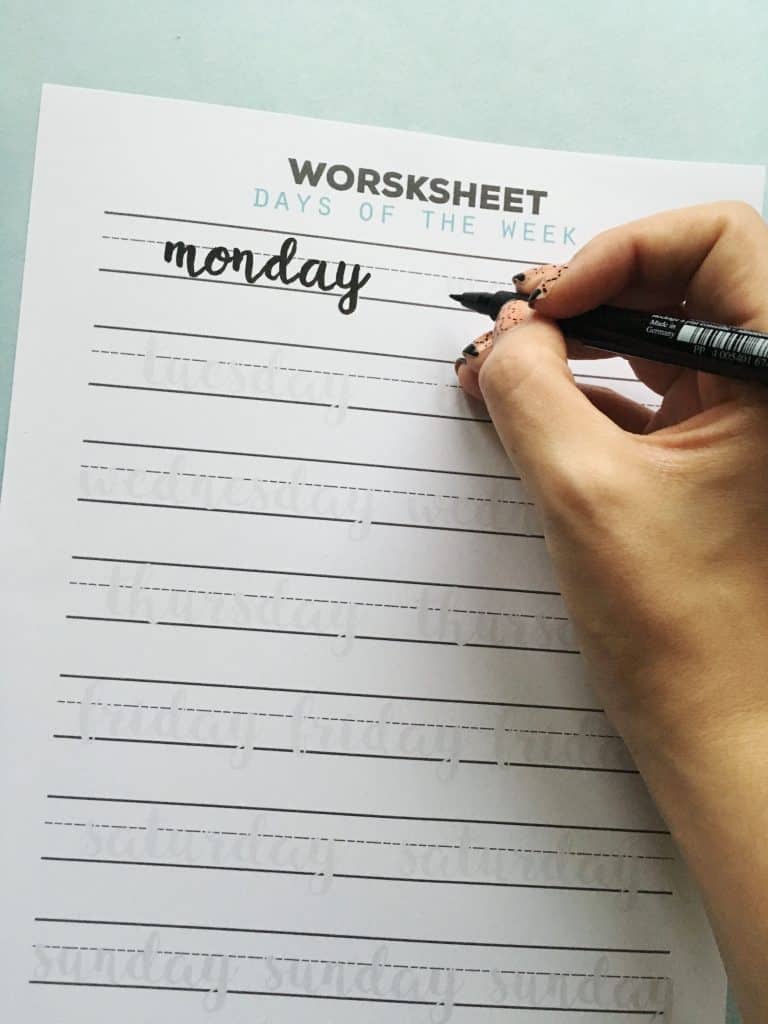 Whatever the format you choose to print on, you can check out these Tombow lettering sets that could help you get started: Advanced and Beginner sets.

Use these lettering worksheets with Procreate App
If you have an Ipad Pro you can also use these worksheets with the Procreate App and Apple Pencil (JPEG files are included in a ZIP folder). You'll simply have to extract the Zip folder and import the JPEG files in your Procreate App, add a layer on top and start tracing the words!
Get this lettering workbook in my Store
If you'd like to test a sample page before ordering this workbook, you can download the worksheet "days of the week" here:
Download this lovely freebie – PDF file
Do you like this? Spread the love by pinning this image:

Get this lettering workbook in my shop