EDIT:
If you like this "days of the week" lettering worksheet, I'd like to let you know that I've now created several Lettering Workbooks that you might like: each of my lettering workbooks is packed with 19 alphabet worksheets (lower and upper case) and 20 themed worksheets with traceable words and sayings that will help beginners, planners and crafters to quickly and easily gain confidence and get results!
These worksheets can be used in your A5 planners, on A4/US Letter paper (PDF) or with the Procreate App on iPad+Apple Pencil (JPEG)!
Get 190+ hand lettering worksheets
---
(This post contains affiliate links. For more information, see my disclosures here.)
Wouldn't it be nice to be able to decorate your planners, bullet journals and traveler's notebook with beautiful lettering?
Of course, it would! That's why, I'm writing a new article series on the blog, where I'll share several lettering practice worksheets to help you improve your hand lettering skills in a fun and easy way!
These lettering practice sheets include actual words that you're likely to use often in my planner, traveler's notebook or bullet journal. I hope they'll be useful.
Today, I'm happy to share with you the 1st printable worksheet of this series: Days of the Week – lettering practice worksheet.
Those who have already subscribed to the newsletter may remember that I've been wanting to get better at lettering for some time. If you do too, make sure to check these Tombow lettering sets that could help you get started: Advanced and Beginner sets.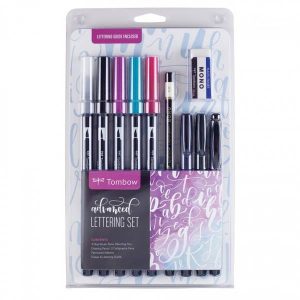 In my learning process, I realized that for lettering (as for most things in life) practice definitely makes progress.
I also quickly realized that lettering practice worksheets are a great help for beginners.
The good news about that is that thanks to Pinterest and the internet in general, you can find a good number of resources and free lettering practice sheets.
Quite often, these practice sheets are composed of letters A through Z, and even though it's helpful when you're beginning to letter it can sometimes get confusing to figure out how to make the letters flow together and write your own words.
Or maybe you don't want to spend too long to learn to letter and just want to get a few accent words to look good in your planners and bullet journal. Getting quick results is always encouraging!
That's why I've decided to create lettering practice sheets with actual words that you're likely to use often in a planner, traveler's notebook or bullet journal.
To start this "Planner lettering" series, here's a practice sheet with the days of the week.
There will be more to come so please let me know if you're interested in this topic or if there are specific things you'd like me to create worksheets for, etc.
Days of the Week Lettering Worksheet for Planners and Bullet Journals enthusiasts
Depending on the printing settings you'll select, you can get A5/Half US letter inserts or get a full page (A4 or US Letter) worksheet. To get A5 inserts (or half US letter), simply select " print 2 pages per sheet" in your printing settings.
The A5 format (or half US letter) is perfect if you want to insert this worksheet in your A5 planners for future reference (that's what I did as you can see on the pictures).
The A5 size is a good dimension to practice because the size of the words is about the same size as your handwriting in your notebooks, journals and planners would be.
Pen recommended: Tombow Fudenosuke Soft tip
The A4 (or US letter) is obviously twice bigger so I recommend you use a brush pen like the Tombow Dual Brush Pen or Faber Castel Brush Pen (included in this set – pen "B")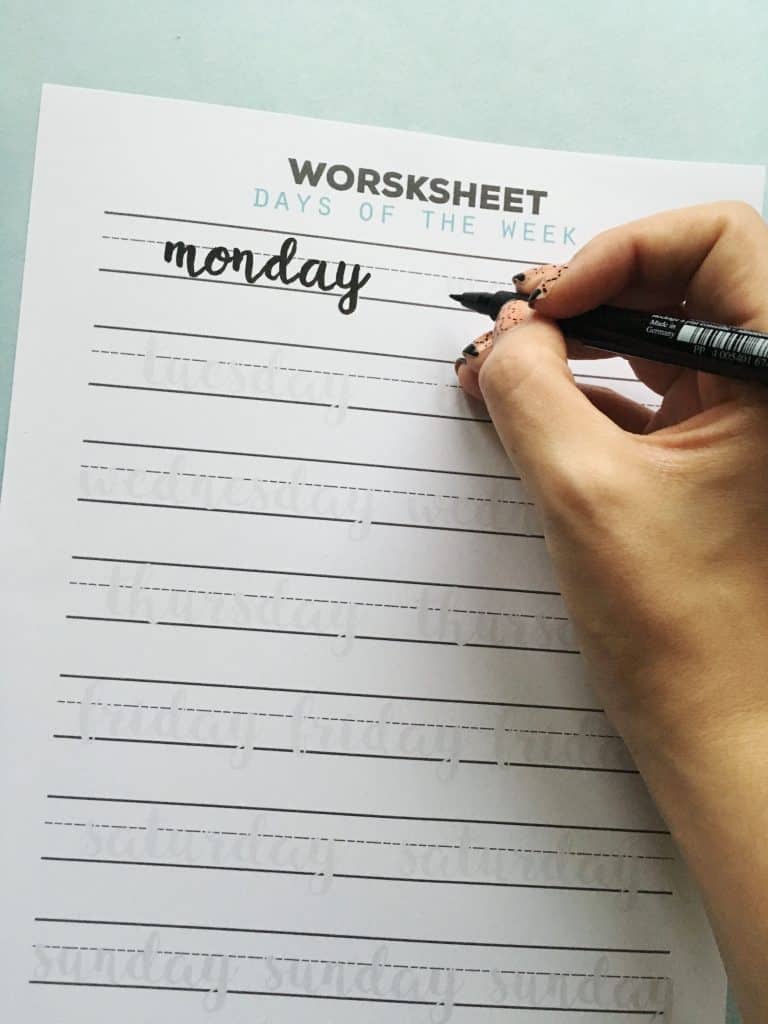 The more you'll practice and the quicker you'll be able to letter confidently with consistent results and to develop you own lettering style.
TIPS
If you want to use this practice sheet over and over again you can use tracing paper, place it on top of the printed worksheet, letter and repeat with a new piece of tracing paper again and again. This is also supposed to help your brush pen last longer without fraying.
Alternatively, you can of course just print it as much as you want.
Download this FREE Lettering Practice Worksheet – Days of the Week
DOWNLOAD THIS LOVELY FREEBIE

How to download this file?
Not a subscriber yet? Some of my free printables are for newsletter subscribers only (it's totally FREE of course!). The monthly calendar dividers are some of them. Subscribe to my newsletter to get free access to exclusive free printables and stay updated.
Existing subscribers – forgot your password? Make sure to check one of my emails to you, the password is reminded at the end of each newsletter. No caps, no space.
You're typing the right password but it won't let you download? You may have an issue downloading if you click a link from Facebook or an email. If so, just open the link directly in your browser and this should solve it.
FOR PERSONAL USE ONLY – Please Read Freebies Terms of Use.
If you use them, I'd be happy to see what you do with it! Feel free to tag me/follow me on instagram (@lovelyplannerblog) 🙂

Don't forget to have a look at other planner freebies I shared on the blog!