Free Printable 2020 Monthly Calendar – Classic
After sharing this 2020 calendar one page printable recently (in 4 designs) I'm now happy to share a matching free printable 2020 monthly calendar with 12 monthly pages dated from January 2020 to December 2020.
This printable 2020 calendar will help you keep track of the different dates and events all along the year. You have enough space in each daily box to write down future events and holidays.
I've included 3 sizes for this 2020 monthly calendar: US Letter, A4 and Classic Happy Planner. You can also easily resize it if needed by adjusting your printer settings.
(This post contains affiliate links. For more information, see my disclosures here.)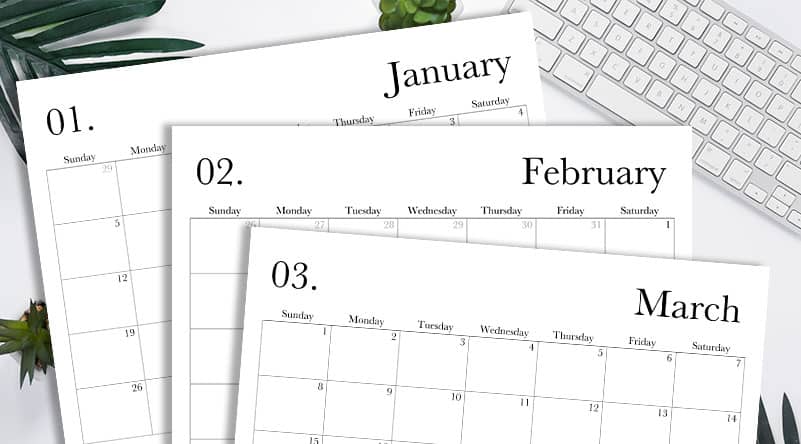 You can place this free printable calendar on your wall, on your fridge or near your desk to help you stay organized.
I intentionally made this calendar simple and classic so that it can work with many different decors and styles.
If this isn't quite your style, I also shared a different free printable 2020 calendar on my blog with hand-lettered months that you may like: Free Printable 2020 Calendar – Hand-lettering style
You can download your free printable 2020 monthly calendar further down this page.
Pin this image for later:
I recommend you combine this monthly calendar with this matching year at a glance 2020 Calendar:
Download – 2020 Calendar Printable Free Template
FAQ:
FOR PERSONAL USE ONLY – Please Read Freebies Terms of Use.
I create lots of free printables, if you want to make sure to be updated and receive exclusive freebies, join the Lovely Newsletter: