I've been sharing many different types of calendar templates on my blog but for the first time ever I'm sharing a 2022 Family Calendar to help you organize all your family members' activities in one same spot. This printable family planner I available in 4 templates to fit most families' sizes: for 3, 4, 5, or 6 family members. You can download whichever template you need further down this page.
This 2022 family planner includes 12 monthly calendar pages, from January 2022 to December 2022.
With this 2022 family calendar, each family member gets his own column. Simply write names in each column and fill each monthly calendar according to everybody's busy schedule.
I hope this family calendar helps you feel more organized, gain some clarity and alleviate some of the stress that comes with organizing family life.
>>> ✨🗓 Make sure to take a look at all my other free printable calendar templates <<<
(This post contains affiliate links. For more information, see my disclosures here.)
---
You can place this free printable calendar on your wall, on your fridge, or near your desk to help you stay organized.
TIP:
You can also add these monthly 2022 family calendar pages to your 2022 planner.
>>> Find out how to easily customize your planner for 2022 with my 160 printable planner inserts.
I intentionally made this calendar simple and minimalist so that it can work with many different decors and styles. This printable 2022 family calendar is also very printer-friendly (only black & white ink, and doesn't require much ink).
You can download your free printable 2022 calendar further down this page.
Pin this image for later:
Organize your life with The Ultimate Planner Bundle
The Ultimate Planner Bundle includes 85+ pages of printable planner inserts (divided into 6 themed packs) to help you organize all areas of your life: home management, health & wellness, budget, hobbies, weekly, monthly, and yearly calendars.
I also included 9 different planner layouts to help you decide which layout works best for you (vertical, horizontal, fitness, color block, to-do list, lined, etc). To make it easy to print and combine with most planners, 3 sizes are included: US letter, Classic Happy Planner, and A5.
You can see all the inserts included in this bundle, a flip-through video, and a special offer on this page: The Ultimate Planner Bundle.
Before downloading your file further down, you may also like these other free printable calendars I shared:
>>>Click here to see all my other free printable calendar templates <<<
I recommend you combine this monthly calendar with one of these year at a glance 2022 Calendars: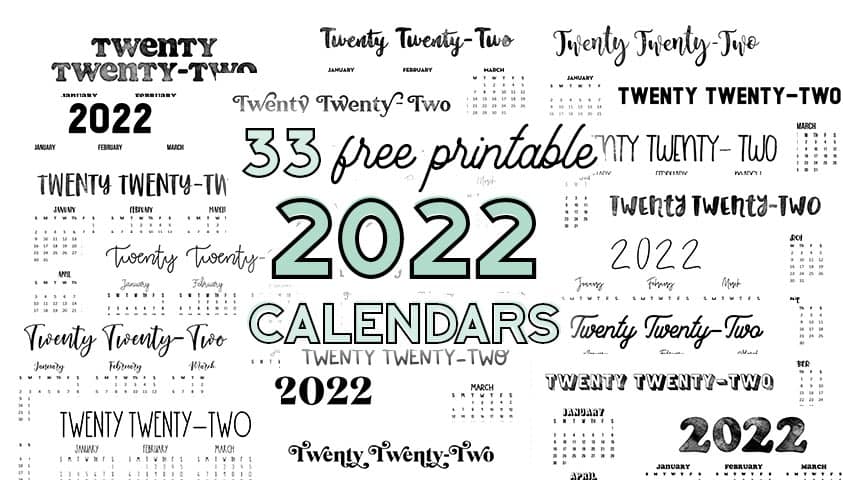 Monthly Calendar Template (also available in my shop as an editable PDF):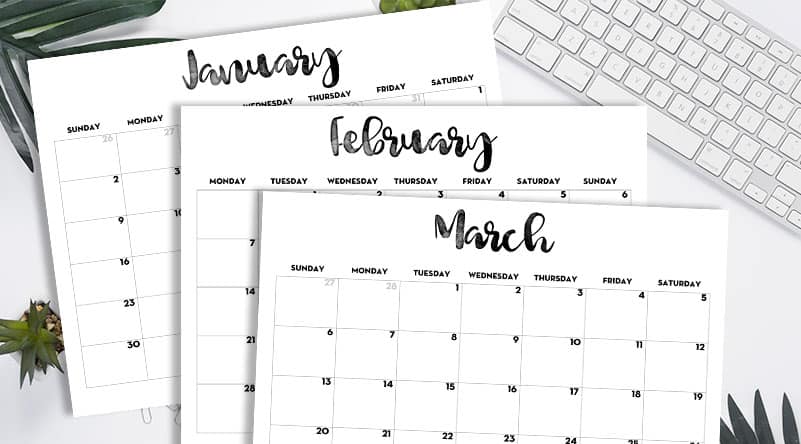 ★ Download – 2022 Family Calendar Printable Free Template ★
Before downloading, make sure to subscribe to the Lovely Newsletter! You'll receive a password to download all my printables, including this one. I share updated calendars every year and a lot of other awesome freebies to help you get more organized!
FOR PERSONAL USE ONLY – Please Read Freebies Terms of Use.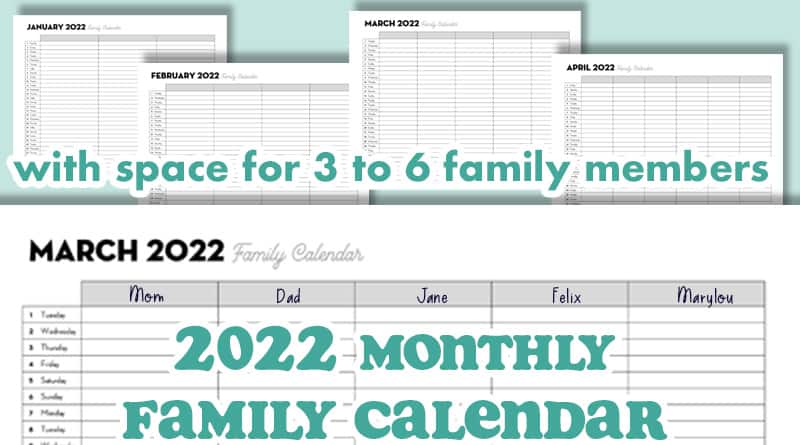 DOWNLOAD THIS CALENDAR 2022
How to download this file?
Not a subscriber yet? Some of my printables (including this one) are for my newsletter subscribers only. It's totally FREE of course!
Subscribe to my newsletter to get free access to exclusive free printables and stay updated.
Existing subscribers – forgot your password? Make sure to check one of my emails to you, the password is reminded at the end of each newsletter. No caps, no space.
You're typing the right password but get a "wrong password" error message? You may have an issue downloading if you click a link from Facebook or an email. If so, just open the link directly in your browser and this should solve it.
I create lots of free printables, if you want to make sure to be updated and receive exclusive freebies, join the Lovely Newsletter: