Whether you're expecting a baby (and are a fan of the Harry Potter saga) or know someone who is, these free printable Harry Potter baby closet dividers can be a great (and very easy) DIY. Why not surprise the mommy to be with this practical set of baby closet dividers for her baby shower or any other day just to make her feel special and remind her what a thoughtful friend you are.
I've created 2 versions: one with 8 different characters of the Harry Potter saga (a different character on each divider) and another version with Harry Potter on all the dividers. Personally, I much prefer the version with all the characters but I wanted to offer another version in case Harry is the chosen one for you.
These DIY Harry Potter Baby Closets are a great choice whether you're planning on creating a full-on themed Harry Potter nursery or just want to add a little touch of magic to your baby's bedroom decor.
If you'd like something less themed, these free printable floral baby closet dividers are great for a little girl's nursery.
(This post contains affiliate links. For more information, see my disclosures here.)
In case you're not familiar with this accessory, closet dividers are great to help you organize your baby's clothes by size. Babies grow very fast so keeping all the clothes neatly organized by size can be a big time (and sanity) saver. Once baby is here you' won't have much time to waste looking around for the right size of clothes, so you might as well get it organized from the start.
I've included 8 different closet dividers: newborn, 0-3 months, 3 months, 6 months, 9 months, 12 months, 18 months and 24 months. The free printable file includes 4 pages.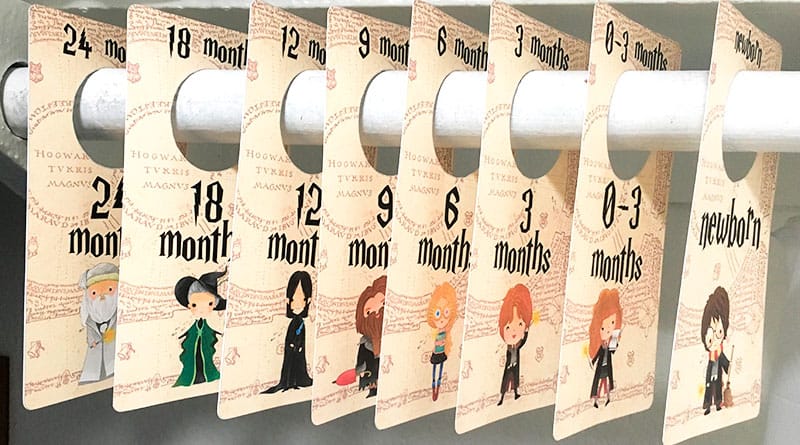 Supplies and Instructions – DIY Harry Potter Baby Closet Dividers
As I said this is a very fast and easy DIY so the printable is pretty self-explanatory, but here are a few tips you can use to create these baby closet dividers.
You'll only need a printer, paper and a pair of scissors to complete this project. Little efforts for big results. Once you've cut each divider you'll just have to place them in your closet and start sorting your little one's clothes.
For this DIY you will need:
How to save money and earn cash back on your online purchases ?
If you're planning on buying some of the items needed for this project online here's a great tip to earn cash back, find coupons and save money easily.
Before buying anything online, I always check out Ebates (either with the browser extension or on Ebates.com). I find the store name (type it), click the current deal for that store and complete my purchase.
When completing a purchase through Ebates you earn cash back that you can have mailed to you or sent via Paypal.
If you have never used Ebates you're missing out.
Click here to sign up for Ebates, and RIGHT NOW when you sign up, you will receive a $10 cash welcome bonus when you spend $25.00!
Since you were already going to complete your purchase online, why not get some cash back on things you planned to purchase!
Instructions
Download the free printable PDF file further down this page. Here's a preview of one of the 4 pages:
Print the PDF (4 pages) on thick paper and cut each of the 8 dividers. To save time I decided to use my paper trimmer but you can of course simply use a pair of scissors for that step.
I then used my corner rounder punch to round each corner. You probably don't want to have sharp corners hanging in your closet.
Lastly, follow the grey cutting marks to cut the hole and the opening.
You now have 8 beautiful closet dividers to decorate and organize your nursery.
Download – Free Printable Harry Potter DIY Baby Closet Dividers
FOR PERSONAL USE ONLY – Please Read Freebies Terms of Use.
DOWNLOAD THIS LOVELY FREEBIE
How to download this file?
Disclaimer: All copyrights and trademarks of the character images are the property of their respective owners and are not affiliated with us in any way. This is a work of fan fiction using characters or ideas from the Harry Potter world, which is also trademarked by J. K. Rowling. I do not claim ownership over the characters used in my free printables.
I create lots of free printables, if you want to make sure to be updated and receive exclusive freebies, join the Lovely Newsletter:

You can also follow me on Pinterest to see all the awesome free printables I've spotted while browsing the web!