About a week ago I was explaining you how you can turn dingbats fonts into cute stickers. As promised, I'm now sharing with you the result of my previous tutorial!
After adding color to the dingbats font Kawaii Food, I ended up with this cute set of stickers:
This kawaii food stickers set includes:
21 different stickers
B&W and color versions: As you can see, I've also included a black and white version of the stickers in the printable. This way you can color inside yourself afterwards if you want to. I thought they were cute too!
2 different sizes are included in the pdf: 1 or 2 set of stickers per page depending on how small you want your stickers to be. In the Silhouette file, as always, you'll be completely able to adjust the size the way you want it yourself.
I like that you can coordinate this set of stickers with other dingbats fonts stickers. Just use the tutorial I shared if you want to do that.
Don't forget to have a look at other planner freebies i shared on the blog!
Here they are with other free stickers I shared with you!

You can download 2 types of files : PDF or Silhouette Studio file
As always, you can download these stickers for free in Pdf or Silhouette studio format at the end of the article.
Don't worry, you can totally use these stickers if you don't have a Silhouette machine
. It's just that having a one saves you lots of time (and money in the long run if you usually buy a lot of stickers off Etsy) and gives you a very nice result without needing much skills. Anyone can do it I would say 🙂
PDF:

Print (preferably on sticker paper) and cut around each character:
I use this paper, the back has no "easy peel off cut lines" which makes it more convenient for planner stickers. But you can use any paper you want. A vous de choisir (your choice to make)!
If you use non sticky paper to print your stickers, you can use a Xyron to make the back of your die cuts sticky.
Silhouette file

If you own a Silhouette machine, all you'll have to do will be to print&cut this file on sticker paper.

I use the settings blade 2, speed 10 and thickness 18 to kiss cut the characters (red line in the file), but the settings may vary depending on your sticker paper, so make sure to run the test cut before cutting your whole page.
Download your food stickers: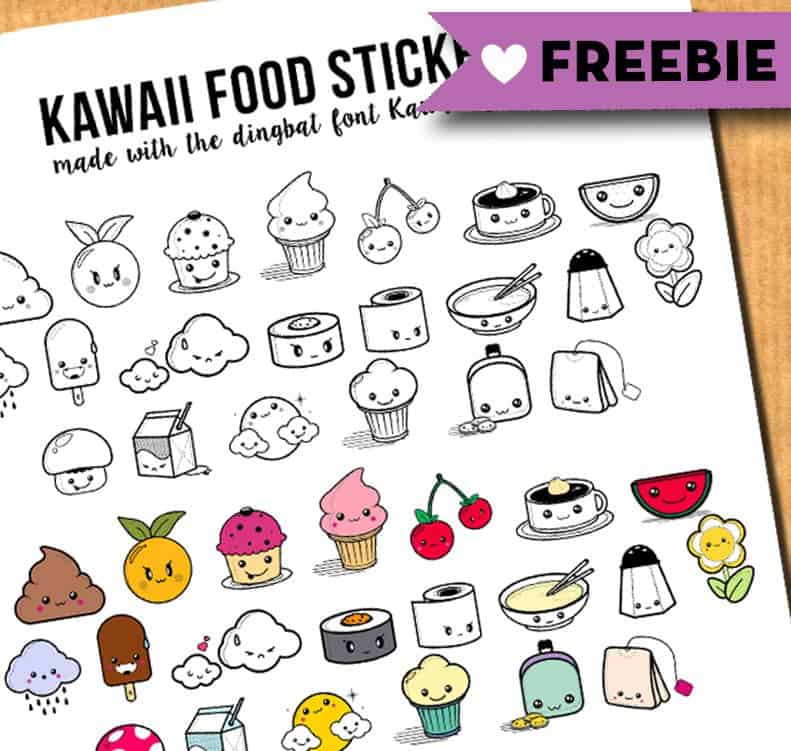 Download this lovely freebie – PDF file
Download this lovely freebie – Silhouette Print&Cut file
If you use them, I'd be happy to see what you do with it! Feel free to tag me/follow me on instagram (@lovelyplannerblog) or use the hashtag #lovelyplanner 🙂
Important note: This freebie is for personal use and can at no point be used for commercial purposes.
Disclosure: In order to support this website's costs and keep sharing cool content and freebies with you, this post contains affiliate links. I'll receive a small referral commission if you order through one of this links. Thank you, in advance for your support!