In a previous article I was explaining you how you can easily create cute stickers for your planner by using dingbats fonts. To help you do that, I also shared a list of the cutest dingbats fonts that could make perfect planner stickers. The good thing is, all the dingbats fonts on this list are free on dafont!
Today I'm going a little more in depth with a little step-by-step tutorial showing you with a concrete example how you can do that. Make sure to pin the infographic recap I made for you. A little cheat sheet if you will. You'll find it at the end of the article.
Step-by-step instructions to create stickers with dingbats fonts
I used the dingbats font "Kawaii Food" to create this set of stickers (the one in the pictures). And so can you. If you're here for the cute stickers, fear not, I will share the printable file in a new post really soon.
But if you want to have fun and do the same with other fonts, or different colors, here are the steps I followed:

     Download a dingbats font you like
Either pick one in the list of dingbats fonts I suggested or find a different one on Dafont or any other fonts repertory. Just look for the dingbats section. I picked the font Kawaii Food.

Open your photo editing software and type the alphabet with this new font
I used the software Adobe Photoshop. You can use any other software, but just know that the directions may vary slightly depending on what software you're using. But overall, these instructions should help you understand the basics of this method so that you can easily create your own stickers with dingbats too.
Type the alphabet in order to display every different doodle included in your dingbats font. Check if the caps letters are different too.

Enlarge the font size as much as you can.
This will make it a lot easier for you to add color to your images. If you have a tons of tiny black pixels next to each other, it will be harder and longer to use the paint bucket tool. You can always reduce the size of your image at the end, once you'll be done coloring it.
Note: If you're not planning on adding color to your dingbats, then you can skip this step #3 and just do steps #4 and #7.

Adjust the position of your "letters" (aka "drawings" since it's a dingbats font) by putting enough space between each letter and each line.
You want to make sure that you'll be able to easily cut around each sticker at the end. (Between you and me: I learned this the hard way, I didn't pay enough attention to that and realized my watermelon and flower stickers were a little too close at the end. I had to cheat a little bit in silhouette studio to finally get 2 separate cuts ;))
It's important to do this now, because once your text is turned into an image, you won't be able to move stickers around so easily anymore.

Once you're happy with the position of your stickers you're going to want to change this "text" into an actual image so that you can easily add color to it: I right clicked on my text layer and selected "Rasterize layer". If you don't see this setting, you can also just save your file as a jpeg image and open it again. Your text will now be an image.

Zoom in closely and start coloring each sticker with the Paint Bucket tool
If you followed step #3, it should be pretty easy and fun to pick and add the colors for your future stickers! Change colors and keep doing that until you're happy with the results.
Voilà! You now have cute doodles with your own picked colors.
Make sure to pin this little cheat sheet that sums up all the different steps:
To turn the file you just made into stickers you can either:
Print (preferably on sticker paper) and cut around each character.
Prepare a print and cut file with Silhouette Studio to use with your Silhouette machine* if you own one:

I use the settings blade 2, speed 10 and thickness 18 to kiss cut the characters (red line in the file), but the settings may vary depending on your sticker paper, so make sure to run the test cut before cutting your whole page. I use Staples Matte White Sticker Paper 30 Count 8.5 X 11*, the back has no "easy peel off cut lines" which makes it more convenient for planner stickers. But you can use any paper you want. A vous de choisir (your choice to make)!
---
On a different topic, did you notice I added a custom "Pin it" button on the blog? This way, you can now pin the content you like from the blog even more easily. Please, go ahead and share the fun!
Just hover your mouse over picture and a cute little "Pin it" cloud will appear on the left top corner, click on it, and off you go!
You can also follow me on Pinterest if you want!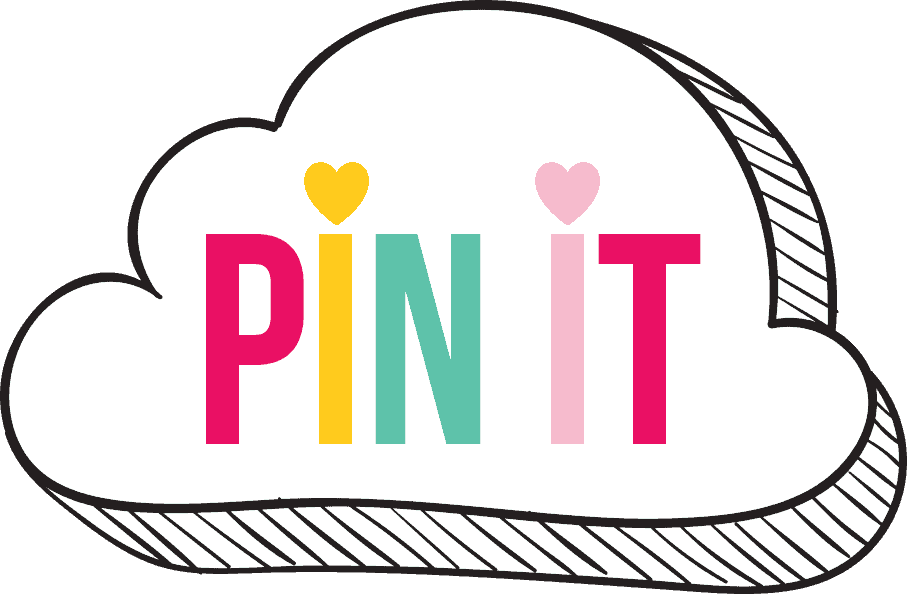 Disclosure: In order to support this website's costs and keep on sharing free content, this post contains affiliate links(*), which means that if you make a purchase using one of those links, I'll receive a small commission, with no additional cost to you.