This Free Printable Mustache Alphabet Banner will be perfect to decorate a baby shower, little boy's birthday or any event where you'd like to add a more masculine touch! Print the letters you need and create your own banner message!
This printable banner includes the whole alphabet, but also numbers and hearts.
This way you can add the age if you use it for birthdays, or embellish your banner by adding cute hearts at the beginning and ending of your string for example. 
Letters: A to Z
Numbers: 0 to 9
Hearts: black, baby blue, baby pink and red.
Each pennant includes a black and white mustache background!
TIP: The background of this banner is white and the design is black and white, which means that you can print it on any colored paper, kraft paper, white paper or other – whatever fits your decoration best!
Make sure to check out the 10 matching free printables I created to help you prepare a Pinterest worthy Mustache Party in just a few clicks: +10 free printables for your Mustache Party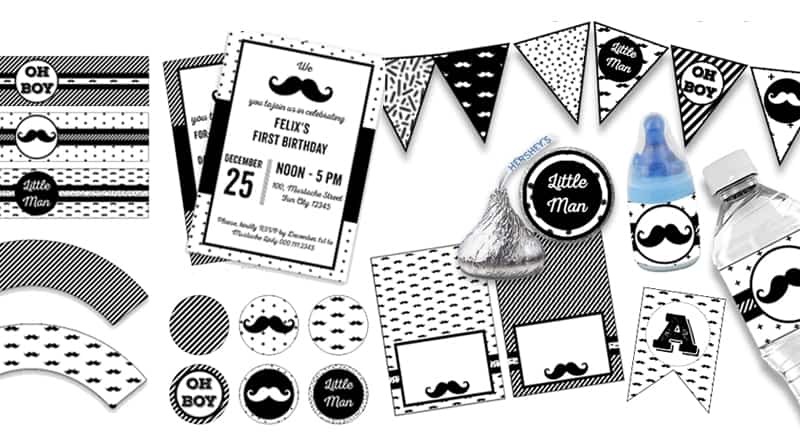 By the way, if you're looking for a banner for Father's Day, check out the printable Father's Day Banner I created using this same mustache banner design: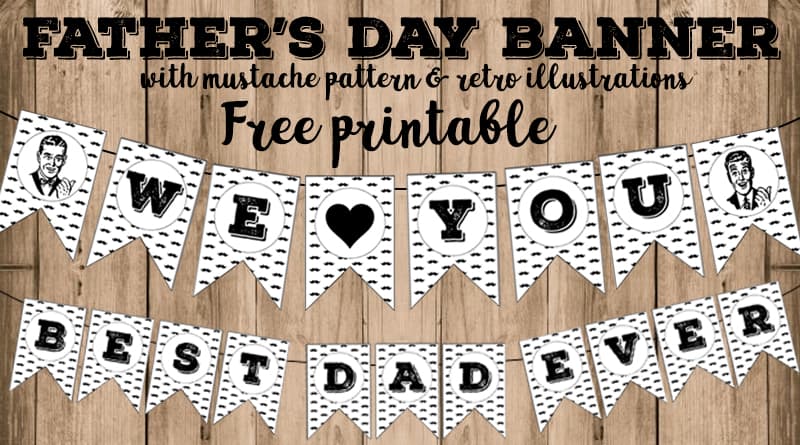 Download – Free Printable Mustache Banner with entire alphabet & numbers
You can download this banner in 2 different formats, pick whichever works best for you:
ZIP folder including all the individual images (PNG) for each letter/number/heart: this way you can only print the elements you actually need, or if you need 2 of the same elements, etc. Each flag is 5×7″, but because it's an image, you can easily adapt the size to your needs!
PDF file with 2 flags per page (about 4,5″ wide), containing all the elements. If you're more comfortable printing PDF rather than images, then you'd probably rather download the PDF.
If you like this printable, consider spreading the fun by pinning this image (by clicking this image "Pin It" button).
Download this Lovely Freebie – Individual Flags Images (ZIP containing all the PNGs)
Download this Lovely Freebie – PDF with 2 flags per page
FOR PERSONAL USE ONLY – Please Read Freebies Terms of Use.
I create lots of free printables, if you want to make sure to be updated and receive exclusive freebies, join the Lovely Newsletter:

You can also follow me on Pinterest to see all the awesome free printables I've spotted while browsing the web!
This page may contain affiliate links. When you click them you support Lovely Planner and help keep its content free. Thank you!