I've been sharing many free printables to help you throw an awesome Mustache birthday, Mustache Baby Shower or party! Now is the time to recap them all to help you decorate your Mustache Party in just a few clicks and, even better, totally for FREE!
All these Mustache Party printables are coordinated so you can either go full on and download every single free printable or simply pick the elements you like most. No matter what you decide, all the printables will match and look great together!
Some files are even editable to make these printable even more tailored to your event: invitations, food tents/place cards, baby bottle pop labels and candy bag toppers include editable files.
Ready to throw a Pinterest worthy party? Let's dive in!
Click on the next pages to browse through the 10 free printables and then click on each title/image to access the article containing the printable files and instructions for each element.
This page may contain affiliate links. Read my full disclosure.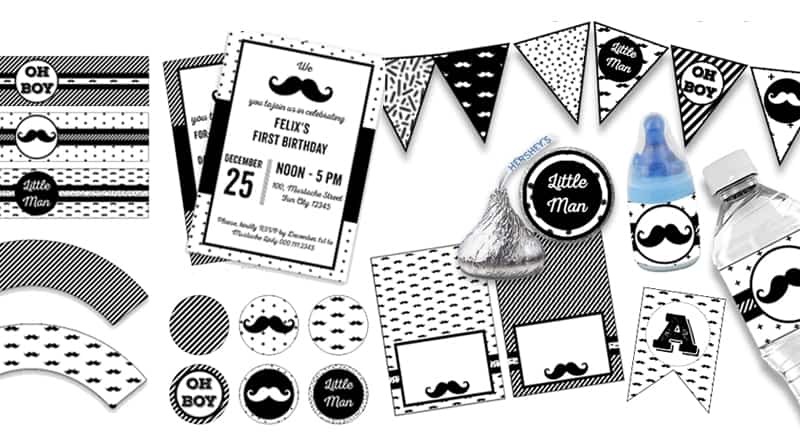 Recap of the 10 free printables – Mustache Party:
Mustache Party Invitations – Blank & Editable Templates
Banners:
Mustache Alphabet Banner (Letters & Numbers)
Mustache Party Flags Banner
Table decoration:
Mustache Party Cupcake Toppers
Mustache Party Cupcake Wrappers
Mustache Party Bottle Labels
Mustache Party Food Tents or Place Cards – Editable PDF
Party favors:
Mustache Party Hershey Kisses Stickers
Mustache Party Candy Bag Toppers
DIY Baby Bottle Pops Party Favors – Blank & Editable PDF
Step 1: Invitations
You're going to need to let your guests know about that awesome party you're preparing! To do so, pick one of the 3 invitations templates I provide. Each design comes in 4 background variations!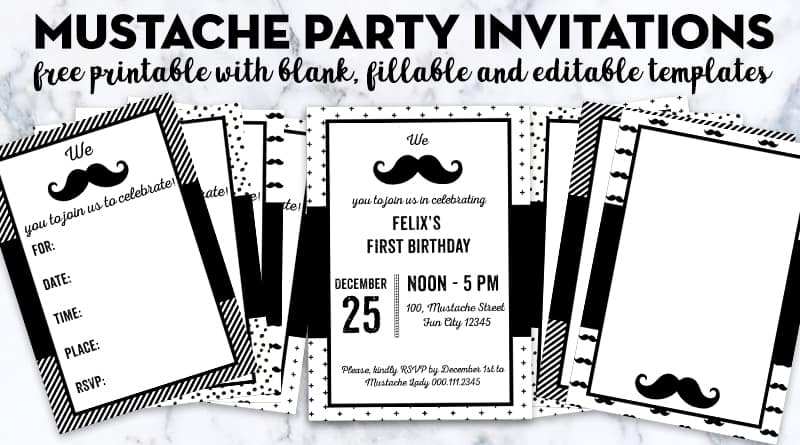 Step 2: Banners
It's a party, make it festive by adding banners! You can create your own message with the Alphabet Banner (+numbers) and mix and match the flags banner to make it complete!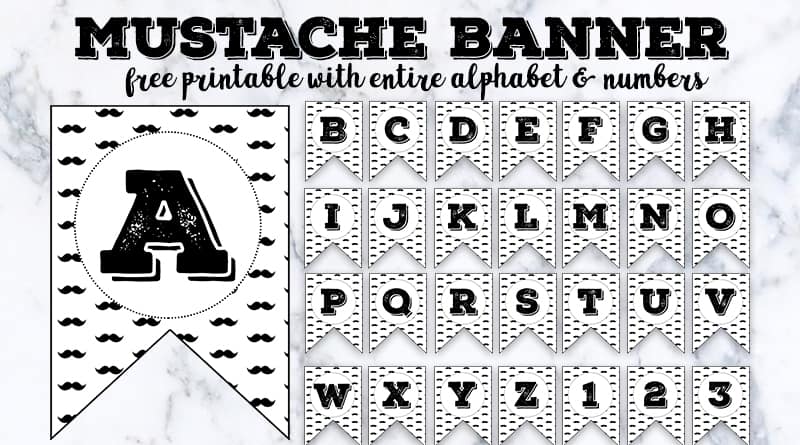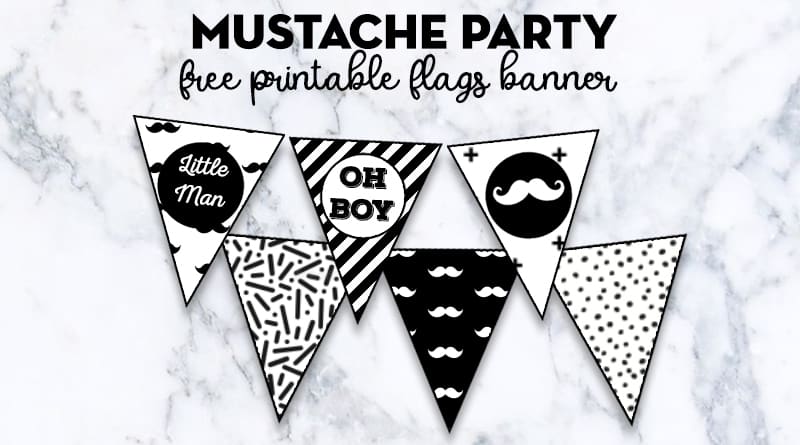 Step 3: Table Decoration
Your guests are going to be hungry and thirsty so you might as well do that with style by adding fun touches to turn simple cupcakes and bottles into decorative elements! You can also use the food tents/place cards to label your food and drinks or place your guests.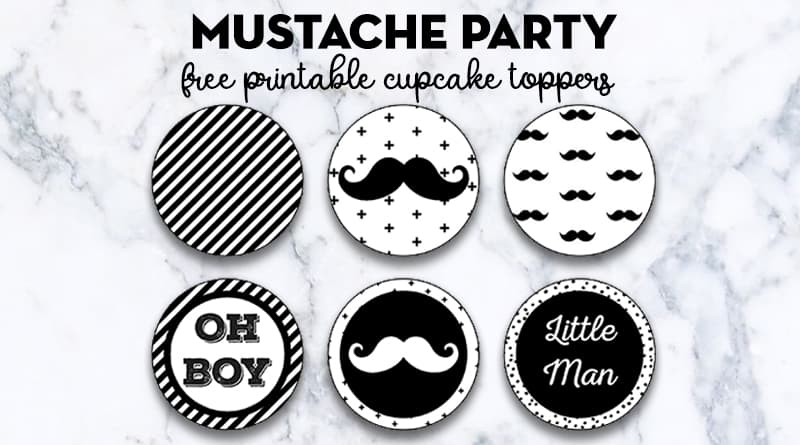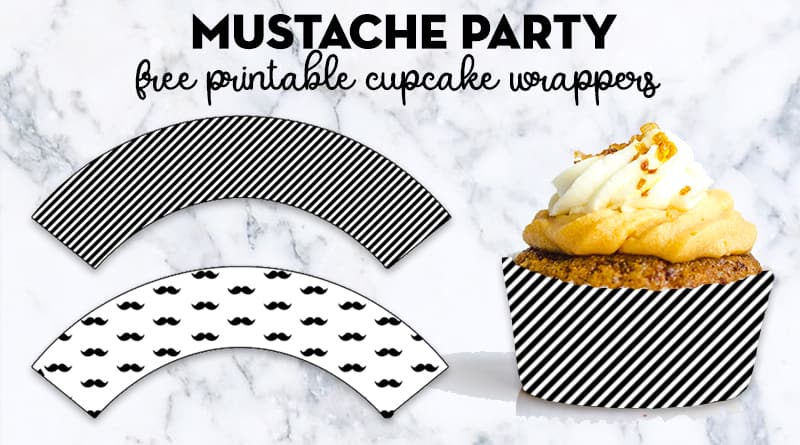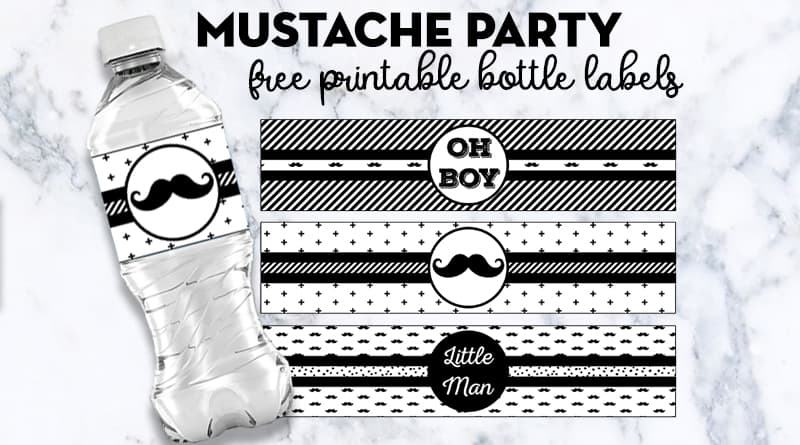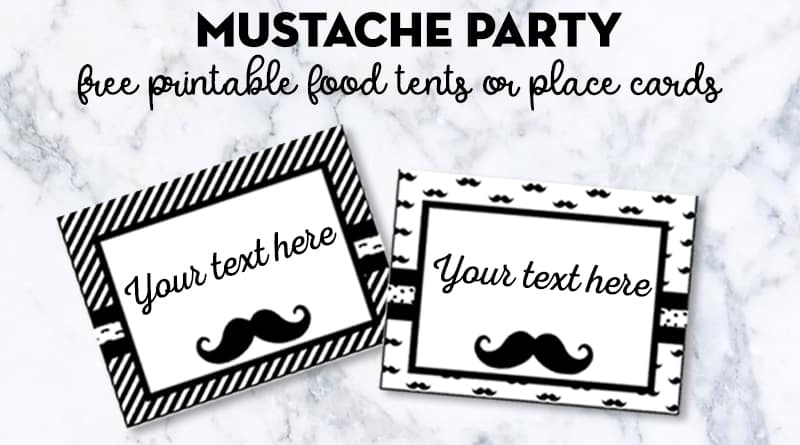 Step 4: Party Favors
To end your event on a lovely note prepare a little party favor to offer to your guests! If they have a sweet tooth, you can use the Mustache Party Hershey Kisses stickers or candy bag toppers. And if you're throwing a baby shower, impress them with a simple DIY to turn Baby Bottle Pop into a cute customized party favor (you can even edit the labels with your own text)!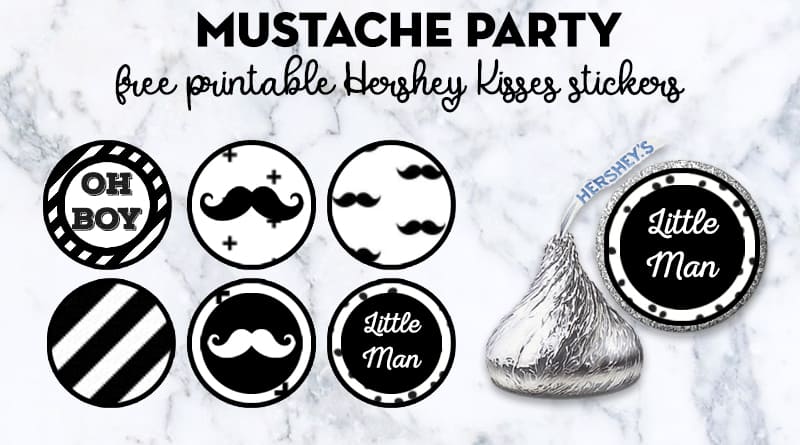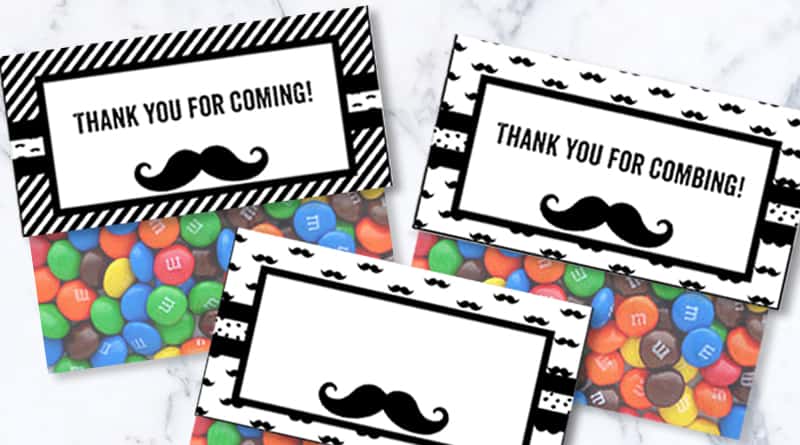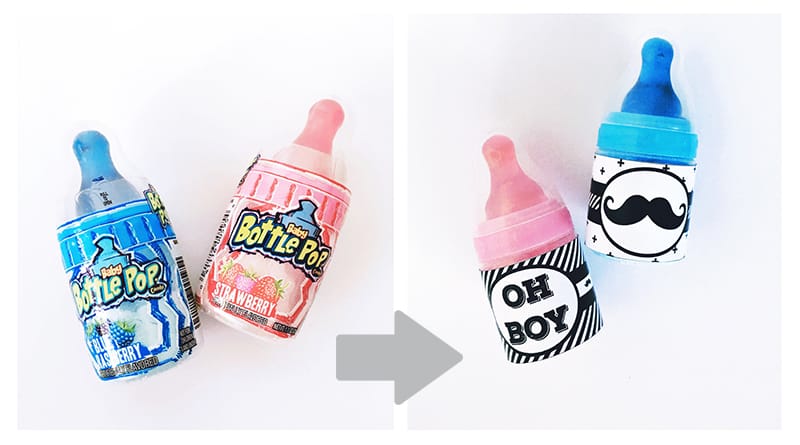 You also may want to check out my best tip to print for free or super cheap.
FOR PERSONAL USE ONLY – Please Read Freebies Terms of Use.
I create lots of free printables, if you want to make sure to be updated and receive exclusive freebies, join the Lovely Newsletter:

You can also follow me on Pinterest to see all the awesome free printables I've spotted while browsing the web!
Mustache Party Decoration Ideas
Here are a few elements I found that you could add to complete your Mustache Party Decoration: