These free printable Mustache Party bottle labels will be perfect to add a fun touch to your baby shower, baby's first birthday or any other event for which you'd like to have a Mustache Party theme!

With a bit of imagination (and maybe by tweaking the printing %) you could also use these labels in different ways, such as: utensils holder, napkins rings, to decorate a party favor bag, etc!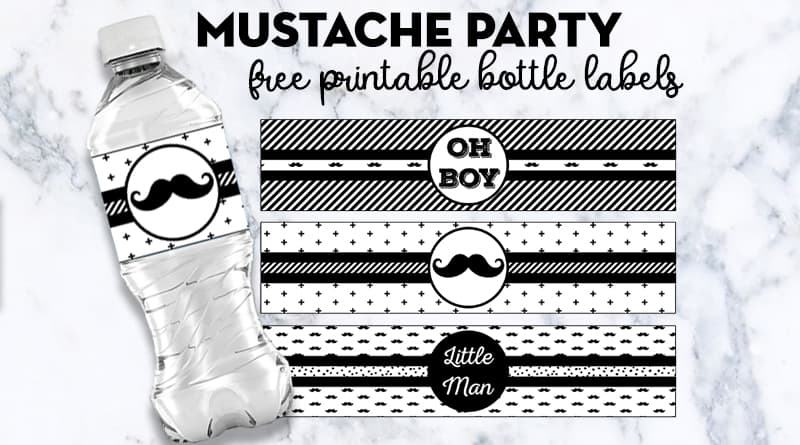 I've created these Mustache Party Bottle Labels in 3 different designs. Each page fits 5 labels.
Each label measures 1.75″x8″ so they fit most individual bottles (water or else). Just make sure to print to scale 100%.

To make these bottle labels more resistant against water, here's a few tips:
Use clear packing tape to cover the label and wrap the label around the bottles. I created my labels slightly thinner than 2″ (1.75″) so that you can use 2″ wide clear packing tape to cover your labels, protect them and add a nice glossy finish, like real bottle labels usually have! It's a good way to make sure the ink doesn't smear.
Plus, the extra half inch of clear tape will help secure your label on your bottle!
This clear packing tape will be a much cheaper option than laminating each label.
Ideally, you can print on glossy photo paper or glossy sticker paper if you have some. I just found out that you can even get photo sticker paper! I haven't tried it yet, but it sounds like the best of both worlds.


Make sure to check out the 10 matching free printables I created to help you prepare a Pinterest worthy Mustache Party in just a few clicks: +10 free printables for your Mustache Party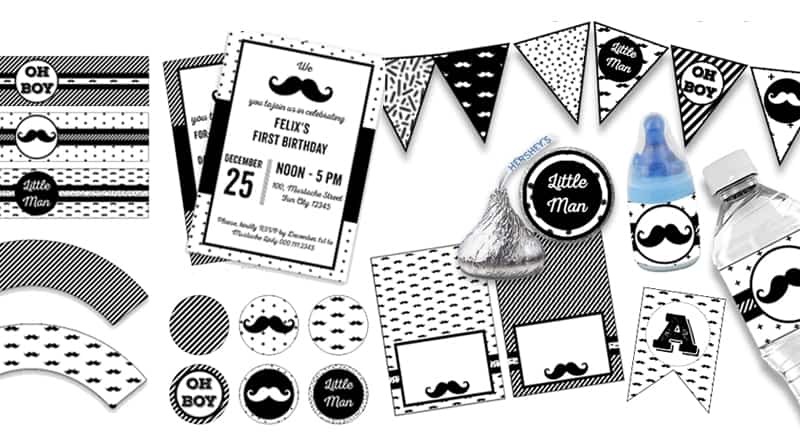 Download – Free Printable Mustache Party Bottle Labels
If you like this printable, consider spreading the fun by pinning this image (by clicking this image "Pin It" button).
FOR PERSONAL USE ONLY – Please Read Freebies Terms of Use.
I create lots of free printables, if you want to make sure to be updated and receive exclusive freebies, join the Lovely Newsletter:

You can also follow me on Pinterest to see all the awesome free printables I've spotted while browsing the web!
Mustache Party Decoration Ideas
Here's a few elements I found that you could add to complete your Mustache Party Decoration:


This page may contain affiliate links. When you click them you support Lovely Planner and help keep its content free. Thank you!