Here's the 4th calendar divider shared on the blog! After the cute raccoon monthly mini calendar divider (November) the penguin family in December and the polar bear in January, here's a new printable buddy for you this month: Pink Elephant Calendar Divider! Of course, it comes with cute matching paperclips! You can use it at any other time of the year if you print the blank undated version!
UNDATED BLANK VERSION AVAILABLE: I've created this calendar divider/die-cut in two versions: a blank undated one that you can use anytime you'd like (to keep notes, decorate, add any month's calendar, etc) and a dated version that will help you keep a whole view of the month.
All the previous calendar dividers/die cuts have now been updated to include a blank undated version (PNG & PDF). You can find all the calendar dividers here.
(This post contains affiliate links. For more information, see my disclosures here.)
Since Valentine's day is an important day in February I added some cheesiness romanticism by creating Mr&Mrs elephant paperclips. Add an adorable balloon in the middle and there you have it, a perfect little mix! I wanted the paperclips to be generic enough to be used all year long though, so that if you really like them you can keep them up for more than a month.
I love this mini calendar concept so much that I will keep on making a new one every month.
I'm also creating matching paper clips so that my planner kind of gets a new look every month.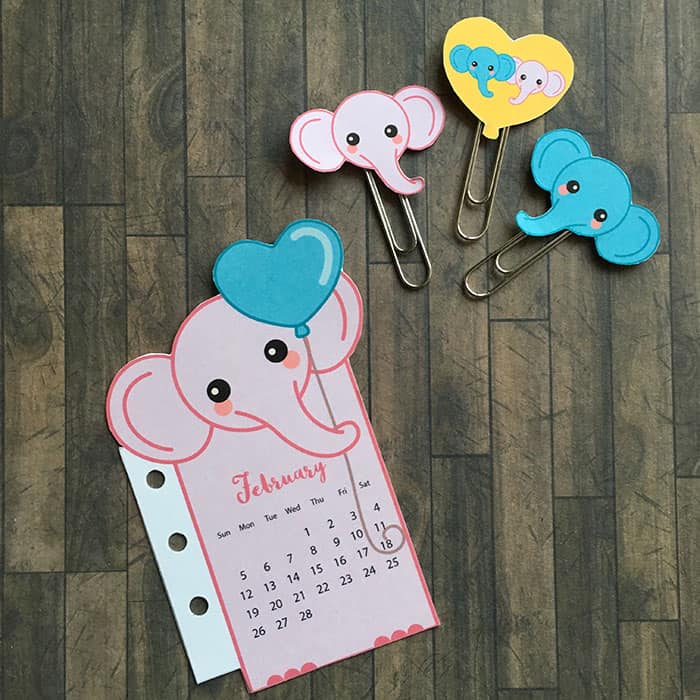 Sometimes just changing a few details in your planner makes all the difference, and I believe you don't need to spend a big amount of money nor time to get good results!
Of course I could just as well have created a simple more formal calendar divider, but by now you've probably noticed that my style is more kawaii than formal and that I like my planner accessories to look everything but serious. To top it off, I created matching paperclips to go with this month calendar. It's all very grown up stuff you know, haha.
It's important to take things lightly and have fun with this whole planning thing.
Depending on where you punch your holes and how you place your divider in your planner you can get a different look: visible or not when your planner is closed. Plus, you punch holes yourself so this divider can fit in any type of planner!
On top of being cute, this calendar divider is also functional. It quickly gives you a whole month view, can help you find your page and is even more helpful to have around if you use an undated planner. Nobody likes to get dates mixed up.
Double-sided divider:

I was usually including a matching pattern that you could add to the back of your calendar if you wanted it to look cute from every angle! But as you can see from this little preview image right above, I've changed things up a bit this month by adding a mirrored verso in the PDF.
That means that instead of adding a pattern for the back of the calendar, you can actually have the mirrored elephant on the back of your calendar. Glue both sides together before laminating it and punching holes in it!
You don't necessarily have to use it if you don't want your divider to be cute on both sides.
I'm going to laminate my calendar and use a Staedtler non-permanent Lumocolor pen
to write important dates, notes or to-dos on the back of my calendar ( the side with the blank elephant-verso). What I like about this pen is that it doesn't smear as a whiteboard pen would. Plus, you can simply erase by swiping it with a wet napkin. Alternatively, you can also use a Staedtler permanent Lumocolor pen
, but you'll need alcohol to rub off your writings. The pens I have are in size F.
Supplies and instructions:
This "DIY" to create your monthly calendar divider is pretty self-explanatory but basically, you'll need:
thick paper like cardstock paper, or else your divider will probably get flimsy
printable file
a printer – check out my best tip to print for free or super cheap
scissors (or cutting machine) – the shapes are really simple so using scissors is probably just as quick!
hole puncher
Optional: a laminator (if you want to keep them clean longer, this will also make them a little stronger)
Just reading the supplies list should make you guess what you have to do now:
Download the PDF file, resize if needed
Print it on cardstock paper
Cut each shape with your scissors
Optional: if you want to add the background to the calendar, glue recto & verso together
Laminate them if you want to
Enjoy all month long!
If you prefer to use your Silhouette machine, the steps are just slightly different :
Download the pdf file
Open the pdf in Silhouette software directly if you have the Designer Edition. If you have the basic software, fear not and turn the PDF into a jpeg first, using this website. You can resize in Silhouette if you want.
Trace the design
Use the Print and cut function through your Silhouette software.
Optional: if you want to add the background to the calendar, glue recto & verso together
Laminate them if you want to
Enjoy!
How to assemble your paperclips?
Cut each paperclip
Laminate (don't glue recto and verso together before laminating, laminate both sides individually)
cut again around each laminated paper clip
Use a hot glue gun to stick each side of the paperclip
Download this Elephant calendar divider + paperclip printable: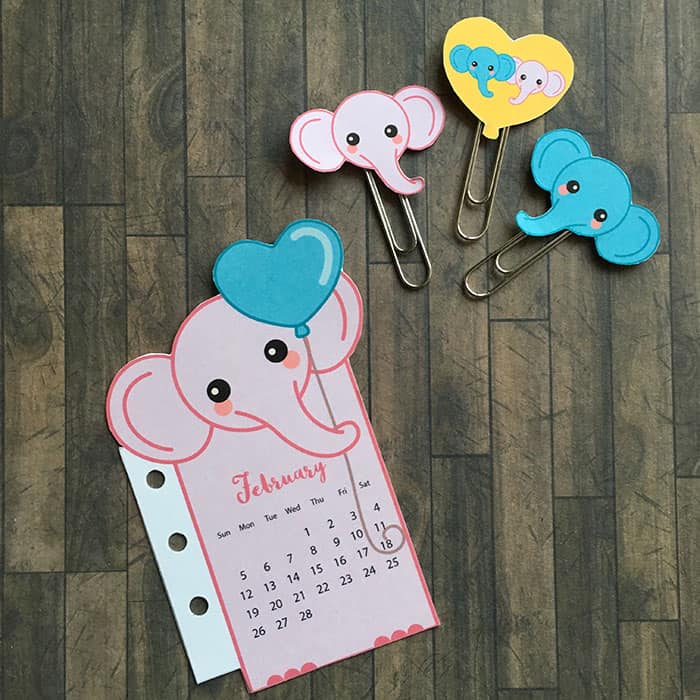 FOR PERSONAL USE ONLY – Please Read Freebies Terms of Use.
DOWNLOAD THIS LOVELY FREEBIE
How to download this file?
Not a subscriber yet? Some of my free printables are for newsletter subscribers only (it's totally FREE of course!). The monthly calendar dividers are some of them. Subscribe to my newsletter to get free access to exclusive free printables and stay updated.
Existing subscribers – forgot your password? Make sure to check one of my emails to you, the password is reminded at the end of each newsletter. No caps, no space.
You're typing the right password but it won't let you download? You may have an issue downloading if you click a link from Facebook or an email. If so, just open the link directly in your browser and this should solve it.
Don't forget to also have a look at other planner freebies I shared on the blog!
If you use this free printable planner calendar divider and paperclips, I'd be happy to see what you do with it! Feel free to comment down bellow, tag me/follow me on instagram (@lovelyplannerblog) or use the hashtag #lovelyplanner 🙂
Important note: All the free printables I share on Lovely Planner are only meant for personal use and can at no point be used for commercial purposes.