After sharing road trip itinerary planner stickers with you last week, I'm now sharing another travel-related set of stickers: these Location Pin Planner Stickers are great to use to indicate places you go in your planner, bullet journal or travel notebook.
These location pin planner stickers come in 20 different colors that match my other many functional planner stickers that I've already shared.
(This post contains affiliate links. For more information, see my disclosures here.)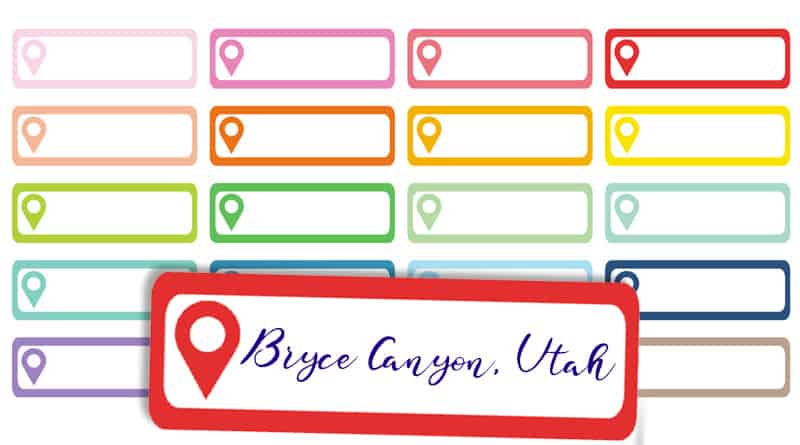 I'm planning on creating a little travel notebook to write down memories and add pictures! I got myself a portable photo printer (HP Sprocket
) to be able to easily add photos while on the go!
We'll be visiting Zion NP, Bryce Canyon NP, Arches NP, Canyonlands NP, Monument Valley, and Grand Canyon NP! So these location pin stickers will come in handy!
>Read my post about the best portable photo printers for planners.
You may also like these road trip itinerary planner stickers: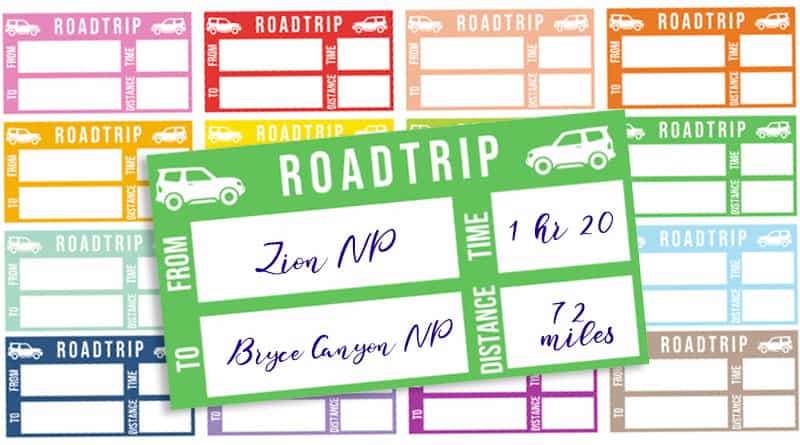 Pin this image for later:
You may like this special offer on my pack of Kawaii Stickers: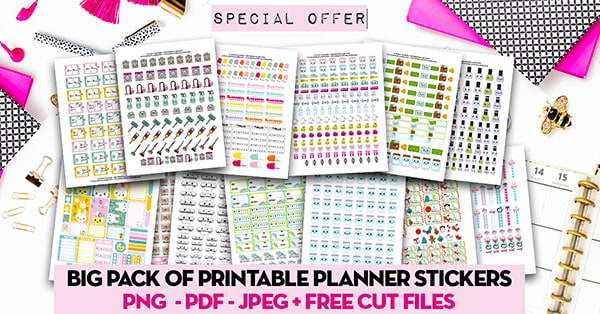 Would you like to be able to create your own planner or customize your current one with 78 printable planner inserts? Check out the Ultimate Planner Bundle!
Supplies I recommend to make your own stickers
A printer: I really recommend investing in an HP Instant Ink compatible printer if you're into printables. Here's how I can print for free or super cheap with it.
Choose one type of sticker paper:
Choose one type of tool to cut your stickers:
If you want more tips and info about these different supplies, make sure to read the detailed comparative article I wrote about tips and tools you can use to easily turn PDF printables into planner stickers.
Also read: 45 Must-Have Planner Supplies
Want more functional planner stickers? Check out these posts:
Tip – Use Amazon to save money on Happy Planner Stickers Books:

You may not know it yet but you can find A LOT (I found 80) of Happy Planner stickers books on Amazon. What's great about that is that prices tend to fluctuate on Amazon.
That means you can score really good deals on those items. I've gathered all the Happy Planner stickers books I could find (80) on Amazon on this page of my influencer storefront to help you compare prices.
The usual retail price of these stickers books is $20 and you can get some of them on Amazon for as much as 50% off, so it's definitely a good idea to keep your eyes peeled and check prices on those items frequently.
Purchasing your stickers on Amazon is also a good way to avoid "hunting" for a specific sticker book in stores. I hope you find some good deals: see all the Happy Planner stickers books available on Amazon (affiliate).
How to save money and earn cash back on your online purchases ?
If you're planning on buying some of the items needed for this project online here's a great tip to earn cash back, find coupons and save money easily.
Before buying anything online, I always check out Ebates/Rakuten (either with the browser extension or on Rakuten.com). I find the store name (type it), click the current deal for that store and complete my purchase.
When completing a purchase through Ebates you earn cashback that you can have mailed to you or sent via Paypal.
If you have never used Rakuten/Ebates you're missing out.
Click here to sign up for Rakuten, and RIGHT NOW when you sign up, you will receive a $10 cash welcome bonus when you spend $25.00!
Since you were already going to complete your purchase online, why not get some cashback on things you planned to purchase!
Download Free Printable Location Pin Planner Stickers
FAQ:
FOR PERSONAL USE ONLY – Please Read Freebies Terms of Use.
DOWNLOAD THIS LOVELY FREEBIE
How to download this file?
Not a subscriber yet? Some of my printables (including this one) are for my newsletter subscribers only. It's totally FREE of course!
Subscribe to my newsletter to get free access to exclusive free printables and stay updated.
Existing subscribers – forgot your password? Make sure to check one of my emails to you, the password is reminded at the end of each newsletter. No caps, no space.
You're typing the right password but get a wrong password error message? You may have an issue downloading if you click a link from Facebook or an email. If so, just open the link directly in your browser and this should solve it.
Don't forget to also have a look at other planner freebies I shared on the blog!
I create lots of free printables, if you want to make sure to be updated and receive exclusive freebies, join the Lovely Newsletter: