Getting into better fitness and health habits is one of the most frequent resolutions once the new year hits. But no matter how bad you want to, it isn't easy to stick to a new habit. Every little bit can help. Here's a list of health and fitness planner stickers & inserts to help you get there.
If you own a planner or bullet journal, you can easily turn it into a powerful ally, thanks to stickers and inserts, to help you stay on track, keep you motivated and keep track of your evolution.
That's why I've decided to create an article to gather all my fitness and health planner printables (stickers and inserts) on one same page. I do believe these stickers can help you have a system in place and help you reach your fitness goals.
This way you won't need to browse the whole blog to find what you need! I'll update this list when new free printables from this category will be published.
How to download:
To access each printable, simply click on the button title "get this freebie" under each printable, you'll be taken to the printable article page where you'll be able to download the free printable you're interested in.
Most of these free printables are available to everyone but some of my printables are for my newsletter subscribers only. Simply subscribe to my newsletter (free) to receive the password to download these files.
If you think of other fitness planner printables you'd like me to create feel free to let me know in the comments!
(This post contains affiliate links. For more information, see my disclosures here.)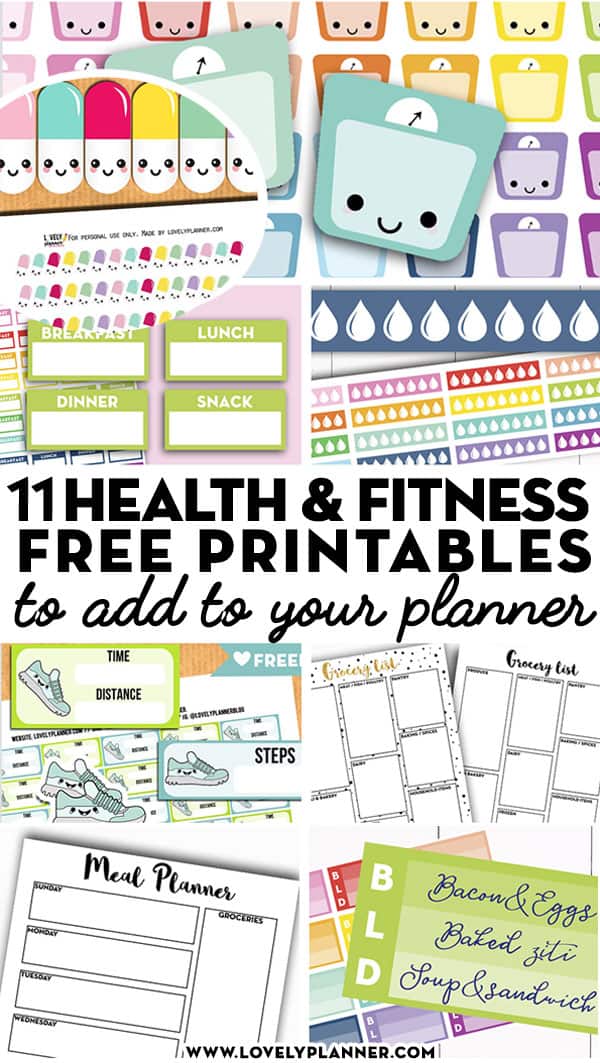 ALSO READ:
Supplies I recommend to make your own stickers
A printer: I really recommend investing in an HP Instant Ink compatible printer if you're into printables. Here's how I can print for free or super cheap with it.
Choose one type of sticker paper:
Choose one type of tool to cut your stickers:
If you want more info about these different supplies, make sure to read the detailed comparative article I wrote about tips and tools you can use to easily turn PDF printables into planner stickers.
Tip: If you'd rather buy stickers than make your own, you can often find good prices on Happy Planner Stickers books on Amazon.
Before diving in, here are 2 special offers for you, planner lovers:
The Ultimate Planner Bundle includes a category dedicated to body & mind that can help you even further to reach your health and fitness goals this year.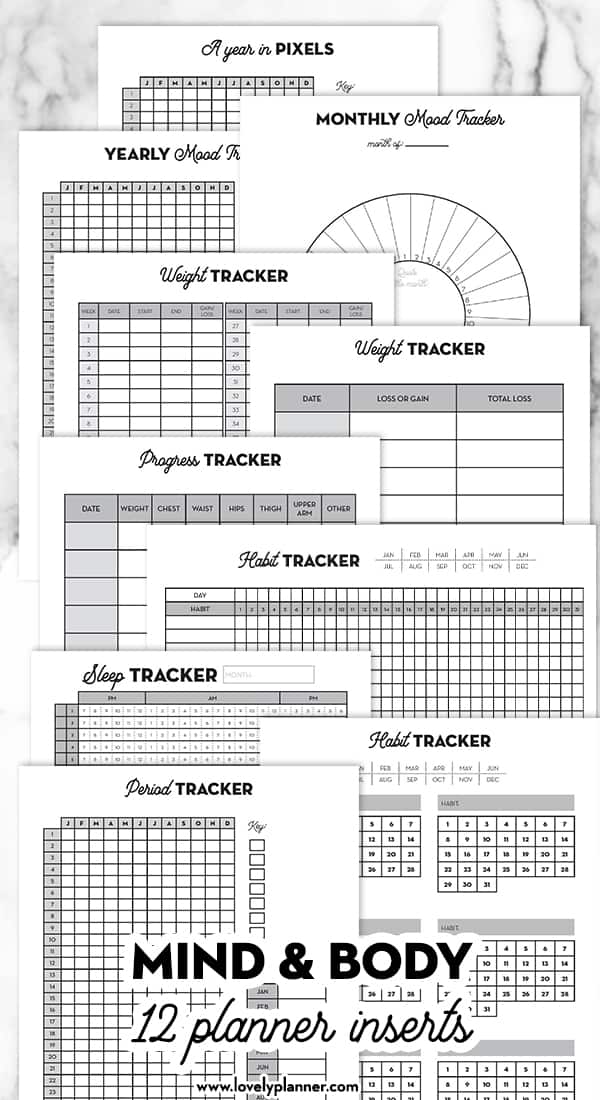 Free Printable Health and Fitness Planner Stickers and Inserts that you can find on Lovely Planner
Here's a recap of all the health and fitness planner stickers or planner inserts that I've shared on the blog so far. I hope they will help you reach your health fitness goals: lose weight, meal plan, work out, more balanced diet, get more active...
How to save money and earn cash back on your online purchases ?
If you're planning on buying some supplies for your planner online here's a great tip to earn cash back, find coupons and save money easily.
Before buying anything online, I always check out Rakuten (either with the browser extension or on Rakuten.com). I find the store name (type it), click the current deal for that store and complete my purchase. You can also directly search the item you're looking for on Rakuten and compare different stores' offers.
When completing a purchase through Rakuten you earn cashback that you can have mailed to you or sent via Paypal. If you have never used Rakuten, you're missing out.
Click here to sign up for Rakuten and RIGHT NOW when you sign up, you will receive a $10 cash welcome bonus when you spend $25.00!
Since you were already going to complete your purchase online, why not get some cashback on things you planned to purchase!
Don't forget to also have a look at other planner freebies I shared on the blog!
I create lots of free printables, if you want to make sure to be updated and receive exclusive freebies, join the Lovely Newsletter:


If you think of other functional planner stickers you'd like me to create feel free to let me know in the comments!
This post was first published on december 31, 2018, then updated on january 11, 2020 to add to the list the most recent free printables.