Free Printable 2023 Two-Page Monthly Calendar
This free printable 2023 two-page monthly calendar offers ample space and functionality to plan out your months.
I've been sharing many different types of calendar templates on my blog but this month on two pages layout is a little different. I find this particular type of layout very functional as it gives you a whole view of the month and ample space for notes in each daily box as well as an area on the side to recap the main goals and dates of the month.
If you've owned a Happy Planner before, then you're probably familiar with this type of two-page monthly layout.
To make it convenient for everyone, I created this month on two pages 2023 calendar in 3 sizes: US letter, A5/A4, and Classic Happy Planner.
The design of this 2023 calendar matches the design of the inserts included in my Ultimate Planner Bundle.
(This post contains affiliate links. For more information, see my disclosures here.)
>>> ✨🗓 Make sure to take a look at all my other free printable calendar templates <<<
You can also check out this selection of 20 Free Printable Calendars for 2023.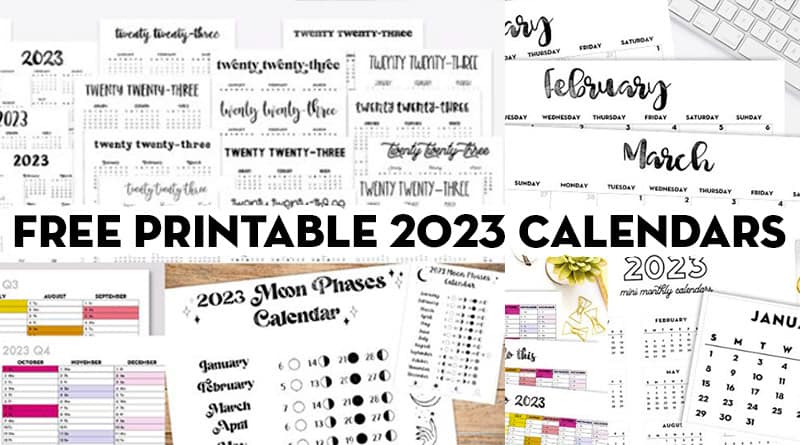 ---
Not sure how to make the best of your planner? Read this post: 150+ things to track in your planner
You can download your free printable 2023 Two-Page Monthly Calendar further down this page.
Pin this image to save it for later:
Organize your life with The Ultimate Planner Bundle
Printable planner inserts are the easiest way to create a flexible low-cost planning system that truly works for your needs and evolves with your life.
The Ultimate Planner Bundle includes 160 pages of printable planner inserts to help you organize all areas of your life: home management, health & wellness, goals, finances, hobbies, yearly/monthly calendars, weekly layouts, notes & to-dos.
To make it easy to print and combine with most planners, 3 sizes are included: US letter, Classic Happy Planner, and A5.
So many different planner layouts are included in this bundle: daily, weekly, yearly, quarterly, vertical boxes, vertical lined, horizontal, fitness & health, checklist, dashboard, student, MO1P, MO12P, WO1P, WO2P… . It's a perfect way to try out different planner layouts to help you decide which one works best for you.
You can see all the inserts included in this bundle, a flip-through video, and a special offer on this page: The Ultimate Planner Bundle.
★ Download – Free Printable 2023 Two-Page Monthly Calendar ★
Before downloading, make sure to subscribe to my newsletter to get free access to exclusive free printables and stay updated.
FOR PERSONAL USE ONLY
You may also like these other free printable calendars I shared:
I create lots of free printables, if you want to make sure to be updated and receive exclusive freebies, join the Lovely Newsletter: