Are you looking for a comprehensive list of things to track in your planner? This post is for you!
Did you get yourself a planner in the hope of getting more organized but you're not sure how to make the best of it? If you're not sure what to track inside your planner and find yourself barely using it at times, then this list should give you some inspiration!
Alternatively, if you love using your planner already and are looking for more inspiration to make it even better, this list of 150 useful things to include in your planner is great for you too!
To help you get started, I've also added a link next to the elements of this list for which I already shared a related free printable.
Let me just give a few tips and answer a few questions before diving in with the list!
(This post contains affiliate links. For more information, see my disclosures here.)
You might also like reading: 60 Free Functional Stickers for your Planner or Bullet Journal
Why is it helpful to add trackers to your planner?
In this post, I'm sharing 150+ ideas of things to track in your planner and ways to utilize your planner best. These ideas will help maximize your planner efficiency and improve your organization. Better yet, tracking things in your planner will also make using your planner a lot more fun and motivating to use.
Once you get a good planning system in place you'll find yourself using your planner a lot more. Tracking things inside your planner helps you build new routines and makes you more accountable. It's harder to ignore the things you should be doing when you can see them written on paper with little boxes waiting to be checked.
From a practical standpoint, how to use a planner to track habits?
When it comes down to it, there are several ways you can track things inside your planner:
Stickers / Tracker stickers – to add to your planner pages.
Tracker planner inserts – to add a dedicated page to track one or several elements. You can either get creative and create your own page from scratch using your supplies or you can use premade printable planner inserts.
You can also simply use a pen or other tools to keep track of anything you want in your usual planner pages. For instance, you can use colored pens and markers or different colors of washi tapes to create a color code in your planner.
>>I also created a list of tools available on Amazon that can help you use your planner to stay organized.
Where can I find planner printables to help me track my habits?
You can find many free printable planner stickers and free printable planner inserts on my website (and on many other websites too) to help you track things inside your planner.
I've added a link next to the elements of this list for which I already shared a related free printable.
✨ DID YOU KNOW? In my shop, you can get

50 pages of functional planner stickers

conveniently packaged in one big pack with PDF, PNG (transparent background), JPEG & Silhouette Cut Files! See everything that is included and get 75% OFF
Printable planner inserts are a cheap and easy way to customize your planner and make it fit your needs. I created a pack of 160 printable planner inserts to help anyone create a planner that truly works for their life. The Ultimate Planner Bundle includes many pages to track a lot of the ideas listed below. You can see everything that is included and watch a flip-through video on this page if you'd like to know more about it: customize your planner with 160 printable planner inserts.
Note: To fit most planners, the inserts included in this bundle come in 3 sizes (US letter, A5/A4, and Classic Happy Planner). Individual pages can also easily be added to a digital planner.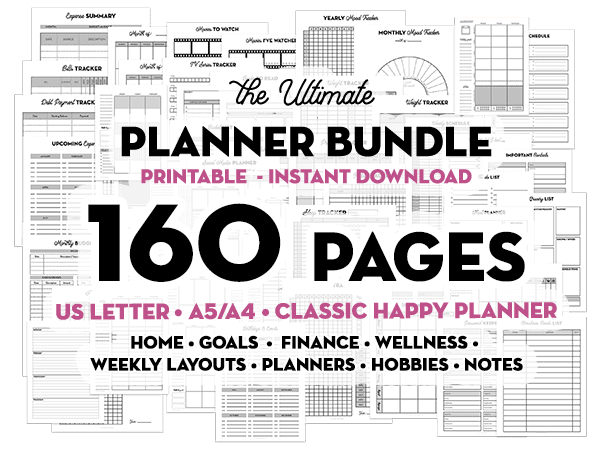 How many things should I track in my planner?
There isn't a magic number to answer that question. I guess the right answer is "as many as you can realistically track as long as it's still pleasant and useful".
Whatever works best for you.
For some people, less is more. They don't want to spend too long tracking every little detail of their life.
For some people, the more the better. They think tracking is part of the fun and love keeping counts and having statistics to encourage their positive habits. Plus, if you like decorating your planner, adding trackers is a fun way to add interest to it!
In this post, I'm being very exhaustive to give you plenty of inspiration on what to track with your planner but don't feel pressured to add too many at once. Have fun with it, try adding a few and you'll quickly see which ones are the most helpful to stay organized.
Ok, now that these questions are out of the way, let's dive right in with the list of tracker ideas to help you gain inspiration and organization!

150+ things to track in your planner
I've added a link next to the elements of this list for which I already shared a related free printable.
Important Dates & Events to keep track of in your planner
School Vacations
Holidays
Family events
Moon Phases
Daily Savings Time

Calendars & Planners

Household Things to Track in Your Planner

Financial things to track in your planner

Wellness and Health things to track in your planner

Fun things to track in your planner

Date Night Ideas
Boredom Buster Ideas
Bucket List
Packing list
Flight Info – Flight Info Stickers
Places you want to visit
Places you visited
Movies/TV shows I've watched – Netflix Planner Stickers & Cute Movie Night Stickers
Movies/TV shows to watch
Books to read
Books read
Reading Challenge
Favorite Websites
Songs of the month
Podcasts to listen to
Favorite quotes
Memories, pictures, receipts, tickets
Favorite photos of the month/year
DIY Projects & Hobbies you want to try
Social Media Planner / Tracker – Social Media Icons Stickers
Wishlist (things you'd like to buy or gift ideas for yourself)

For crafty girls and planner girls more specifically:

Markers & Pen Swatches
Craft Supplies list
Craft supplies wishlist
Planner dimensions + printing tips
DIY projects to make
Washi Tape swatches
Sticker Book InventoryFavorite websites/Youtube channels/IG accounts
Cutting machines settings & tips

---

Another tip to make the most of your planner

It's also important to find (or create) a planner system that works for you but that's a whole topic in and of itself so I won't dive too far into it and I'll dedicate a post in the future to that topic instead. But in 2 words, a good planning system probably should aim to be:

Flexible – being able to make changes, such as adding or moving pages around
Customized to your needs – adding tracker stickers or tracker pages is pretty useful for that.
Realistic/maintainable – no need to create a strict planning system with hundreds of things to track or rules to follow if you want to be able to follow through with it. Using your planner should be pleasant and it should also help you save time, not the other way around.

---

If you'd like to help be able to easily find this post again, pin this image: