If you're in search of free printable planner pages to customize your planner, your bullet journal, or your digital planner, you've come to the right place!
I can't say enough good things about the concept of printable planner pages and that's why I think everyone should give it a try. To help you do so, I'm happy to share with you more than 17 free printable planner pages to help you easily customize your planner and get more organized.
I created all of these planner templates and shared them individually on this website in the past. To make it easier for you to find the planner pages you need I decided to regroup them all on this page.
I've included a pretty diverse selection: weekly dashboard layout, a year in pixels, cleaning schedule, password tracker, important dates, birthday and events tracker, no spend tracker, 100-day challenge, saving challenge, sleep tracker, period tracker, meal planner, grocery list… and more!
You can download each planner template individually from their corresponding article (click on the button "get this freebie" to be taken to the article where you can download the file).
Alternatively, you can also download these 17 free planner templates all at once as a big pack: Get your free Planner Pack.
Before sharing the 17 free printable planner pages further down this page, I just want to share a few pieces of info about the Ultimate Planner Bundle as well as a few tips to add printable templates to your planner.
(This post contains affiliate links. For more information, see my disclosures here.)
Here is a preview of some of the pages included in this list. You can find the full list below – click on "get this freebie" to access the post where each printable was originally shared on my website.
You can pin this image if you want to save this post for later:
Do you like printable planner pages?
You'll love the Ultimate Planner Bundle – 160 Planner Inserts to customize your planner & get more organized
Printable planner inserts are a cheap and easy way to customize your planner and make it fit your needs! The ability to create and add my own pages to my planner is what led me to get a planner (rather than a classic agenda for instance) in the first place.
In fact, I love printable planner pages so much that I created a pack with more than 160 pages of printable planner inserts to help you organize all areas of your life: home management, health & wellness, finance, hobbies, goals, weekly, monthly, and yearly calendars.
I also included 12 different weekly planner layouts to help you decide which layout works best for you. If, like me, you can't quite make up your mind about which weekly layout
is your favorite this is a perfect solution, you can switch it up whenever you want and you don't have to commit to one weekly layout for the whole year.
To make it easy to print and combine with most planners, 3 sizes are included: US letter, Classic Happy Planner, and A5.
You can see all the inserts included in this bundle, along with a special offer on this page: The Ultimate Planner Bundle.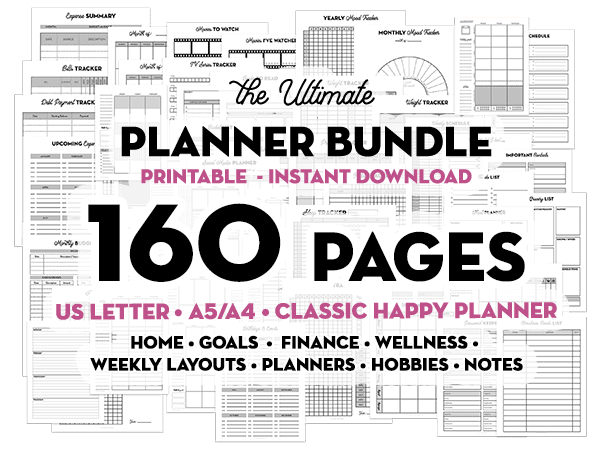 You can see larger images and a flip-through video of all the 160 planner inserts included in the Ultimate Planner Bundle on this page. I also have a special offer for you:
17 Free Printable Planner Pages
Here is a selection of 17 free printable planner pages. You can easily download them, print them and add them to your planner, bullet journal, or even to your digital planner.
If you'd like more than 160 printable planner pages make sure. to check out my Ultimate Planner Bundle.
What are the benefits of adding printable planner inserts to your planner?
FLEXIBILITY:
Adding printable pages to your planner is one of the easiest and cheapest ways to create a flexible planning system that truly fits your needs and works for you. I love the ability to add, move, remove, and change pages around. That's the reason why I strongly recommend getting a planner that allows you to move pages around (disc or ring-bound).
CUSTOMIZATION:
By adding printable planner inserts to your planner, you're no longer limited to what comes inside commercial planners. You get to be creative and decide what sections and pages you need. We all have different lives, different ways of operating, and different needs… It only makes sense that we all should have different planners, customized to fit our needs.
Not sure how to make the best of your planner? Here is a list of 150+ things to track in your planner.
What paper hole punches do you need to easily add printable inserts inside your planner?
For Disc Bound planners (such as Happy Planner), I recommend this Discbound hole punch
, you can use it to punch all sizes of disc-bound planners (Big Happy Planner, Classic Happy Planner, or Mini Happy Planner).
For Ring-Bound Planners (such as Filofax, Carpe Diem, Websters Pages, etc), I recommend getting an adjustable 6-hole paper punch
so that it can punch several different sizes of paper for different planners (A5, personal, micro, and compact…).