I'm pretty excited about today's free printable! I've created free printable labels to help you turn Baby Bottle Pop Candy into awesome party favors for your baby shower!
Considering I've been sharing a lot of free printables to help you throw a Mustache Party, these Baby Bottle Pops Party Favors Free Printable Labels are also Mustache themed: perfect for a little man's birthday bash or baby boy party shower for example!
But fear not, I find these little Baby Bottle Pops party favors so fun that I will be creating more free printable labels that are Baby Bottle Pops compatible!
I've created these Mustache Party Baby Bottle Pop Labels in 3 different designs. Each page fits 6 labels. Make sure to print to scale 100% or else they might end up being too big or too small to wrap the baby bottle pops.
And because I know you probably want to make your event as personal as can be I've even added a blank and an editable PDF on top of the ready to print file (=3 PDF available to download at the end of this article). This way, you'll be able to customize your labels by hand after printing or on the computer before printing if you'd like.
Here's a few ideas on how you could customize your labels:
Add your guest names, and use as place cards
"Thank you for coming"
"NAME's Baby Shower"
Little Man coming soon
"NAME's 1st Birthday"
and so on!
Make sure to check out the 10 matching free printables I created to help you prepare a Pinterest worthy Mustache Party in just a few clicks: +10 free printables for your Mustache Party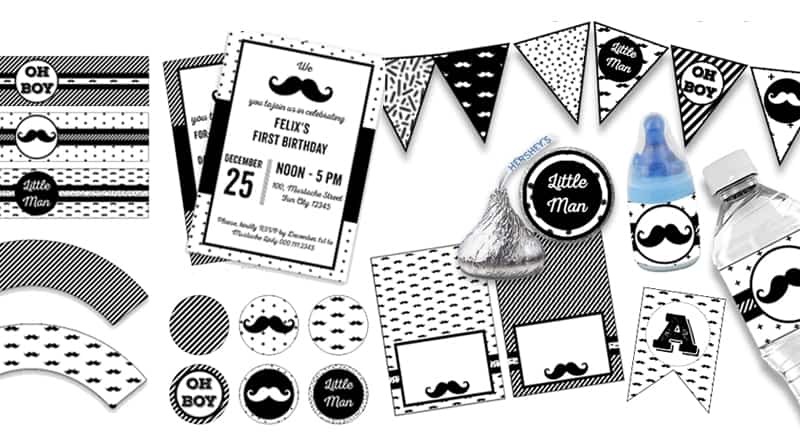 DIY Baby Bottle Pops Party Favors
On top of being really original, this DIY is also really simple.
Here's a few tips and instructions + visual summary:
Download and Print the file:
I printed mine on Photo Paper because I like the gloss look that makes it look more like usual store labels. I didn't have any problem with the ink smearing but you can pick a different type of paper if you'd like. Sticker paper ore brochure paper are good options too! I just found out that you can even get photo sticker paper! I haven't tried it yet, but it sounds like the best of both worlds.
Check out my best printing tip: how to print for free or super cheap.
Remove the label from each baby bottle Pop Candy:
I used an Xacto knife and it was very easy and clean to do. There is no glue on the back of the label to remove!
Cut each printed label
To wrap and secure each label around my Baby bottle Pop I used double sided tape. I placed a piece on each end and that seems to give a strong and clean hold. No need to wait for glue to dry.
Optional: You can add clear packing tape on top of your label if you're afraid of the ink smearing or if you want to give it an extra glossy layer. I used photo paper so I didn't feel like I needed that step.
And here's a visual summary:
Download – Free Printable Mustache Baby Bottle Pops Party Favors
I'm sharing 3 PDF with you, download and print whichever you need (Personal Use Only):
one that includes 3 designs ready to print: "Oh Boy", "Little Man", Mustache shape.
one with blank circles ready to print if you want to customize them by adding text by hand after printing.
one Editable PDF + Instructions (you'll need Acrobat Reader – free – to be able to edit this file) to customize your text before printing.
FOR PERSONAL USE ONLY – Please Read Freebies Terms of Use.
I create lots of free printables, if you want to make sure to be updated and receive exclusive freebies, join the Lovely Newsletter:

You can also follow me on Pinterest to see all the awesome free printables I've spotted while browsing the web!
Mustache Party Decoration Ideas
Here's a few elements I found that you could add to complete your Mustache Party Decoration:


This page may contain affiliate links. When you click them you support Lovely Planner and help keep its content free. Thank you!