I've been wanting to create these Movie Night planner stickers for a long time and here they are now, so I'm happy to share them with you!
Whether you're going to the movies and making a fun night out of it, or just enjoying watching movies at home, it's nice to be able to document your favorite ones with cute stickers.
To create these Movie Night planner stickers I've decided to shape them as little marquee signs (2 different messages above: "Now showing", and "Movie Time").  This way, you've got space inside the marquee to write down the title of the movie you're gonna see.
I've also created and added little kawaii "movie" characters (5 different designs) on most stickers but I've left a few blank marquee signs for those days where you want to keep things a little more simple or grownup in your planner haha.
I filled the bottom of the page with the cute movie characters, because I find them adorable and I guessed you'd like to be able to use them on their own too!
You'll end up with a grand total of 30 marquee signs stickers and 15 character stickers.
Their width is 1,5″ so that they can fit in your planner boxes if you use a Happy Planner or Erin Condren Life Planner. This size will also fit nicely in any other type of planners.
This Movie night planner stickers set includes:
30 marquee signs stickers
15 characters stickers
Don't forget to also have a look at other planner freebies I shared on the blog!
Download your Movie Night Planner stickers:
Important, please read: TERMS OF USE
All the free printables I share on Lovely Planner are meant for PERSONAL USE ONLY.
This means:
 you can't use my free printables for commercial purposes,
you can't modify or claim them as your own,
you can't share my files directly. If you want to share a file, please send a link to the related article on my website but don't share or send the file on its own.
I spend a lot of time creating these files that I share for free with you all, so thank you for understanding and respecting these few simples rules 🙂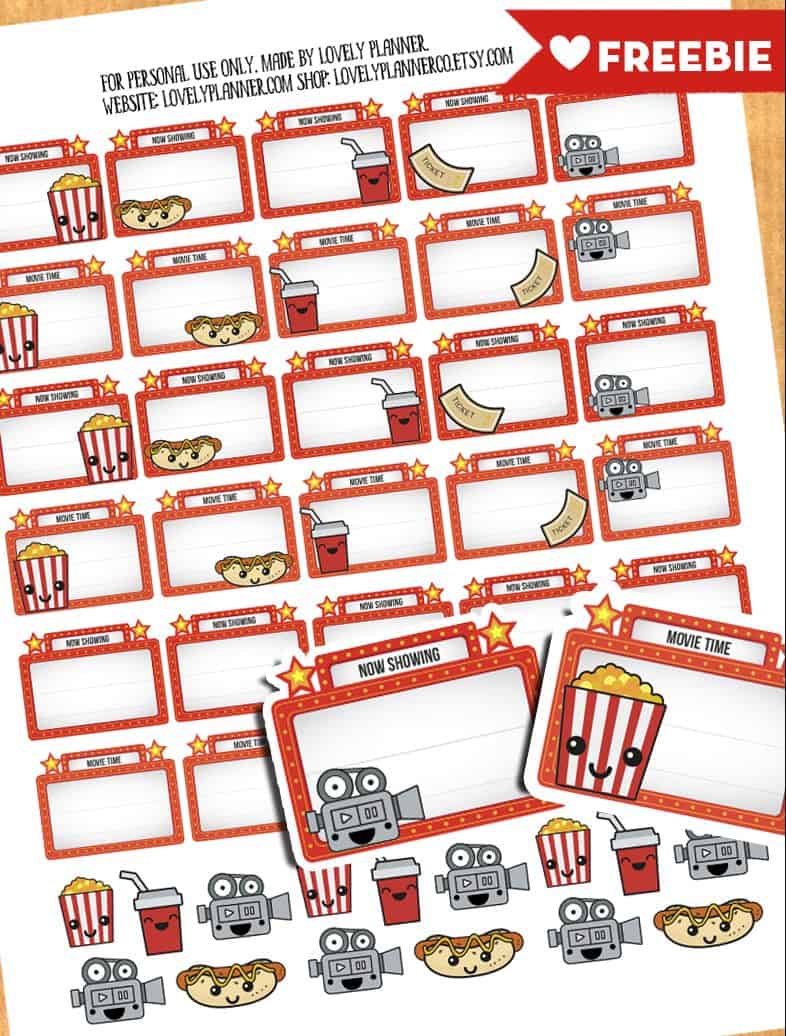 Download this lovely freebie – PDF file
Download this lovely freebie – Silhouette Print&Cut file
If you use them, I'd be happy to see what you do with it! Feel free to tag me/follow me on instagram (@lovelyplannerblog)  🙂
Don't forget to have a look at other planner freebies i shared on the blog!
Important note: This freebie is for personal use and can at no point be used for commercial purposes.
Disclosure: In order to support this website's costs, this post contains affiliate links, which means that if you make a purchase using one of those links, I'll receive a small commission.