Do you need a printable one-page calendar for 2022? You're in for a treat with these 33 different cute and minimalist free printable 2022 calendar templates.
Today I'm excited to share with you, not one, not two, but thirty-three different 2022 printable one-page calendar templates to help you stay organized during the year. I've made sure to include many different styles so that everyone can find one they'll love. After all, you're going to see this page all year long, so you might as well really like it! All the designs are printer-friendly (black & white ink only) and I think they're all pretty stylish and cute too!
I've included 3 sizes for each calendar template: US Letter, A4, and Classic Happy Planner to make it convenient for you.
You can also easily adjust your printer settings to print this 2022 year at a glance calendar on A5 paper and add it to your A5 planner.
Most designs are available in 2 versions: with "2022" title (numbers) or "Twenty Twenty-Two" title (letters).
(This post contains affiliate links. For more information, see my disclosures here.)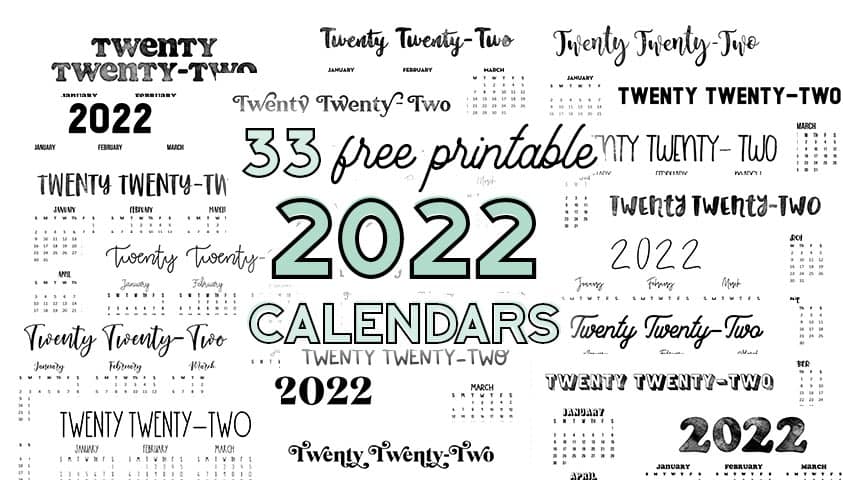 Calendar 2022 Printable One Page
This year-at-a-glance 2022 calendar will help you keep track of the different dates and events all along the year. You could add a color code and highlight every birthday or special dates for example. You can place this free printable calendar in your planner, on your fridge, or near your desk to help you stay organized.

TIP: You can also add this one page calendar to your 2022 planner pages. I like to place mine at the beginning of my planner for easy access.
>>> Find out how to easily customize your planner for 2022 with my 160 printable planner inserts.
I intentionally made these 2022 calendars simple and minimalist so that they can work with many different decors and styles: script font, vintage/retro, feminine, graphic… Pick your favorite style!
Pin this image for later:
Preview of the 33 printable year at a glance calendars for 2022
To help you choose, I'm going to include a low-resolution preview of each free printable 2022 calendar template below.
You can then download a high-resolution PDF containing all of them and print the one(s) you like best (the download button is located towards the end of this article so you have to scroll past the preview images).
You can also pin these calendar previews on Pinterest to remind yourself to print them later!
Preview of the designs with "Twenty Twenty-Two" titles: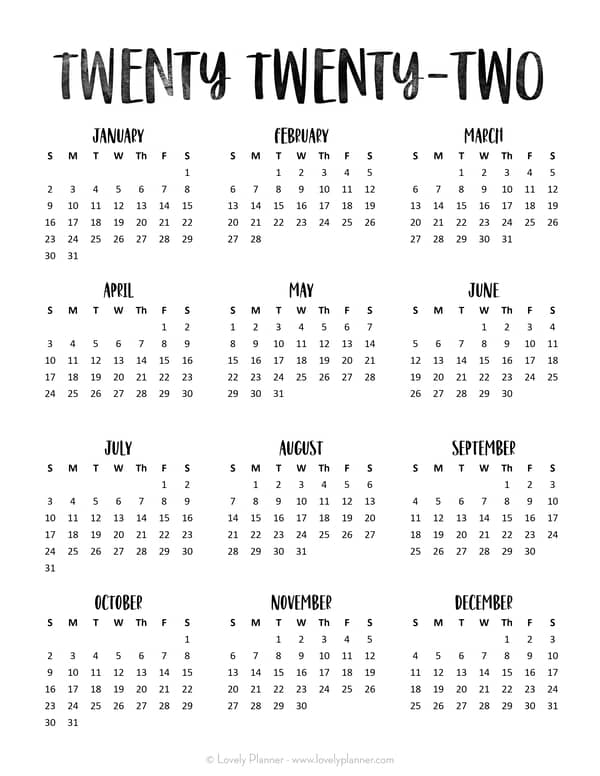 Preview of the designs with "2022" titles:
Plan a productive year: Organize your life with The Ultimate Planner Bundle
The Ultimate Planner Bundle includes 160 pages of printable planner inserts (divided into 6 themed packs) to help you organize all areas of your life: home management, health & wellness, budget, hobbies, weekly, monthly and yearly calendars. I also included 9 different planner layouts to help you decide which layout works best for you. To make it easy to print and combine with most planners, 3 sizes are included: US letter, Classic Happy Planner, and A5.
You can see all the inserts included in this bundle, along with a special offer on this page: The Ultimate Planner Bundle.
Download these Free Printable 2022 Calendar Templates
Note: All 33 calendar templates are included in one PDF file. Simply print the page(s) you like most. I created a different PDF for each of the 3 sizes (US letter, A5 and Classic Happy Planner): open the PDF file in the paper size you need.
FOR PERSONAL USE ONLY – Please Read Freebies Terms of Use.
Pin this image for later:

I create lots of free printables, if you want to make sure to be updated and receive exclusive freebies, join the Lovely Newsletter: