Today I'm happy to share with you a set of 16 free printable baking gift tags that you can use this Christmas or for any occasion throughout the year. Only 2 of the 16 tags reference Christmas so these tags can really fit any baking gift. They've got funny or sweet messages on them that will make your baked gift extra special.
I created this set in 2 different color schemes: black & white (printer-friendly) and kraft & black (for a more rustic look).
8 tags fit on one page so the file includes 2 pages per color set, 4 pages in total.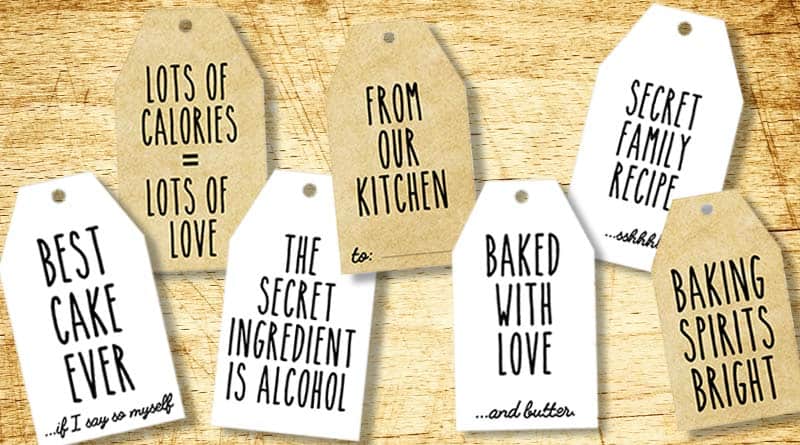 Offering a homemade dessert – whether it be cookies, pies, cakes or sweets – really is a very thoughtful gift. It shows you gave time, care and attention to prepare something nice to offer.
If you want to make the gifting experience even better, you may want also want to put some effort into the wrapping of your treats. That's why I prepared this set of 16 funny & sweet baking gift tags.
(This post contains affiliate links. For more information, see my disclosures here.)
You don't have time to print these right now? Pin this image for later:
If you'd like you can write the gift recipient's name on the back, a little message or write down the ingredients included in your recipe to make sure people with food restrictions can eat your treat stress-free.
Are you looking for funny gift tags for your other gifts? Check out this matching set of 16 Funny Honest Christmas Gift Tags: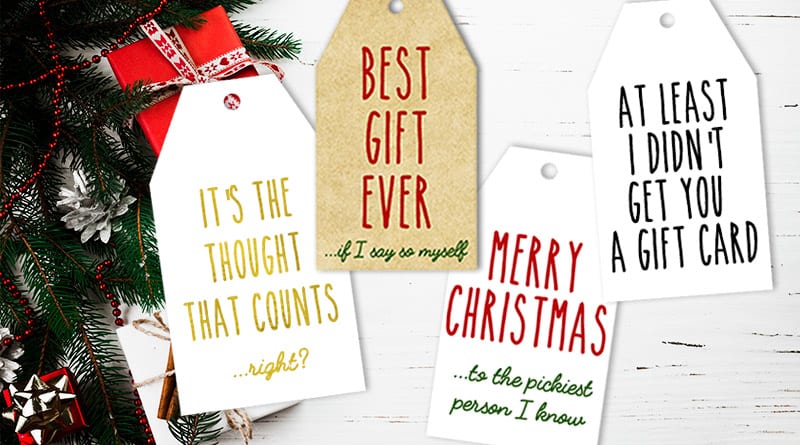 You may also like these classy Floral Initial Gift Tags (the whole alphabet is included):
I think these gift tags would look nice with some nice striped ribbon or red velvet ribbon
.
Here is a low-res preview of the 2 color sets. You can download the high-resolution PDF file (4 pages) further down this page).
The 16 funny baking gift tags included are:
From our kitchen … to…
Secret Family recipe
Baked with love… and butter.
The secret ingredient is alcohol
Christmas calories don't count
Best cake ever… if I say so myself
Baking spirits bright
Look at me, adulting all over the place
Sweet Holiday Wishes
Baked from scratch
People who love to eat are always the best people
Lots of calories=Lots of love
Go ahead, eat it, I dare you
Freshly baked cookies
"Eat me" (reference to Alice in Wonderland)
If this treat isn't all you dreamed of… blame it on Pinterest
Make sure to also check out my other free Christmas printables: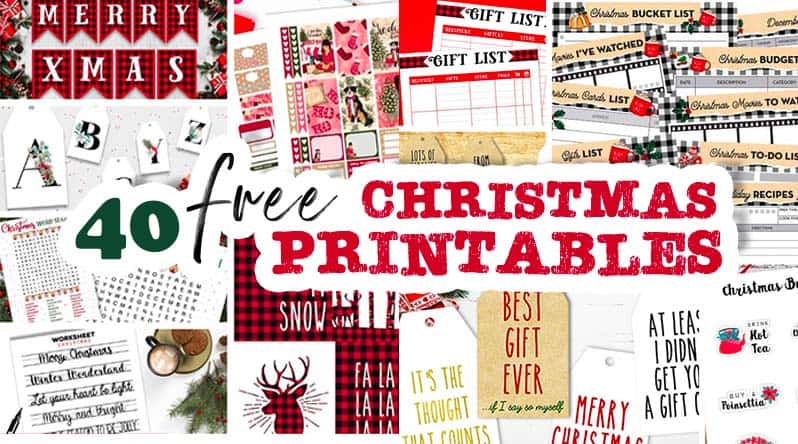 Download your Free Printable Baking Gift Tags
FOR PERSONAL USE ONLY – Please Read Freebies Terms of Use.
DOWNLOAD THIS LOVELY FREEBIE
How to download this file?
Not a subscriber yet? Some of my printables (including this one) are for my newsletter subscribers only. It's totally FREE of course!
Subscribe to my newsletter to get free access to exclusive free printables and stay updated.
Existing subscribers – forgot your password? Make sure to check one of my emails to you, the password is reminded at the end of each newsletter. No caps, no space.
You're typing the right password but get a wrong password error message? You may have an issue downloading if you click a link from Facebook or an email. If so, just open the link directly in your browser and this should solve it.
FOR PERSONAL USE ONLY – Please Read Freebies Terms of Use.
I create lots of free printables, if you want to make sure to be updated and receive exclusive freebies, join the Lovely Newsletter: