These free printable Hogwarts House Ties will be a perfect party favor or decoration if you're planning on throwing a Harry Potter themed birthday or any type of Harry Potter themed party.
These Hogwarts House ties are a great and easy way to get all your guests in a magical mood and make them all look a little more like wizards. You don't need elaborate costumes to get kids imagination going, DIY accessories can do the trick!
The 4 Hogwarts Houses are included in this printable: Gryffindor (red), Slytherin (green), Hufflepuff (yellow) and Ravenclaw (blue). You could use these ties as a party favor, decoration or even as part of a game.
(This post contains affiliate links. For more information, see my disclosures here.)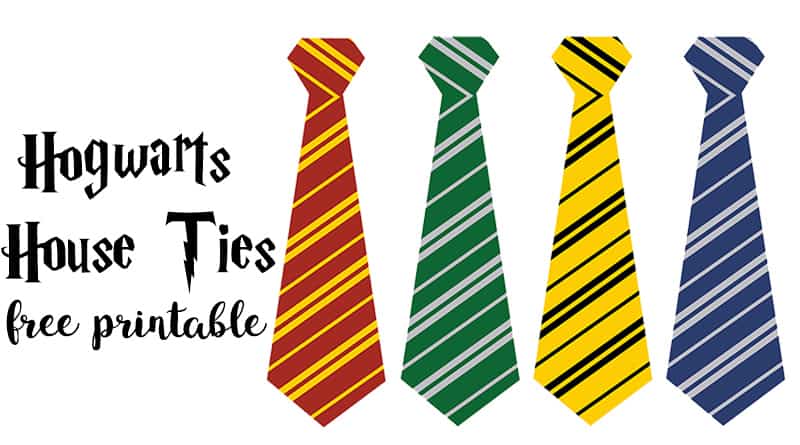 How to use these Hogwarts House ties to create a Hogwarts Houses Competition?
If you're planning on having team games/challenges at your party, you can use these Hogwarts House ties to represent 4 different teams. You could then have different challenges and the best team/House ends up winning the Wizard tournament or the House Cup!
You could even imagine some "Sorting Hat" method to divide your guests in 4 equal teams: place your ties in a hat and have your guests pick one without looking. You'll end up with your guests divided in 4 equal teams.
If you're planning on doing something like that, you could also choose to place my free printable Harry Potter Award Ribbons in the sorting hat, and then give each guest the matching tie (let's say "guest A" picks a slytherin award ribbon brooch, you'll then give him a Slytherin tie – he belongs to team Slytherin, etc). This way your guests will have 2 party favors instead of one.
Instructions
To use, simply download (at the end of this page) my free printable, print it on thick paper like cardstock
or photo paper
(here's my best tip to print for free or super cheap) and cut each tie.
You can also laminate them to make them more resistant if you'd like.
To make these ties wearable, you can:
attach or staple elastic cord to each tie, so that your guests can wear the tie around their neck, as if it was a necklace,
hot glue a brooch pin back safety pin on the back of each tie (but kids will have to be extra careful).
How to save money and earn cash back on your online purchases ?
If you're planning on buying some of the items needed for this project online here's a great tip to earn cash back, find coupons and save money easily.
Before buying anything online, I always check out Ebates (either with the browser extension or on Ebates.com). I find the store name (type it), click the current deal for that store and complete my purchase. When completing a purchase through Ebates you earn cash back that you can have mailed to you or sent via Paypal. If you have never used Ebates you're missing out.
Click here to sign up for Ebates, and RIGHT NOW when you sign up, you will receive a $10 cash welcome bonus when you spend $25.00!
Since you were already going to complete your purchase online, why not get some cash back on things you planned to purchase!
Make sure to check out my other
Harry Potter Free Printables
to throw a Pinterest worthy HP Party in just a few clicks:
Besides my Harry Potter inspired free printables, you can also find tons of awesome ideas for your party on my Harry Potter Party Ideas & Printables Pinterest Board.
Download -Free Printable Hogwarts House Ties for your Harry Potter Party
FOR PERSONAL USE ONLY – Please Read Freebies Terms of Use.
I create lots of free printables, if you want to make sure to be updated and receive exclusive freebies, join the Lovely Newsletter:

You can also follow me on Pinterest to see all the awesome free printables I've spotted while browsing the web!
Disclaimer: All copyrights and trademarks of the character images are the property of their respective owners and are not affiliated with us in any way. This is a work of fan fiction using characters or ideas from the Harry Potter world, which is also trademarked by J. K. Rowling. I do not claim ownership over the characters used in my free printables.