Today I'm happy to share with you this "Alohomora" Harry Potter Free Printable Wifi Password Sign. "Alohomora" is the spell used to open something locked in the Harry Potter universe, so it's a very appropriate saying to use to display your Wifi credentials!
I'm sure your Potterheads friends will appreciate the reference. It will be a good conversation piece for those unfamiliar with this spell.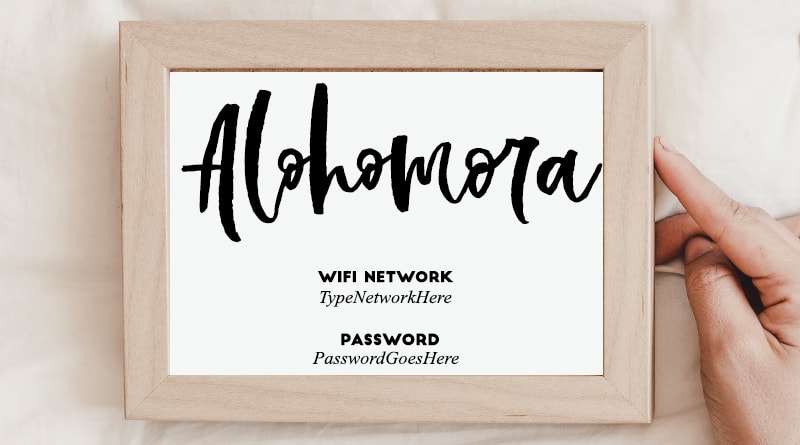 In our days and age, Wifi has become a pretty big necessity for most people, including your house guests. We've all found ourselves in that situation; you have guests over, they end up asking "do you have wifi?" and you end up having to go dig your password and spell it out or write it down. Needless to say, there has to be a way to make this whole situation a little less awkward.
That's where Printable Wifi Password Signs can come in very handy. Simply fill out your Wifi details (network name and password), print it and display it somewhere convenient for your guests. It's a nice attention and a perfect way to make your guests feel welcome and comfortable.
I've decided to create a few free printable Wifi password signs, including several Harry Potter inspired ones. I'll share them in individual articles and I'll round them all up in one article once most have been shared.
How to customize your wifi password sign?
To make things nice and easy, I've created an editable PDF file so that you can edit the text before printing it if you'd like. Fear not, I've also including a instruction sheet with tips to make this as easy as possible.
Alternatively you could also print it blank and add your wifi details with a pen if you're not too tech-savvy or if you know you're going to change your password frequently (using a dry-erase pen to write on the frame glass is then a great option).
If you like Harry Potter, make sure to check my other HP inspired free printables. You can also follow me on Pinterest where I have a board with lots of Harry Potter ideas and printables.
Download this "Alohomora" Harry Potter Free Printable Wifi Password Sign
I've included 2 versions of this design: solid black and black ink effect. I've also included 2 different PDF files in the download folder : one that is blank and that you can print out straight away to add your text by hand and one that is an Editable PDF where you can type your text on the computer before printing. Download whichever fits your needs best.
Blank PDF File: Pick this file if you want to add your text with a pen after printing. If you often change your wifi password, you can print this sign, place it in a frame and use an erase-dry pen to fill in the wifi details. This way, you can easily change your text, just by wiping it.
Editable PDF file: If you'd rather fill in the text before printing to get a cleaner look, no worries, I got you covered and I made it easy by creating an editable PDF file. Download the Editable PDF file and follow the instructions I included in a separate page (on how to change font, font size, color, etc). Note that you need Adobe Acrobat Reader (free) to be able to modify this editable PDF.
Download this Lovely Free Printable
FOR PERSONAL USE ONLY – Please Read Freebies Terms of Use.
I create lots of free printables, if you want to make sure to be updated and receive exclusive freebies, join the Lovely Newsletter:


Important: Please note that I am in no way affiliated with the Harry Potter franchise, this free printable is merely a fan art creation.
Disclosure: This page may contain affiliate links. When you click them you support Lovely Planner and help keep its content free. Thank you!