I'm happy to share with you another set of functional planner stickers: free printable Playdate planner stickers.
This printable idea was suggested by Lisa, one of Lovely Planner's readers. If you're a Mum, these playdate stickers will be perfect to remind you of your little ones playdates, help you organize your days and keep track of all the important informations.
I left space for you to write down 3 types of info about your playdate: with who, what time and where is it taking place?
I hope these playdate planner stickers will be useful in your busy Mom life.
I've planned on adapting this stickers set for other types of appointments so keep your eyes peeled, and make sure to subscribe to the Lovely Newsletter if you want to stay in the loop.
This free printable includes 35 individual stickers on one sheet, in 16 vibrant rainbow colors.
These stickers colors match the rainbow functional stickers sets I've already shared so make sure to look them up.
Being 1.5″ wide, these stickers will fit nicely in most planners and fit perfectly in the Classic Happy Planner.
Make sure to also check out all the many other free printable planner stickers I've created. I create a lot of free printables so make sure to subscribe to my newsletter to be able to get my future freebies.
Want more?  Follow me on Pinterest where I created a board dedicated to all the best free printable planner stickers I find online! I keep adding new Pins to it!
DOWNLOAD Free Printable Playdate Planner Stickers
FAQ: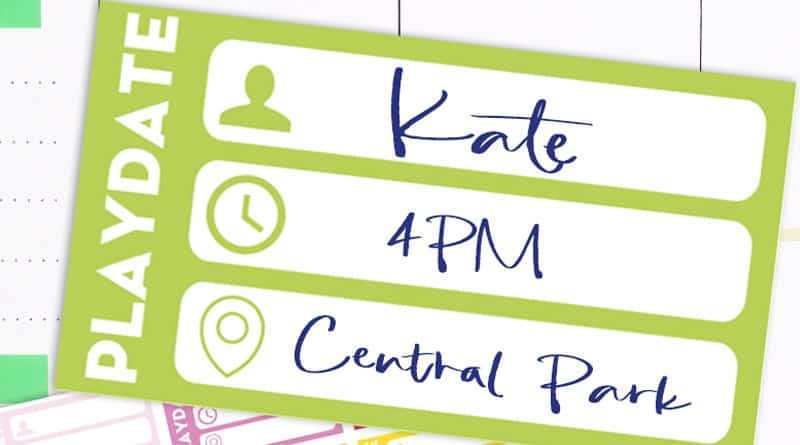 Download this Lovely Free Printable
FOR PERSONAL USE ONLY – Please Read Freebies Terms of Use.


I create lots of free printables, if you want to make sure to be updated and receive exclusive freebies, join the Lovely Newsletter:

Disclosure: This page may contain affiliate links. When you click them you support Lovely Planner and help keep its content free. Thank you!