I'm very excited to share a fun DIY with you today! You can offer this "I love you" mini banner surprise matchbox for Valentine's Day or any other day where you feel like making someone feel special and loved.
All the elements are included in the free printable PDF to help you create the most adorable gift. This matchbox may be small but it is filled with a lot of surprise and magic!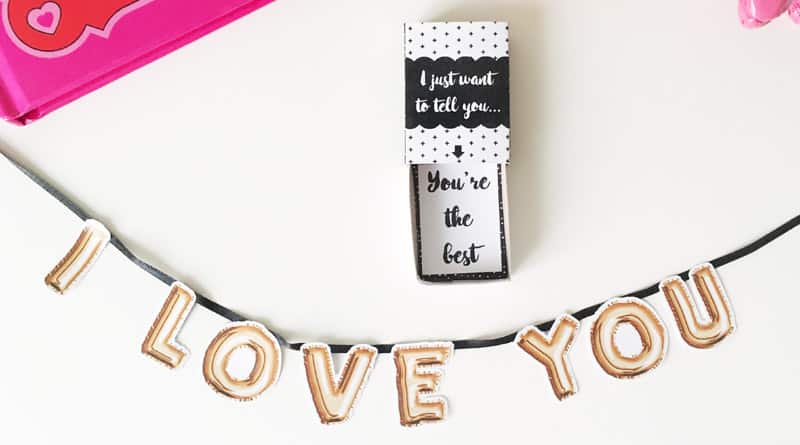 Rather than offering a traditional Valentine's Day card, consider offering this cute surprise matchbox instead. Your lover/friend will get a cute matchbox to open. Inside, he or she will discover that it contains a sweet mini banner "I love you", and a cute message. He or she can then display the mini banner wherever they'd like. Even once the banner is taken out of the box, the matchbox stays cute and meaningful thanks the the message you'll have placed inside.
You get 4 messages to choose from, depending on how you want to end the sentence "I just want to tell you…":
You're the best
Happy Valentine's Day
You're my forever
I'm so lucky to have you
In case this isn't clear enough, here's a little video of this adorable surprise matchbox in action:
The free printable includes:
a matchbox wrapper: " I just want to tell you…" (to build up the suspense and anticipation before revealing the love messages)
"I love you" mini banner made of gold foil balloon letters
4 messages to choose from to include inside the matchbox: You're the best / Happy Valentine's Day / You're my forever/ I'm so lucky to have you
Material
This DIY Valentine's Day gift is easy, cheap and fast to make, here's what you will need:
Free printable file (download further down)
matchbox (i used the small type: 2″x1,5″, that fits 32 matchsticks)
paper
printer
scissors
glue and/or double sided tape
thin ribbon (about 10 inches long)

Instructions
Print the free PDF file and cut the different elements.
Wrap the matchbox using the matchbox wrap. You can fold along each corner first to make it fit nicely. I then used double sided tape to securely attach this wrap around my matchbox. I find tape to be less messy than glue.
Pick one of the message to place inside your matchbox. Cut it and glue it on the inside of the matchbox.
To create the mini banner, cut around each balloon letter and glue the top of each letter on a thin ribbon.
Make sure to:
leave a couple inches of ribbon empty on each side of the banner (before the first letter and after the last letter) so that it can easily be displayed.
space the letters out evenly.
To place the mini banner neatly inside your matchbox, simply "fold" your banner on itself between each letter. Place the banner inside your matchbox and be prepared to make someone's day!
Download this free printable DIY "I love you" surprise matchbox
This free printable is for personal use only. See Freebies Terms of Use.