I haven't shared many weekly stickers sets on the blog so far, I tend to create more general stickers that can be reused from week to week, so this free printable will be a nice little change!
Indeed, today I'm sharing a full set of stickers that will nicely fill a whole week in your Happy Planner or Erin Condren planner, and since Valentine's day is around the corner, this set is all about love! You can also use it any time of the year for special occasions like your anniversary or just when you need an extra dose of love and cuteness in your planner!
Love / Valentine's day planner stickers weekly kit
I'm calling this set "Valentine's day" but there's no direct reference to Valentine's day, it's just mainly about love so feel free to use it all year around anyway!! I love the characters cute little faces!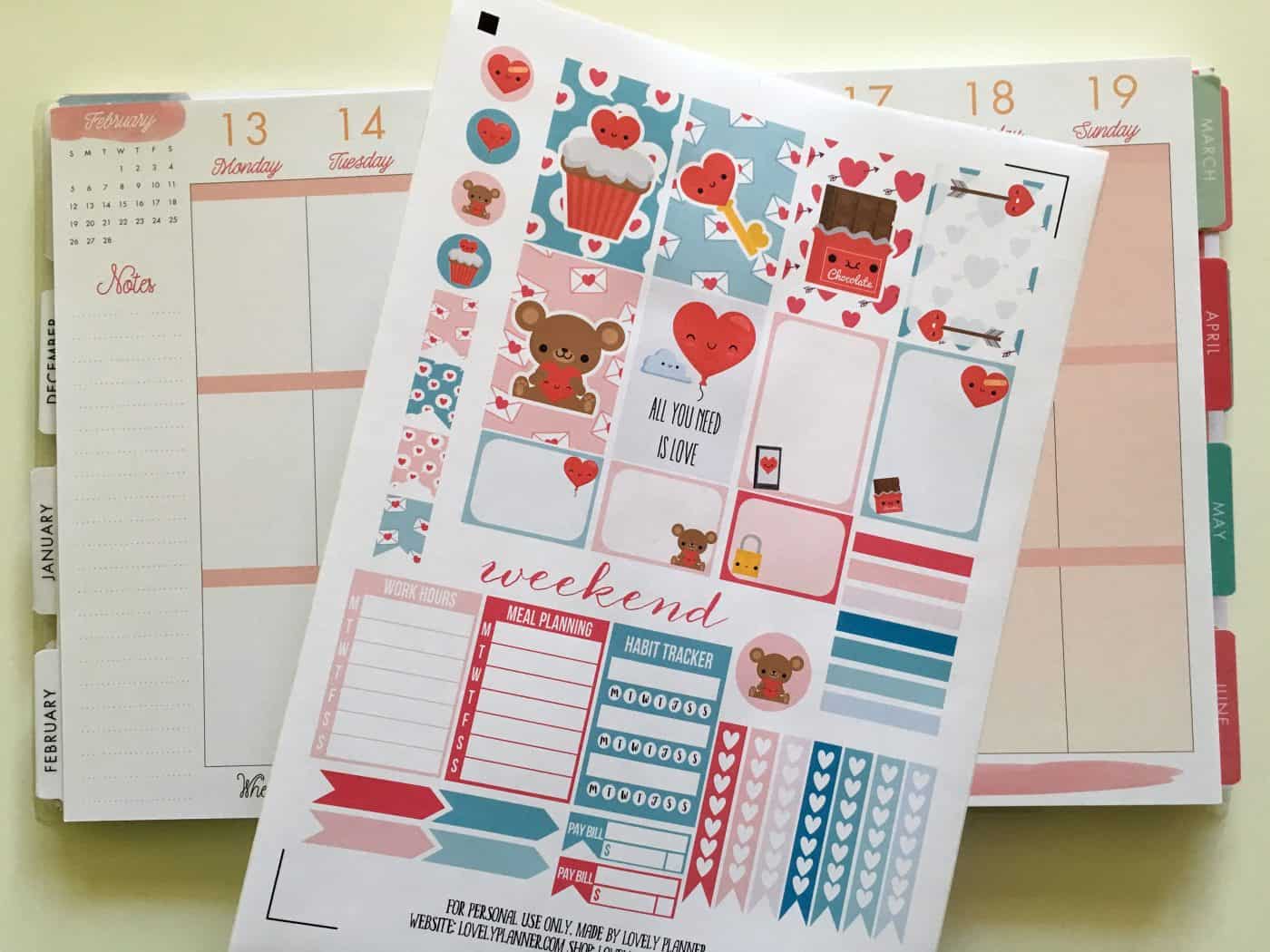 I use a classic Happy Planner so I created this file with this planner dimensions in mind but if you use a different type of planner, fear not, these stickers can easily be used on different planner types. The main alteration you'll probably have to make will be regarding the full boxes, if they're too big, just cut them a little bit et voilà! The plus side is that this stickers sheet will probably last you for longer than a week if you use it in a smaller planner!
Note: The full boxes stickers are made to fit the Happy Planner (1,5×2,25″) but you can absolutely use them in any other planner or notebook. If you want to use them in an Erin Condren Life Planner, you'll just have to trim slightly on top and/or bottom (EC full box dimensions being 1,5×1,9″).
This Valentine's day stickers printable set includes:
8 decorative full boxes
3 practical full boxes: meal planning, habits tracker, work hours
14 decorative flags
7 checklists
7 "today" ribbon
7 decorative circles
2 "bill to pay"
4 arrow ribbons
You can download 2 types of files : PDF or Silhouette Studio file
PDF: Print (preferably on sticker paper) and cut around each character.
Silhouette file – If you own a Silhouette machine*, all you'll have to do will be to print&cut this file on sticker paper. Super quick, easy and clean. If you love stickers, getting a Silhouette machine to make your own can quickly turn out to be a good little investment!

I use the settings blade 2, speed 10 and thickness 18 to kiss cut the characters (red line in the file), but the settings vary depending on your sticker paper, so make sure to run the test cut before cutting your whole page.

I use this paper*, the back has no "easy peel off cut lines" which makes it more convenient for planner stickers. But you can use any paper you want. A vous de choisir (your choice to make)!

Use paper cutting setting for the borders (blue line), or just delete them from the file if you prefer cutting around each sheet yourself.
Download your Valentine's day planner stickers:
Important, please read: TERMS OF USE
All the free printables I share on Lovely Planner are meant for PERSONAL USE ONLY.
This means:
 you can't use my free printables for commercial purposes,
you can't modify or claim them as your own,
you can't share my files directly. If you want to share a file, please send a link to the related article on my website but don't share or send the file on its own.
I spend a lot of time creating these files that I share for free with you all, so thank you for understanding and respecting these few simples rules 🙂
Download this lovely freebie – PDF file
Download this lovely freebie – Silhouette Print&Cut file
If you use them, I'd be happy to see what you do with it! Feel free to tag me/follow me on instagram (@lovelyplannerblog)  🙂
Don't forget to have a look at other planner freebies i shared on the blog!
Important note: This freebie is for personal use and can at no point be used for commercial purposes.
Disclosure: In order to support this website's costs, this post contains affiliate links, which means that if you make a purchase using one of those links, I'll receive a small commission.