Time flies by so fast! 2019 is more than halfway gone and 2020 will be here in a flash. So I thought it was time to share a free 2020 calendar printable. Today I'm sharing with you, not one, but actually 4 different free printable 2020 one page calendars.
I've included 3 sizes for each calendar: US Letter, A4 and Classic Happy Planner.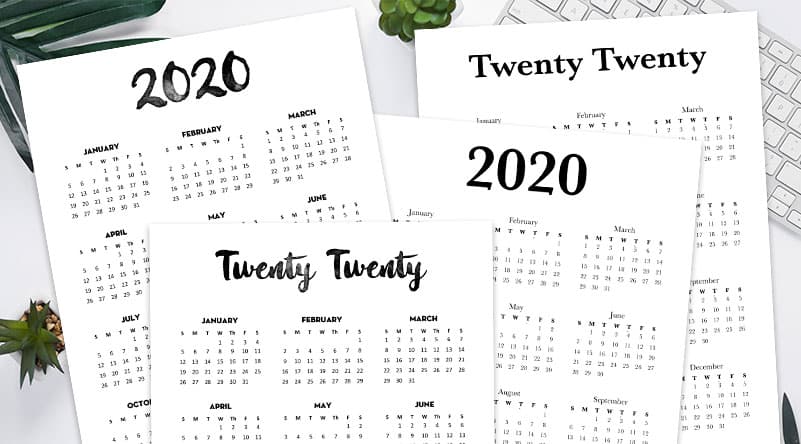 This year-at-a-glance 2020 calendar will help you keep track of the different dates and events all along the year. You could add a color code and highlight every birthday or special days for example. You can place this free printable calendar in your planner, on your fridge or near your desk to help you stay organized.
I intentionally made these calendar simple and minimalist so that they can work with many different decors and styles. One version is a little more modern (script font) while the other is more classic.
You can see a preview and download each file further down this page.
(This post contains affiliate links. For more information, see my disclosures here.)
Pin this image for later:
I create lots of free printables, if you want to make sure to be updated and receive exclusive freebies, join the Lovely Newsletter:

Organize your life with The Ultimate Planner Bundle
The Ultimate Planner Bundle includes 78 pages of printable planner inserts (divided into 6 themed packs) to help you organize all areas of your life: home management, health & wellness, budget, hobbies, weekly, monthly and yearly calendars. I also included 9 different planner layouts to help you decide which layout works best for you. To make it easy to print and combine with most planners, 3 sizes are included: US letter, Classic Happy Planner and A5.
You can see all the inserts included in this bundle, along with a special offer on this page: The Ultimate Planner Bundle.
Download – Calendar 2020 Printable One Page
Note: There are 2 separate PDF files: one file for the SCRIPT calendar and one file for the CLASSIC LOOK calendar.
FOR PERSONAL USE ONLY – Please Read Freebies Terms of Use.
Download SCRIPT – Calendar 2020 Printable One Page
Download CLASSIC LOOK – 2020 One Page Calendar Free Printable
I create lots of free printables, if you want to make sure to be updated and receive exclusive freebies, join the Lovely Newsletter: