Free Printable Planner Pack for Spring / April
Are you ready to start April off on the right foot? Look no further than my free printable April planner pack, featuring 4 beautifully designed planner pages to help you stay organized all month long! You can also use these pages for any other spring month.
Since Easter is also coming up this month, you might like to pair these planner pages with my free Easter Planner.
(This post contains affiliate links. For more information, see my disclosures here.)
4 types of pages are included in this free printable planner pack :
Monthly Planner Page – undated – titled for April (you can cover the title with a sticker or washi tape if you want to use it for a different month). Good to know: If you get the Seasonal Planner Pack, you'll get a version with no title on top of the monthly planner page.
Weekly Planner Page – Week On One Page Dashboard Layout – undated, Monday start (a Sunday start version is also included in the Seasonal Planner Pack)
Notes – grid paper
To-Do List – half checklist/half dot grid
The pages are decorated with seasonal elements so it's an easy way to add some color and decoration to your planner without necessarily using stickers or washi tape.
I decided to keep the monthly and weekly planner pages undated so that you can use them anytime you want in the future.
You can add these pages to your current planner or use them on their own.
I'm sharing this printable in US Letter size but you can easily print it on other paper sizes by adjusting your printer settings.
Note: 3 different sizes are included in the seasonal planner pack (US Letter, Classic Happy Planner, and A5), so you don't need to adjust your printer settings if you purchase the seasonal planner pack.
Here are the percentages recommended to print from US Letter size to other paper sizes:
to print a US Letter size document on A5 paper size: adjust your print scale to 68%
to print a US Letter size document on Classic Happy Planner Size: adjust your print scale to 82%
Can I use these pages inside my digital planner?
Yes! I'm sharing the 4 pages inside a PDF file so you can also add these pages to your digital planner.
In the past, I used to share a new planner divider every month. Make sure to check them all here (more than 60 designs available)
Make sure to also check out my Free Easter Planner filled with cute pages to help you plan and celebrate Easter.
You might also like this set of free monthly planner stickers I shared recently. They match my seasonal planner pages. You can use these stickers to mark the beginning of each month in your planner or bullet journal.
Can I get planner packs for previous months?
Of course, here are the monthly planner packs already shared so far:
---
Want more? Get the "Seasonal Planner Pack"
If you love these freebies, you'll absolutely adore my Seasonal Planner Pack. With a whopping 132 pages, you'll have a full year's worth of adorable seasonal designs to help you stay on top of your schedule. Each month features 11 essential planner templates, all decorated with cute and different monthly designs.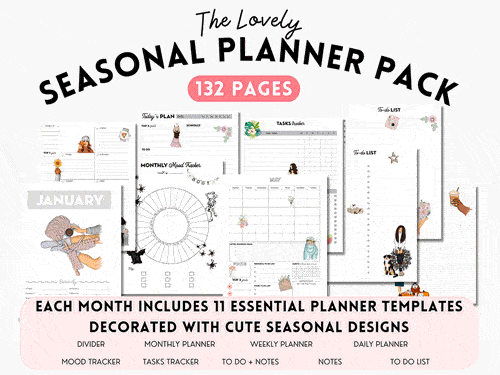 You can also see a flip-through video of all the pages included in this pack.
11 TEMPLATES ARE INCLUDED FOR EACH MONTH
Monthly Planner – 2 versions= blank title (to use whenever) or with month titled on top
Weekly Planner – a week on one page, dashboard layout – 2 versions: Sunday & Monday start
Daily Planner
Tasks Tracker – track your daily, weekly, and monthly tasks
Divider page – with space to write down your current likes
Monthly Mood Tracker
Notes
To-Do List + Notes
To-Do List
You can print these pages (3 sizes are included) or add them to your digital planner. You can find more images & details about the seasonal planner pack on this page.
SPECIAL OFFERS
To celebrate the launch of the Seasonal Planner Pack, I decided to create a few special discounts.
Click on your favorite offer to see more details about it:
---
What pages are included inside this free printable planner pack?
Here is a low-resolution preview of the 4 pages included in this free sample pack (if you want 132 seasonal planner pages in 3 sizes, check out the Seasonal Planner pack). You can download this free printable pack just below, further down this page.
Weekly Dashboard Layout

April Monthly Planner – Month on One Page
You can use this page for any other winter month by masking the title with stickers or washi tape

Notes Page (grid paper)
To-Do List (half grid/ half checklist)
If you like this freebie please consider pinning this image before downloading your file just below 🙂 I appreciate your support!
DOWNLOAD this Free Printable Planner Pack for April
FOR PERSONAL USE ONLY – Please Read Freebies Terms of Use.
DOWNLOAD THIS LOVELY FREEBIE
Would you like a neutral version of this type of planner pages?
I've created a pack with 160 printable planner pages in 3 sizes: the Ultimate Planner Bundle.
The 4 pages shared today, with seasonal decorations on them, are included inside the Ultimate Planner Bundle in a neutral design that can work all year round.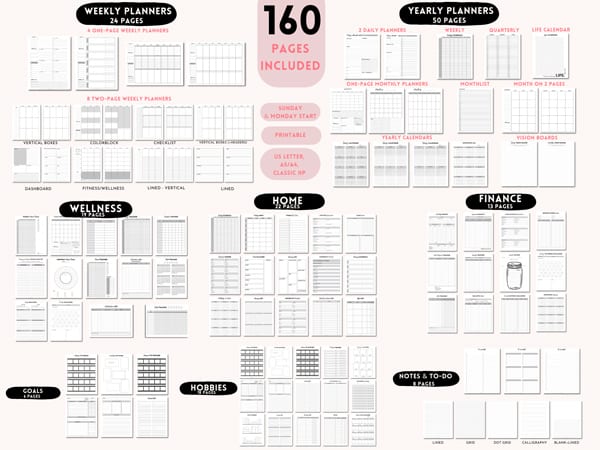 Want more printable bullet journal/planner inserts? Check out these posts:
What are the benefits of adding printable planner inserts to your planner?
FLEXIBILITY:
Adding printable pages to your planner is one of the easiest and cheapest ways to create a flexible planning system that truly fits your needs and works for you. I love the ability to add, move, remove, and change pages around. That's the reason why I strongly recommend getting a planner that allows you to move pages around (disc or ring-bound).
I can't say enough good things about the concept of printable planner inserts and that's why I think everyone should give it a try!
CUSTOMIZATION:
By adding printable planner inserts to your planner, you're no longer limited to what comes inside commercial planners. You get to be creative and decide what sections and pages you need. We all have different lives, different ways of operating, and different needs… It only makes sense that we all should have different planners, customized to fit our needs.
Not sure how to make the best of your planner? Here is a list of 150+ things to track in your planner.
What paper hole punches do you need to easily add printable insert inside your planner?
For Disc Bound planners (such as Happy Planner), I recommend this Discbound hole punch
, you can use it to punch all sizes of disc-bound planners (Big Happy Planner, Classic Happy Planner, or Mini Happy Planner).
For Ring-Bound Planners (such as Filofax, Carpe Diem, Websters Pages, etc), I recommend getting an adjustable 6-hole paper punch
so that it can punch several different sizes of paper for different planners (A5, personal, micro, and compact…).
---
Do you like this printable?
Check out the Ultimate Planner Bundle – 160 Planner Inserts to customize your planner & get more organized
Printable planner inserts are a cheap and easy way to customize your planner and make it fit your needs.
The Ultimate Planner Bundle includes 160 pages of printable planner inserts to help you organize all areas of your life: home management, health & wellness, finance, hobbies, goals, weekly, monthly, and yearly calendars.
I also included 12 different planner layouts to help you decide which layout works best for you. To make it easy to print and combine with most planners, 3 sizes are included: US letter, Classic Happy Planner, and A5.
You can see all the inserts included in this bundle, along with a special offer on this page: The Ultimate Planner Bundle.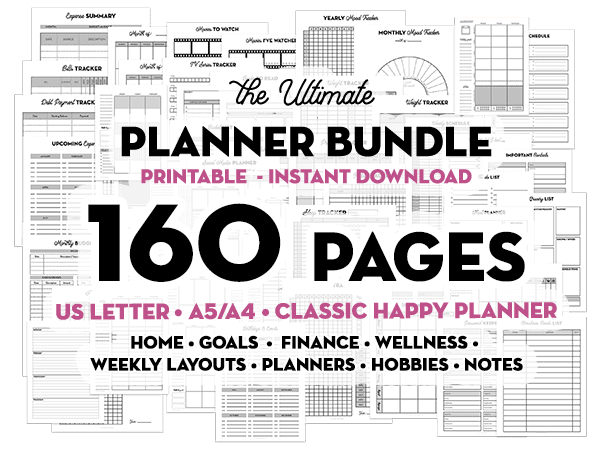 You can see larger images and a flip-through video of all the 160 planner inserts included in the Ultimate Planner Bundle on this page. I also have a special offer for you:
---
FAQ:
Don't forget to also look at other planner freebies I shared on the blog!
Would you like more printables for your planner? Check out my bundles:
I created several special packs with printable planner stickers and inserts to help you decorate and organize your planner. You can compare all my packs at once and see more details on this page.
I create lots of free printables, if you want to make sure to be updated and receive exclusive freebies, join the Lovely Newsletter: