These free printable graph paper pages (in 7 different sizes) can be used in many ways: for school, graphs, art projects, bullet journaling, planner inserts, pixel art, lists, doodling…
This is a 5×5 quad ruled graph paper. That means there are 5 squares per inch. Each square measures 5 millimeters (0,5 cm).
(This post contains affiliate links. For more information, see my disclosures here.)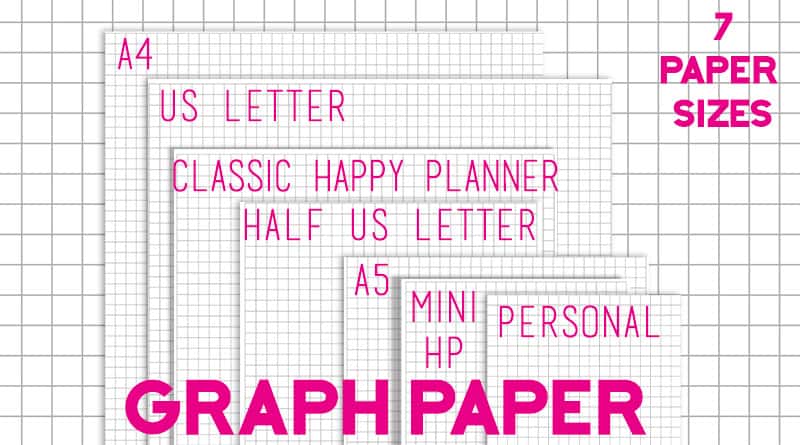 Graph paper is also sometimes referred to as grid paper, quadrille paper, quad paper or quad ruled paper. No matter the name you give it, it's all pretty much the same. The size of each square can vary depending on the type of graph paper, but I personally like this 5×5 size the best.
Printing grid paper, rather than buy a big pack of sheets will be very useful if you'd simply like to try using graph paper, or if you just need a few pages for a special project.
You might also be interested in this free printable dot grid paper.
To make it fit most needs, I'm including this printable graph paper in 7 different sizes:
US letter,
A4
Half US Letter,
Classic Happy Planner
A5
Personal size (for personal size planners)
Mini Happy Planner.
If you end up deciding that you love using graph paper, you can find a lot of grid paper notebooks on Amazon.
To easily add this printable inside your planner, I recommend these paper hole punches:
For Disc Bound planners (such as Happy Planner), I recommend the BIG Happy Planner punch
(this way you can also punch the Classic or Mini HP with this punch) or the ARC paper punch
(more sturdy).
For Ring-Bound Planners (such as Filofax, Carpe Diem, Websters Pages, etc), I recommend getting an adjustable 6-hole paper punch
so that it can punch several different sizes of paper for different planners (A5, personal, micro, compact…).
If you're adding this printable to your bullet journal, you won't need a paper punch. All you'll have to do will be to print it and glue it in your notebook. In that case, I recommend using a glue runner
rather than liquid glue to make sure your pages don't get damaged or wavy.
DOWNLOAD Free Printable Graph Paper – Printable Grid Paper
PRINTING: Print on paper cut to the size of the file you're going to print (US letter, Half US letter, A5 or Personal) and then select "Actual Size" in your printer settings (100%). Do not "scale" or adjust the percentage.
You can easily print on both sides of your page. Simply adjust your printer settings accordingly.
Alternatively, for smaller paper sizes, you could also print on US letter or A4 paper and then cut your paper to the smaller sizes you need.
DOWNLOAD THIS LOVELY FREEBIE

How to download this file?
Not a subscriber yet? Some of my free printables are for newsletter subscribers only (it's totally FREE of course!). This printable is one of them. Subscribe to my newsletter to get free access to exclusive free printables and stay updated.
Existing subscribers – forgot your password? Make sure to check one of my emails to you, the password is reminded at the end of each newsletter. No caps, no space.
You're typing the right password but it won't let you download? You may have an issue downloading if you click a link from Facebook or an email. If so, just open the link directly in your browser and this should solve it.
FOR PERSONAL USE ONLY – Please Read Freebies Terms of Use.

I create lots of free printables, if you want to make sure to be updated and receive exclusive freebies, join the Lovely Newsletter: