Halloween is coming up! Perfect timing to get these free printable Halloween countdown planner stickers to get you in a festive mood and decorate your planner every day until the big day!
To help you do so, I created this set of printable planner stickers: Halloween countdown stickers. Old habits die hard, once more, I went with cute stickers rather than spooky ones! Pumpkins, characters and Halloween cupcakes will be a nice addition to any planner.
To ensure that it could fit nicely in all types of planners, I've included 2 different label sizes in the sheet: you'll get to choose between using the 1,5″ width (perfect for EC Life Planner & Happy Planner) or 1″ width stickers.
Also, make sure to check out these 14 free printable Halloween planner stickers sets.
Disclosure: This post contains affiliate links. For more info, read my full disclosure.
This Halloween countdown printable stickers set includes:
25 countdown stickers (1 month, 3 weeks, 2 weeks and then from 21 days till Halloween) in 1,5″ width (perfect to fit EC life planner and Happy Planner
25 countdown stickers (1 month, 3 weeks, 2 weeks and then from 21 days till Halloween) in 1″ width
I then filed the rest of the page with a few individual stickers
Don't forget to also have a look at other planner freebies I shared on the blog! You can download the files at the end of this page 😉
You can download 2 types of files: PDF or Silhouette Studio file
PDF: Print (preferably on sticker paper) and cut around each character.
Silhouette file – If you own a Silhouette machine*, all you'll have to do will be to print&cut this file on sticker paper. Super quick, easy and clean. If you love stickers, getting a Silhouette machine to make your own can quickly turn out to be a good little investment!

I use the settings blade 2, speed 10 and thickness 18 to kiss cut the checklists (red line in the file), but the settings may vary depending on your sticker paper, so make sure to run the test cut before cutting your whole page.

I use this paper* but you can use any paper you want.
Supplies I recommend to make your own stickers
A printer: I really recommend investing in an HP Instant Ink compatible printer if you're into printables. Here's how I can print for free or super cheap with it.
Choose one type of sticker paper:
Choose one type of tool to cut your stickers:
Scissors (here's my favorite pair!)
An electronic cutting machine such as Silhouette or Cricut machines (I own both Silhouette Portrait and Silhouette Cameo 3 and highly recommend them)
If you want more info about these different supplies, make sure to read the detailed comparative article I wrote about tips and tools you can use to easily turn PDF printables into planner stickers.
You can also check out my 45 favorite planner supplies.
ALSO READ: 45+ FREE Functional Planner Stickers

Download Halloween Countdown Planner Stickers: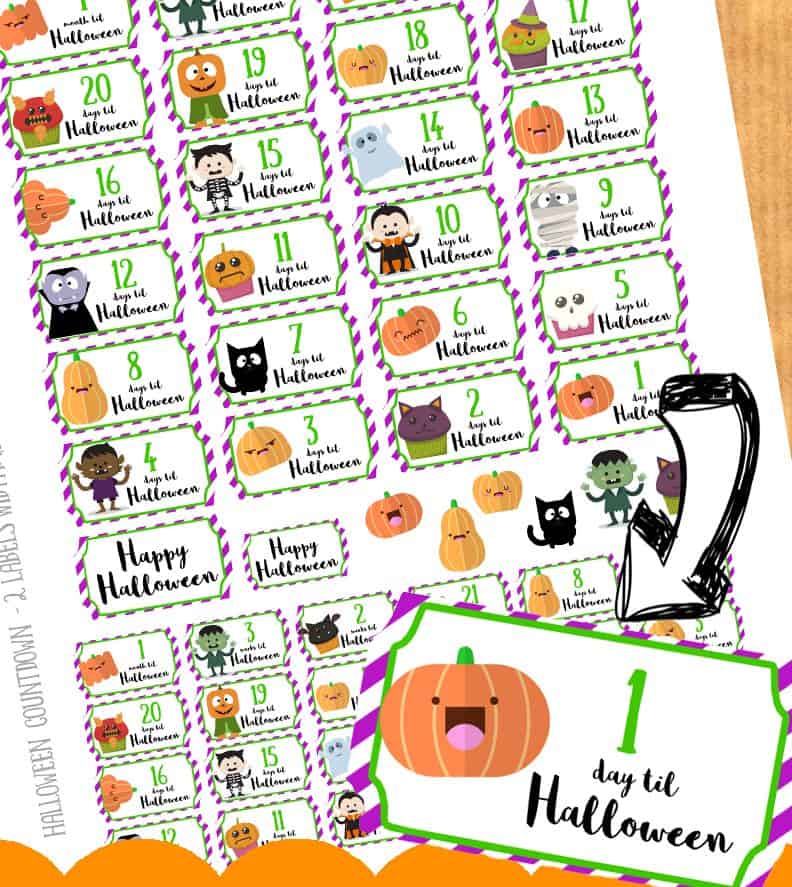 FOR PERSONAL USE ONLY – Please Read Freebies Terms of Use.
Download this lovely freebie – PDF file
Download this lovely freebie – Silhouette Print&Cut file
If you use these stickers, I'd be happy to see what you do with it! Feel free to comment down bellow, tag me/follow me on instagram (@lovelyplannerblog) or use the hashtag #lovelyplanner 🙂
Important note: All the free printables I share on Lovely Planner are only meant for personal use and can at no point be used for commercial purposes.