I think that there's no such thing as "having too much washi tape". If you agree with me then you should like today's free printable: here's a set of adorable bunny washi tape samplers.
I've declined them in 5 different soft pastel colors (I guess Easter was already on my mind) but I like that their look is cute enough to simply use all year around.
As you may remember, I've previously shared other washi samplers with you: bear washi tape samplers, halloween ones and also cute animals washi tape samplers. Make sure to check them too!
If you like exchanging happy mails these bunnies will be perfect to share cute washi tapes samples with your penpal. You can also use them to carry samples of your favorite washi tapes with you at all times, and with style.
In France we say "Tout ce qui est petit est mignon" (=everything that's small is cute), therefore I've added 2 different sizes in the file, so in the end you get 5 big ones (fit 3/4 washi samples) and 4 small ones (fit one washi sample) on one sheet.
Which, in planner maths, means you can make 9 people happy with these washi samplers!
Little details matter to me, and I'd rather use an original cute looking washi sampler than a simple tag to share my washi.
If you do too, download this file at the end of the article.
Supplies and instructions
This "DIY" is pretty self explanatory but basically, you'll need:
thick paper like cardstock paper, or else your samplers will probably get flimsy
washi tape sampler – printable file (download below)
a printer (if you're curious I have a Canon Pixma 5550, it's a pretty simple one, but I can't find it anywhere on any US website, so here's the top rated printers on Amazon under 100$)
scissors (or cutting machine) – the shapes are really simple so using scissors is probably just as quick!
washi tapes you're willing to share (tough one) 🙂
Optional : a laminator (if you want to keep them clean longer, this will also make them a little stronger)
Just reading the supplies list should make you guess what you have to do now:
Download the PDF file,
Print it on cardstock paper
Cut each sampler with your scissors
Laminate them if you want to
Enjoy and start sharing cute washi samplers!
If you prefer to use your Silhouette machine, the steps are just slightly different :
Download the pdf file
Open the pdf in Silhouette software directly if you have the Designer Edition. If you have the basic software, fear not and turn the PDF into a jpeg first, using this website)
Trace the design
Use the Print and cut function through your Silhouette software
Laminate them if you want to
Enjoy and start sharing cute washi samplers!
This Bunny washi sampler printable includes:
1 PDF file with:
5 big bunnies – washi sampler (fit 3/4 samples)
4 small bunnies – washi sampler (fit 1 sample)
Don't forget to also have a look at other planner freebies I shared on the blog!
Download Bunny Washi tape samplers :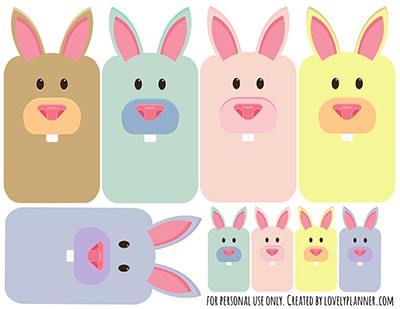 Download this lovely freebie – PDF file
If you use these free washi tape samplers, I'd be happy to see what you do with it! Feel free to comment down bellow, tag me/follow me on instagram (@lovelyplannerblog) or use the hashtag #lovelyplanner 🙂
Important note: All the free printables I share on Lovely Planner are only meant for personal use and can at no point be used for commercial purposes.
---
Disclosure: In order to support this website's costs, this post contains affiliate links(*), which means that if you make a purchase using one of those links, I'll receive a small commission.