Hey planner girls, today I'm happy to share with you a different type of printable: a free printable planner girl quote sign.
This free printable is for you if you can relate to the quote "I love planners, pencils, sharpies, to-do lists, and anything else that gives the illusion that I'm getting my life together." Guilty.
(This post contains affiliate links. For more information, see my disclosures here.)
The beauty of this cute planner girl quote printable is that you can either use it as home decor (if you place it in a frame or on a wall) or as a planner divider.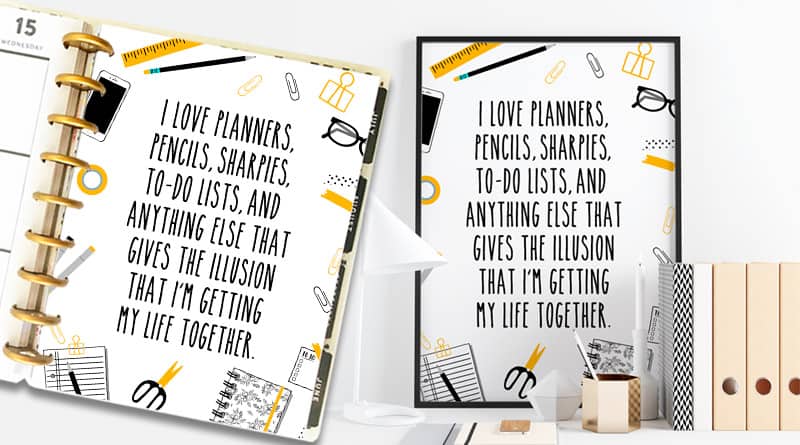 I made sure to include 4 different sizes to make it easy for you to use it however you'd like: US Letter (Big Happy Planner is this size), 8×10″ (many frames are this size), Classic Happy Planner and A5 (many ring bound planners are this size).
You can also easily resize it if needed by adjusting your printer settings.
I included 2 versions of this sign in the download file:
One version with cute desk accessories around the quote,
One simple version with only the quote on it.
You can place this free printable on your wall to let everybody know about your planner addiction. It would look really cute in a craft room, office or planning corner!
You can also simply use it as a planner divider. You can even turn this printable into a Happy Planner cover if you own a laminator
and a hole puncher strong enough
.
Other planner freebies you may like:
You can download this free printable further down this page.
Pin this image for later:
Download – Free Printable Planner Girl Quote Sign / Divider
FAQ:
DOWNLOAD THIS LOVELY FREEBIE
FOR PERSONAL USE ONLY – Please Read Freebies Terms of Use.
How to download this file?
Not a subscriber yet? Some of my free printables are for newsletter subscribers only (it's totally FREE of course!). This printable is one of them. Subscribe to my newsletter to get free access to exclusive free printables and stay updated. You'll receive an email with the password right after subscribing, check your spam folder if needed 🙂
Existing subscribers – forgot your password? Make sure to check one of my emails to you, the password is reminded at the end of each newsletter. No caps, no space.
You're typing the right password but get a "wrong password" error message? You may have an issue downloading if you click a link from Facebook or an email. If so, just open the link directly in your browser and this should solve it

FOR PERSONAL USE ONLY – Please Read Freebies Terms of Use.
[wpdm_package id='4886′]
I create lots of free printables, if you want to make sure to be updated and receive exclusive freebies, join the Lovely Newsletter: