Free 2023 Zodiac Calendar Printable
Are you looking for a pretty astrological 2023 printable calendar? You're in luck with this free printable portrait 2023 Zodiac calendar! It includes 12 monthly calendar pages with a different astrological sign included for each month.
I created this calendar in 2 versions: Monday & Sunday start. You get to pick whatever you prefer?
This printable was created in US Letter size but you can print it on different paper sizes by adjusting your printer settings.
Each page of this 12-month calendar is decorated with a different astrological sign design. The dates of birth corresponding to each zodiac sign are also added on each page. You also get enough space to add notes each day in your calendar.
(This post contains affiliate links. For more information, see my disclosures here.)
List of the 12 zodiac signs & dates:
Aries – March 21 to April 19
Taurus
April 20 to May 20
Gemini – May 21 to June 20
June 21 to July 22
Leo – July 23 to August 22
Virgo – August 23 to September 22
Libra – September 23 to October 22
Scorpio – October 23 to November 21
Sagittarius – November 22 to December 21
Capricorn – December 22 to January 19
Pisces – February 19 to March 20
As you can see the dates for each sign don't precisely align with a specific month. For example, the Capricorn sign goes from December 22 to January 19. Because it includes more days in January than in December, I decided to associate the Capricorn start sign to the month of January. And so on for each sign. You can see a preview of the 12 monthly pages on this page.
Pair this 2023 Astrology calendar with a free printable 2023 Lunar Calendar:
Free Printable 2023 Lunar Calendar – Detailed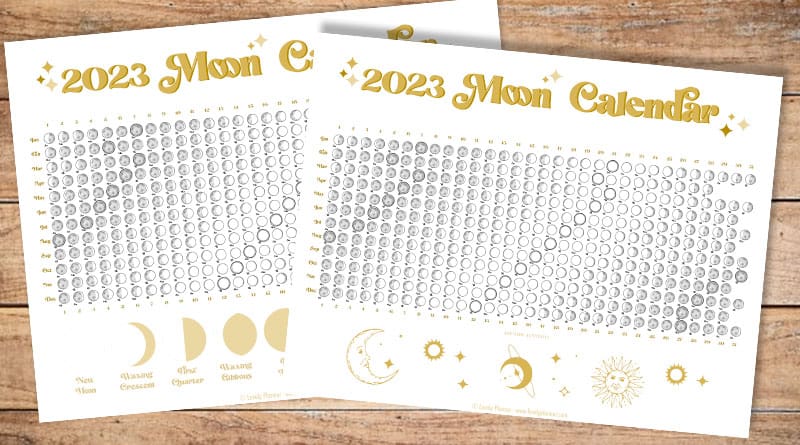 Free Printable 2023 Lunar Calendar – Detailed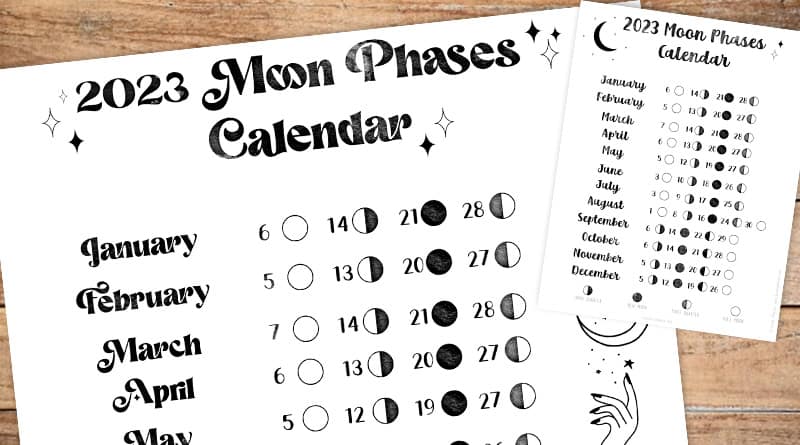 >>> ✨🗓 Make sure to take a look at all my other free printable calendar templates <<<
You can also check out this selection of 20 Free Printable Calendars for 2023.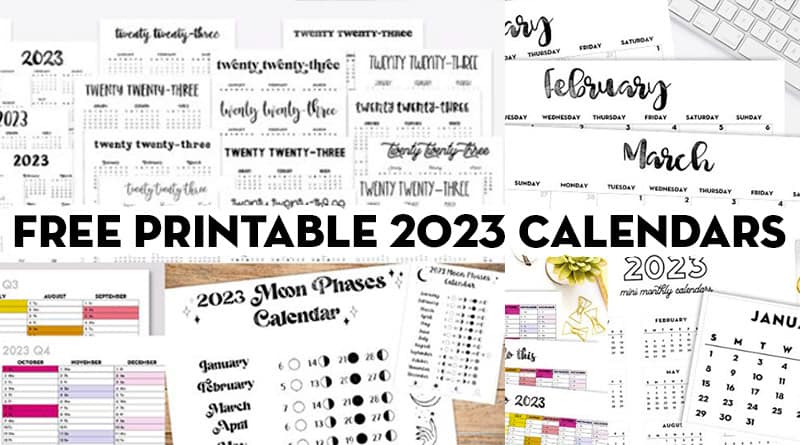 Preview of the 12 monthly calendar pages included in this 2023 Zodiac Calendar (Monday & Sunday start):
Here is a low-resolution preview of all the pages included. You can download a PDF with all 12 pages at once further down this post (2 PDF files available: Monday & Sunday start versions).
Feel free to pin your zodiac sign page on Pinterest, this will be a cute way to support my website by sharing this article and/or saving it for later!
January 2023 Zodiac Calendar – Capricorn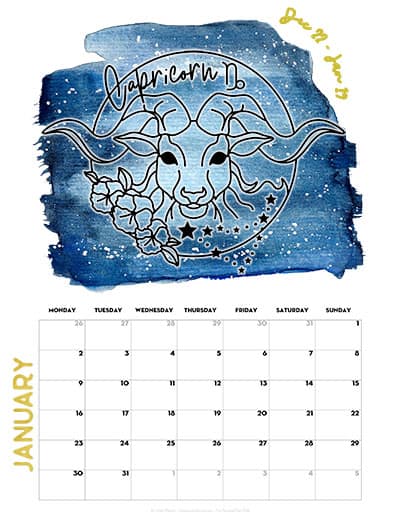 February 2023 Zodiac Calendar
March 2023 Zodiac Calendar
April 2023 Zodiac Calendar
May 2023 Zodiac Calendar
June 2023 Zodiac Calendar
July 2023 Zodiac Calendar
August 2023 Zodiac Calendar
September 2023 Zodiac Calendar
October 2023 Zodiac Calendar
November 2023 Zodiac Calendar
December 2023 Zodiac Calendar
If you'd like something a little more neutral, you might be interested in this free 2023 Monthly Calendar. I also created an editable PDF version of this 2023 monthly calendar in my shop if you'd like to be able to type in it before printing it.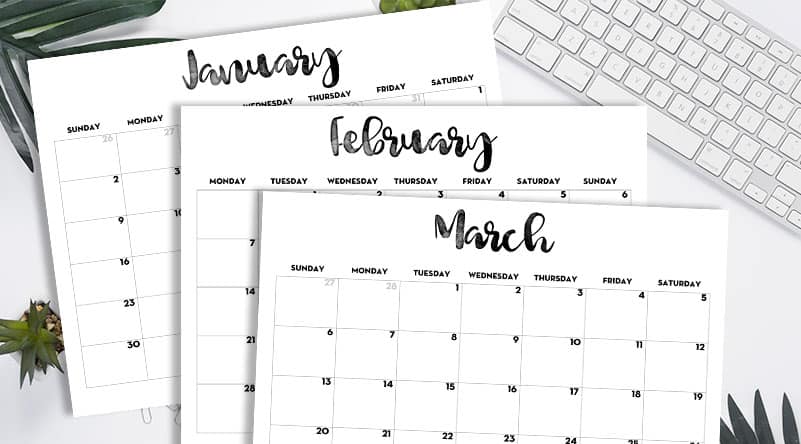 Can I add this Zodiac calendar to my planner?
To use this Astrology calendar for 2023 in your planner print the PDF file in the appropriate size (adjust printing settings to fit your planner size) and punch holes that fit your planner. You can also simply use it in a binder, in a folder, or on a wall.
For Disc Bound planners (such as Happy Planner), I recommend this Discbound hole punch
, you can use it to punch all sizes of disc-bound planners (Big Happy Planner, Classic Happy Planner, or Mini Happy Planner).
For Ring-Bound Planners (such as Filofax, Carpe Diem, Websters Pages, etc), I recommend getting an adjustable 6-hole paper punch
so that it can punch several different sizes of paper for different planners (A5, personal, micro, and compact…).
If you like this post, spread the love by pinning this image:
---
Download – Free 2023 Zodiac Calendar Printable
This calendar is FOR PERSONAL USE ONLY – © Lovely Planner – Please Read Freebies Terms of Use.
Make sure to also check out my other free printable planner inserts.
You may also like these other free printable calendars I shared:
Organize your life with The Ultimate Planner Bundle
The Ultimate Planner Bundle includes 160 pages of printable planner inserts to help you organize all areas of your life: home management, health & wellness, budget, hobbies, weekly, monthly, and yearly calendars. I also included many different planner layouts (daily, weekly, monthly…) to help you decide which layout works best for you. To make it easy to print and combine with most planners, 3 sizes are included. You'll get the files in US letter, Classic Happy Planner, and A5.
You can see all the inserts included in this bundle, along with a special offer on this page: The Ultimate Planner Bundle.
I create lots of free printables, if you want to make sure to be updated and receive exclusive freebies, join the Lovely Newsletter: