2023 is almost here so we might as well start getting ready for it! That means it's time to pick a new 2023 calendar to help you stay organized and keep track of events all year long. Here's a list of 20 free printable 2023 calendars to help you make your choice!
You could buy one, but with so many free printable options available online, why would you?
The internet is a big wide space where it's sometimes difficult to find what you need. You may not realize how many great free printable calendars are available online and that's why I created today's post.
I gathered 20 free printable 2023 calendars that you can instantly download and print. I hope this will save you some time and help you find a calendar that truly works for you.
(This post contains affiliate links. For more information, see my disclosures here.)
I've included many different styles to showcase the variety of calendars that other bloggers, and myself, have created and shared: monthly calendars, calendar on one page, coloring calendar, lunar calendar,, quarterly calendar, month on 2 pages, floral, minimalist, patterns, seasonal, simple, etc.
---
Have you already decided on a planner for 2023?
9 weekly layouts (vertical, horizontal, dashboard, fitness/food, checklist…) are included in the planner bundle to help you sample different layouts and help you see what works best for you.
---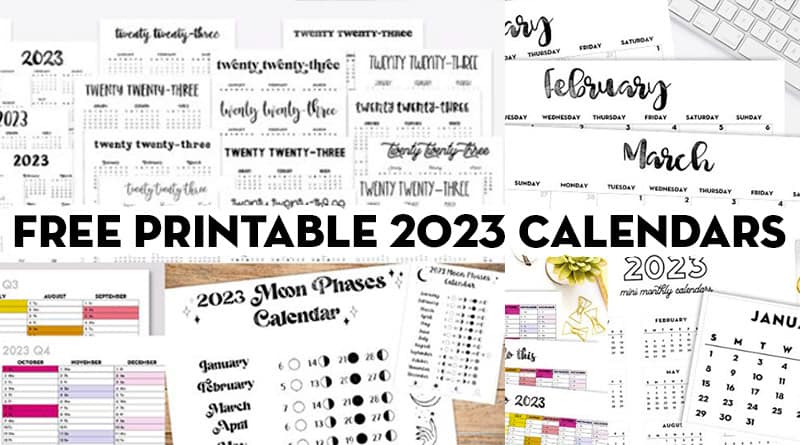 Make sure to check out the great blogs included in this list as they share some really nice free printables.
To access each printable simply click on the button "Get this freebie" that appears under each image, this will redirect you to the printable creator's blog.
Free Printable 2023 Calendars
Would you like more printables for your planner? Check out my bundles:
I created several special packs with printable planner stickers and inserts to help you decorate and organize your planner. You can compare all my packs at once and see more details on this page.
Pin this image for later: