Here's a set of daily gratitude planner stickers that will be perfect to help you list 3 things you're grateful for every day. It's also a good way to keep track of all the reasons you have to be happy and thankful. I recommend you look back on all of them at the end of each week or whenever you feel a little low. We all need a little reminder to pause and think of the brighter side sometimes.

Also check out my other set of"thankful for" and "grateful for" planner stickers.
In our busy lives, we all sometimes tend to take the good things for granted and focus too much on the little things that go wrong. Practicing gratitude will help you feel better and see things more positively.
I recommend practicing gratitude daily if you can! Not just around Thanksgiving time 😉
This free printable includes 32 stickers on one sheet, in 16 vibrant rainbow colors. They each include 3 blank space to write 3 positive things about your day.
These stickers colors match the rainbow functional stickers sets I've already shared so make sure to look them up:
Being 1.5″ wide, these stickers will fit nicely in most planners and fit perfectly in the Classic Happy Planner.
Make sure to also check out all the many other free printable planner stickers I've created. I create a lot of free printables so make sure to subscribe to my newsletter to be able to get my future freebies.
Want more?  Follow me on Pinterest where I created a board dedicated to all the best free printable planner stickers I find online! I keep adding new Pins to it!
DOWNLOAD Free Printable Daily Gratitude Planner Stickers
FAQ: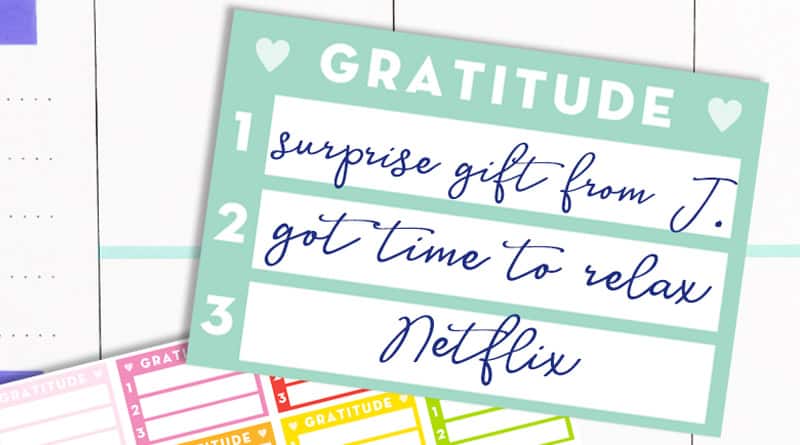 Download this Lovely Free Printable
FOR PERSONAL USE ONLY – Please Read Freebies Terms of Use.


I create lots of free printables, if you want to make sure to be updated and receive exclusive freebies, join the Lovely Newsletter:

Disclosure: This page may contain affiliate links. When you click them you support Lovely Planner and help keep its content free. Thank you!